It's that time of year, when everyone is thinking about new beginnings. The impending new year offers an opportunity to hit reset, course correct or take a completely new direction. Starting a new job is a significant new beginning and for new starters, how your business does Onboarding is a reflection of how you do everything. Research indicates that approximately 22 percent of employee turnover takes place during the first 45 days of employment at an average cost of replacement between 16 and 20% of that employee's salary. That is a significant productivity and dollar cost in and of itself, not to mention the disruption it causes to the rest of your employees and the drain it places on your HR team. So can your organisation onboard new employees in a manner that inspires them to stay with you long-term and become productive, cohesive, integral members of the team as soon as possible?
There are a plethora of other statistics that make it abundantly clear why it is critical for your business to excel at Onboarding new employees. The hr.com website lists 18 statistics related to retention, turnover, performance and productivity which can be traced back to your Onboarding process. Make no mistake, if you don't get Onboarding right, it will affect every single one of those four metrics negatively and your culture will suffer as a result.
5 Pillars Of Onboarding:
Build A Firm Foundation
Your Employee Onboarding process needs to be built on a firm foundation, and laying that foundation begins during recruitment. The recruitment process is where you start building your relationship with potential candidates, so every action and every communication contributes to the perception each candidate forms of your business. Once an offer is made, how you manage compliance and transition the candidate from potential to actual employee firms up the foundation. When your new employee shows up for their first day of work, the way your business communicates the culture of your business through word and action to illustrate 'how we do things around here,' is critical to ensuring that your foundation will support your new employee throughout their entire lifecycle. The process you use to set your new employee up for success, with crystal clear clarity about performance expectations and just in time support to meet their needs, is the glue that will hold everything together. Making sure that new employees feel welcome within the social structure; of their team and the wider business, extends across the entire Onboarding process and beyond.
It would be easy to think of these stages as mutually exclusive and linear, but that isn't really the case in the real world. It is certainly important to break each stage down to create a roadmap for HR, Leadership, Management and other employees to follow. Yet it is also crucial to remember that each individual is different and you might need to adjust your process accordingly to meet individual needs.
5 Pillars Of Onboarding:
Key Considerations
Below is a checklist of the key activities your business needs to incorporate into your Onboarding process.
Recruitment:
Offer a self-service, fully automated recruitment process that makes it as easy as possible for candidates to communicate easily across multiple channels and select interview time slots that suit them.

Paint a clear picture of where candidates are at during the recruitment process.

Present a fully branded experience that builds awareness and makes a good impression.

Set the scene for a digital HR experience that will continue through the employee lifecycle.
Compliance:
Make it possible for your candidate to accept their offer and sign their employee contract as easily as possible - digital contracts and signatures are now the norm.
Seamlessly transfer a 'candidate' record to an 'employee' record in your core HR solution to trigger digital tax and super forms.
Offer a self-service experience where employees can update all their personal details.
Provide a seamless compliance management process where new employees can access, understand and complete your company policy, OH&S, travel and expense requirements, etc.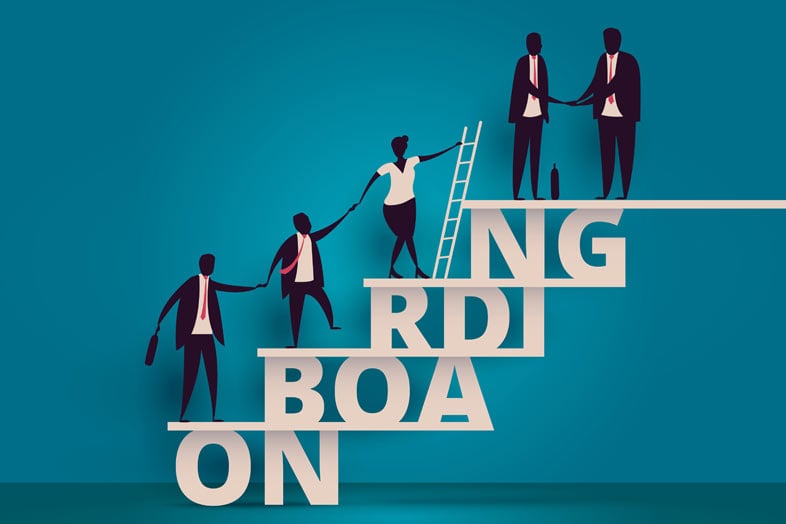 Culture and values:
Communicate, in word and action, across both the real and the digital environment, your company values, vision and mission.

Ensure that your newbie knows 'how we do things around here.'

Explain the company terminology / language.

Share insights about how individuals and groups like to communicate.

Join the dots to your corporate strategy.

Illustrate how do you work differently if a crisis hits.
Social:
Provide preboarding welcome videos and engagement questionnaires that repeat (with stage relevant content) at critical junctures throughout the first 12 months of employment.

Involve employees from all levels in welcoming your new team member and educate them about the background of their new team mate so that they can personalise their interactions and make the newbie feel 'known.'

Assign a buddy so that your new team member has an ally right from the get go.

Hold welcome morning teas, lunches or other initiatory activities that offer less formal opportunities for employees to get to know each other and build networks.
Performance:
Provide crystal clear clarity about roles, responsibilities, KPIs and milestones with regular opportunities to discuss them all.
Provide an accurate roadmap for the probation period.
Introduce performance management systems and processes as soon as possible.
Empower new employees with the capacity to communicate and implement their career goals within their new role / the wider organisation.
Provide peer-to-peer, real-time feedback.
Ensure just in time learning needs are met via e-learning and knowledge management tools.
Make managing performance a part of the everyday business landscape, not a once a year event.
This is by no means an exhaustive list, but it is definitely a good place to start building a solid Onboarding foundation that sets new employees up for success. Of course, having agile, automated Employee Onboarding software at your disposal creates a world of opportunity to reduce your admin and integrate your onboarding processes with those of your entire employee lifecycle . Most importantly, automating as much of your Onboarding process as possible will free up your leaders and HR staff to invest time and energy in your most omportant assets - your employees. If you're ready to transform the Onboarding process at your organsiation, click on button below to learn more about Subscribe-HR's Employee Onboarding software solution.
Image Credit: HR Technologist