This job description template can be used for the Administrative (Admin) Assistant role in a mid-sized Australian or New Zealand organisation. If your business needs to find efficiencies that will save you time and money, HR digitisation and automation will help you streamline the entire employee lifecycle. Ready to transform your recruitment process? Everything you need to get started is available to you on this page.
Organisational Profile 'Your Organisation'
Mid-sized organisation.

Budget between $10 million and $40 million.

Relatively straightforward financing
This sample job description is for an Administrative Assistant for a mid-sized Australian or New Zealand organisation in which the AA takes responsibility providing clerical and administrative support to their entire team.
Sample Position Description
'Your Organisation'
Administrative Assistant
Your Organisation: Vision / Mission
The mission of 'Your Organisation' is:
'Your Organisation' serves more than X people nationally each year and has a budget of $Y million.
Please visit www.yourorganisation.com.au to learn more.
Position Description - Your Organisation: Administrative Assistant
Reporting to the Head of Department, the Administrative (Admin) Assistant will provide clerical and administrative support for the all departmental employees, ensuring efficient day-to-day operations. Admin assistant responsibilities include diary management, making travel and meeting arrangements, preparing reports and typing correspondence, as well as ensuring that the department runs smoothly. The ideal candidate will have excellent oral and written communication skills and be able to organise your work using our workplace tech; including Microsoft Office, CRM and other database management tools. Previous experience as a Secretary or Admin Assistant and familiarity with the industry, would be an advantage.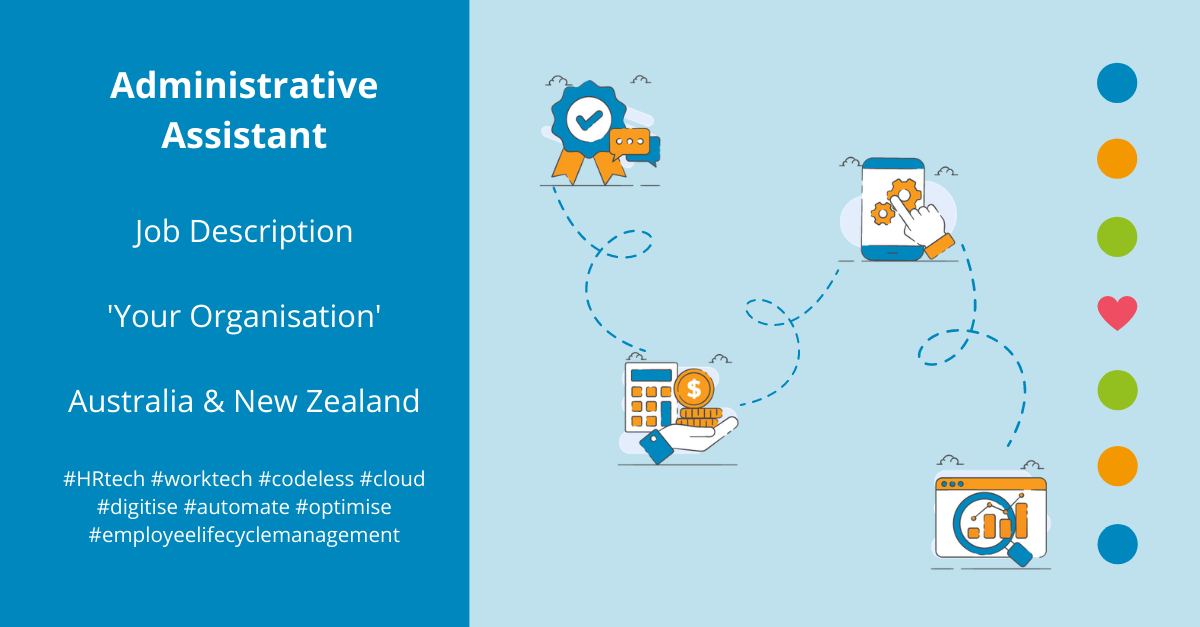 Specific responsibilities include:
Assist with day-to-day operations and provide clerical and administrative support to your department, including but not limited to:

Supporting departmental employees and executives with administrative and clerical tasks.

Managing the diaries of senior staff; organise and schedule appointments and send reminders regarding upcoming meetings.

Planning and scheduling presentations, office-related events, and travel arrangements.

Answering phones in a professional manner and directing calls to the appropriate person (or take detailed messages).


Greeting clients and office guests and directing to the appropriate location.

Helping prepare presentation materials, typing correspondence and preparing outgoing mail and packages for managers and above.

Monitoring and maintaining office equipment and supplies; request repair or restocking when necessary.

Updating and maintaining office policies and procedures.

Ensuring the office is kept clean and organised at all times.

Recording and distributing detailed minutes of departmental meetings.

Preparing, reconciling and submitting expense reports.

Act as the point of contact for internal and external clients.

Liaising with other executive and senior administrative assistants to handle requests and queries from senior managers.
Work Hours & Benefits
Discuss the working hours and benefits specific to 'Your Organisation.' Share company policy/ies about work from home and support staff options. Focus on the benefits that set you apart, such as stock and ownership options, paid parental leave, or corporate travel accounts.
Admin Assistant - Your Organisation: Qualifications
The Administrative (Admin) Assistant will be a team player with a passion for efficiency, an appetite for learning, and a commitment to teamwork. The Admin Assistant will possess the following experience and attributes:
Proven experience as an Administrative Assistant, Virtual Assistant or Office Assistant.

High School Certificate; additional qualification as an Administrative Assistant (Cert IV) or Secretary will be a plus.

Advanced computer skills; proficient in Microsoft Office (especially Powerpoint and Excel), knowledge of website design, social media management, database/CRM management and record-keeping).

Working knowledge of office equipment like printers and fax machines.

Strong organisational skills, excellent time management skills and the ability to prioritise work.

Attention to detail and problem solving skills.

Superior written and spoken communication skills.

Excellent interpersonal and relationship building skills.

Self-starter with a professional attitude who works well independently.

Knowledge of office management systems and procedures would be an advantage.
Get Started Today With a No Obligation Free Trial
If you work for a mid-sized organisation in Australia or New Zealand, you can use this template as your starting point to attract the right candidates to your business. Use Subscribe-HR's suite of 13 codeless, cloud HR software solutions to seamlessly manage every touchpoint of the employee journey, from the first hello, to the final goodbye.
Want to try it out? Get started right away using our 7-day FREE trial, which gives you no obligation access to the full functionality of the Subscribe-HR platform.
Get instant access to our out-of-the-box, templated functionality to get up and running quickly, then use our powerful and flexible configuration tools to adapt your unique, HR process into Subscribe-HR.
Use our simple, step-by-step wizards to set up your organisation, your job description and then submit your job requisition. This is the crucial first step in creating a flexible #HRspine that improves the flexibility, efficiency and effective management of employee information
You'll be amazed by how fast and easy it is to set yourself up.