This job description template can be used for the CMO (Chief Marketing Officer) role in a mid-sized Australian or New Zealand organisation. If your business needs to find efficiencies that will save you time and money, HR digitisation and automation will help you streamline the entire employee lifecycle. Ready to transform your recruitment process? Everything you need to get started is available to you on this page.
Organisational Profile 'Your Organisation'
Mid-sized organisation.

Budget between $10 million and $40 million.

Relatively straightforward financing
This sample job description is for a Chief Marketing Officer (CMO) for a mid-sized Australian or New Zealand organisation in which the CMO takes responsibility for a broad range of functional areas.
Sample Position Description
'Your Organisation'
Chief Marketing Officer (CMO)
Your Organisation: Vision / Mission
The mission of 'Your Organisation' is:
'Your Organisation' serves more than X people nationally each year and has a budget of $Y million.
Please visit www.yourorganisation.com.au to learn more.
Position Description - Your Organisation: Chief Marketing Officer (CMO)
Reporting to and partnering with the CEO, the chief marketing officer (CMO) will set 'Your Organisation's' marketing strategy and direction while also being an active participant in, and driver of, the organisation's overall strategy. You will lead all marketing administration, planning, budgeting and guide the marketing team. As a member of the senior leadership team, the CMO will work closely with a motivated and engaged senior leadership team and governance committee of the Board of Directors. A creative vision, understanding of company values, and business leadership skills are essential.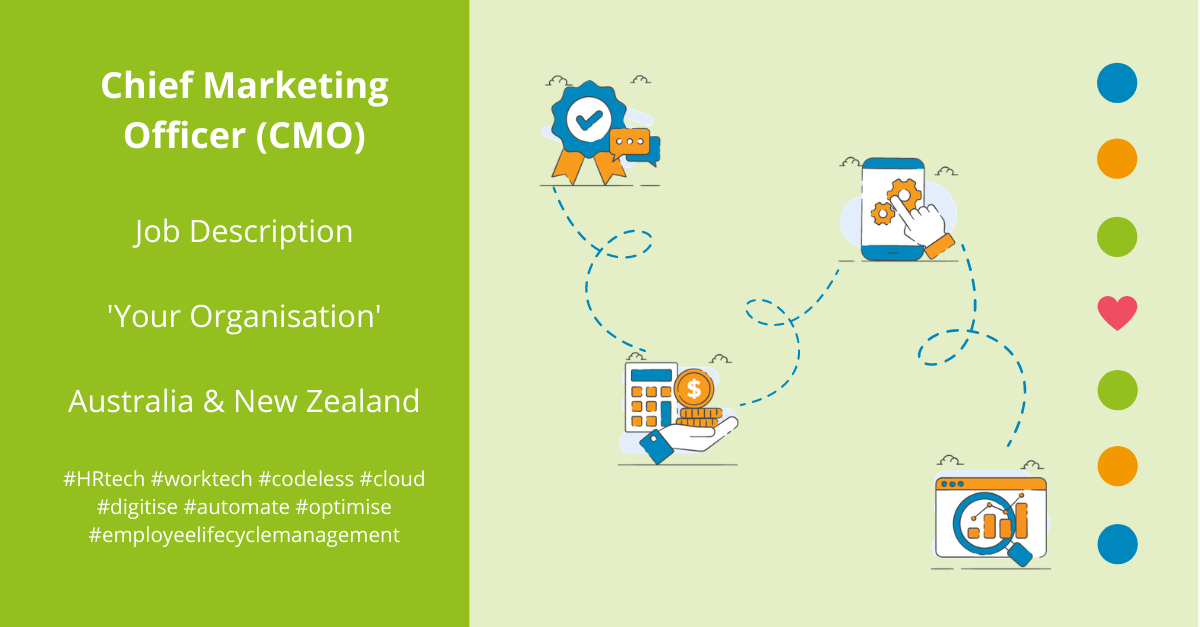 Specific responsibilities include:
Chief Marketing Officer - Your Organisation: Strategy
Develop the marketing well-being of 'Your organisation' by planning, developing, implementing and monitoring the overall marketing strategy, including market research, pricing, product/service marketing, marketing communications, advertising and public relations.

Accomplish marketing strategies by determining accountabilities; communicating and enforcing values, policies, and procedures; implementing recruitment, selection, orientation, training, coaching, counselling, disciplinary, and communication programs; planning, monitoring, appraising, and reviewing job contributions; and planning and reviewing compensation strategies.

Develop organisational strategies by contributing marketing information, analysis, and recommendations to strategic thinking and direction, establishing functional objectives in line with organisational objectives.

Partner with the CEO on all marketing and strategic issues as they arise; provide strategic recommendations to the CEO based on marketing analysis and projections, cost identification and allocation, and revenue/expense analysis.

Participate in the ongoing strategic planning process as an integral member of the senior management team.

Oversee long-term budgetary planning and cost management in alignment with 'Your Organisation's' strategic plan.

Engage senior management and department heads to align marketing strategy with short and long-term financial planning and projections.

Review all formal marketing-related procedures, processes, and administration, recommending improvements to the systems in place and managing the systems going forward.

Engage the Board around issues, trends, and changes in the marketing strategy and delivery.
Chief Marketing Officer - Your Organisation: Financial and Operational Management
Oversee budgeting, and the implementation of budgets, so as to monitor progress and present marketing metrics both internally and externally.

Determine KPIs for the marketing department, work with sales, business development and customer success teams to ensure an integrated approach to customer attraction, support and retention.

Oversee market research, pricing, product/service marketing, marketing communications, advertising and public relations.

Oversee the preparation and approval of all marketing reporting materials and metrics for 'Your Organisation's' Board of Directors; prepare and communicate monthly and annual marketing reports.

Manage cash flow, forecasting and workflows; direct all financial, project-based, and departmental accounting.

Execute online and offline marketing campaigns customised to drive 'Your Organisation's' digital marketing positioning (localisation of Website, SEO, SEM, Digital campaigns) as well as to fill and grow the lead pipeline with high-quality leads.

Analyse market trends and success of marketing campaigns; create reports and implement improvements as needed.

Plan, organise and execute various marketing events such as prospect and customer events, conferences, exhibitions to increase brand awareness.
Chief Marketing Officer - Your Organisation: Team Management
Develop and manage direct staff; guide larger multidisciplinary teams outside of direct span of control.

Engage other members of the senior management team to facilitate cross-department collaboration that ensures that all financial, IT, and HR solutions positively support 'Your Organisation's' evolving strategy, operational delivery, and data collection needs.

Evaluate and oversee all benefits negotiations, thus providing the most competitive packages for 'Your Organisation's' employees.

Provide guidance on attracting and developing key national team members for 'Your Organisation.'

Cultivate relationships with vendors and partners.
Work Hours & Benefits
Discuss the working hours and benefits specific to 'Your Organisation.' Share company policy/ies about work from home and support staff options. Focus on the benefits that set you apart, such as stock and ownership options, paid parental leave, or corporate travel accounts.
Chief Marketing Officer - Your Organisation: Qualifications
The CMO will be a seasoned and mature leader with at least 12-15 years of broad marketing experience, followed by experience gathering and evaluating marketing results and making actionable recommendations to senior leadership. You will ideally have experience across media, product marketing, demand generation, content marketing, branding, public relations, analyst relations, channel marketing, marketing analytics, and events for a mid-sized organisation.
The CMO will have the following experience and attributes:
Bachelor's degree in media, marketing, communications, or equivalent experience.

Master's degree preferred.

At least 10 years' experience in managing a team marketing is a must, including examples of demonstrable excellence in the workplace.

Mature and proactive, with evidence of having worked as a true business partner to the chief executive of a similar sized organisation.

Proven experience and success across all disciplines of marketing (product, branding, strategy, social media, communications, business development).

Strong analytical skills and experience interpreting a strategic vision into an operational model.

A collaborative and flexible style, with a strong service mentality. Needs to be seen as a team player who is committed to lifelong learning.

Strong understanding of inbound and outbound marketing for enterprise.

Demonstrable experience of positioning a company in a competitive market and winning market share.

A hands-on manager with integrity and a desire to work in a dynamic, mission-driven environment.

An effective communicator, with strong oral and written skills.

Strong commitment to developing team members.

Proficiency with marketing and design software, technical proficiency with other digital solutions including Microsoft office.

Demonstrated commitment to the industry with a passion for 'Your Organisation's' mission is essential.
Get Started Today With a No Obligation Free Trial
If you work for a mid-sized organisation in Australia or New Zealand, you can use this template as your starting point to attract the right candidates to your business. Use Subscribe-HR's suite of 13 codeless, cloud HR software solutions to seamlessly manage every touchpoint of the employee journey from the first hello, to the final goodbye.
Want to try it out? Get started right away using our 7-day FREE trial, which gives you no obligation access to the full functionality of the Subscribe-HR platform.
Get instant access to our out-of-the-box, templated functionality to get up and running quickly, then use our powerful and flexible configuration tools to adapt your unique, HR process into Subscribe-HR.
Use our simple, step-by-step wizards to set up your organisation, your job description and then submit your job requisition. This is the crucial first step in creating a flexible #HRspine that improves the flexibility, efficiency and effective management of employee information
You'll be amazed by how fast and easy it is to set yourself up.