This job description template can be used for the Corporate Accountant role in a mid-sized Australian or New Zealand organisation. If your business needs to find efficiencies that will save you time and money, HR digitisation and automation will help you streamline the entire employee lifecycle. Ready to transform your recruitment process? Everything you need to get started is available to you on this page.
Organisational Profile 'Your Organisation'
Mid-sized organisation.

Budget between $10 million and $40 million.

Relatively straightforward financing.
This sample job description is for a Corporate Accountant role at a mid-sized Australian or New Zealand organisation in which the Corporate Accountant takes responsibility for preparing financial statements and overseeing all budgeting and forecasting activities. You should be detail-oriented, possess superior business acumen, and have demonstrable experience in providing financial advice to inform and support organisational decision-making.
Sample Position Description
'Your Organisation'
Corporate Accountant.
Your Organisation: Vision / Mission
The mission of 'Your Organisation' is:
'Your Organisation' serves more than X people nationally each year and has a budget of $Y million.
Please visit www.yourorganisation.com.au to learn more.
Position Description - Your Organisation: Corporate Accountant
Reporting to the CFO, the Corporate Accountant is responsible for the execution and management of a variety of accounting practices, including accounts receivable and payable, reconciling the general ledger, approving expense reports, and conducting audits. You will be highly accurate and efficient, with previous experience overseeing corporate accounting procedures in a similar organisation to ensure compliance with regulations as well as ongoing business success.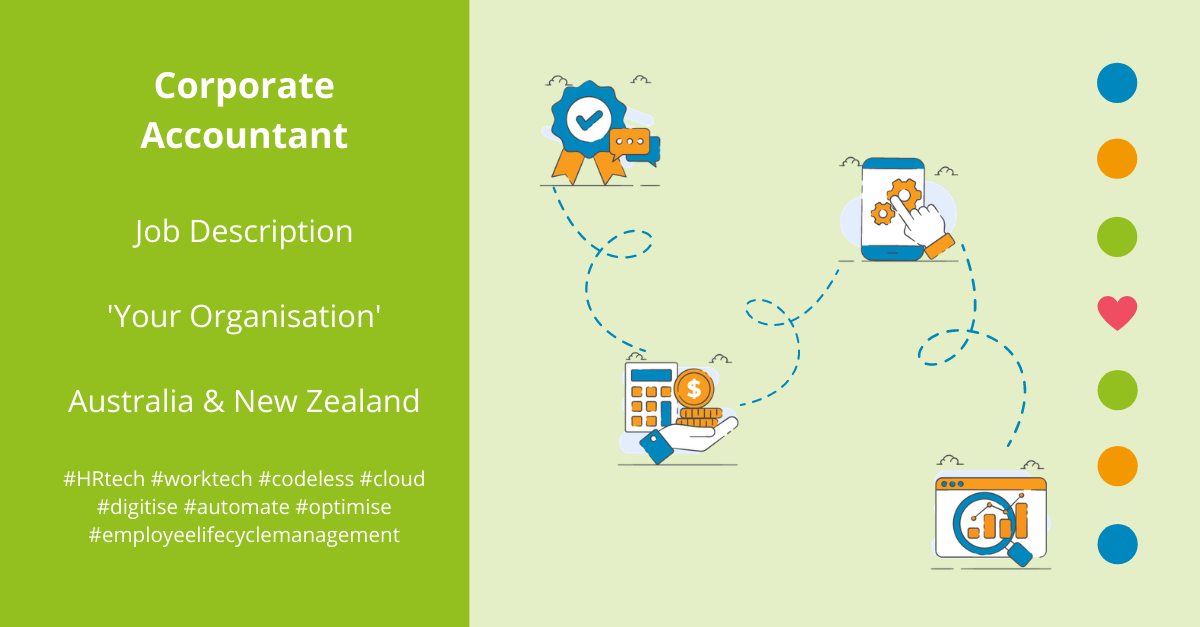 Specific responsibilities for the Corporate Accountant include:
Providing input to the leadership team on financial and strategic issues as they arise.

Engaging senior management and department heads to align financial management with short- and long-term planning and projections.

Preparing forecasts, budgets, monitoring expenditure and conducting monthly, quarterly and annual audits.

Managing periodical reporting, overseeing external and internal audit teams, as well as analysing finances to determine risks.

Reviewing and approving expense reports, including reconciliation of the general ledger on a regular basis.

Gathering financial data and ledgers for the purpose of consolidating and analysing financial statements and results.

Defining and ensuring adherence to 'Your Organisation's' standards and best practices for financial reporting, as well as maintaining compliance with state and federal legislation.

Building strong relationships with stakeholders and working collaboratively with other team members to achieve shared goals and maintain consistent, open communication.

Maintaining current knowledge of financial regulations, accounting practices and financial products.
Work Hours & Benefits
Discuss the working hours and benefits specific to 'Your Organisation.' Share company policy/ies about work from home and support staff options. Focus on the benefits that set you apart, such as stock and ownership options, paid parental leave, or corporate travel accounts.
Corporate Accountant - Your Organisation: Qualifications
The Corporate Accountant will have a minimum of 5 years' previous experience in a similar role at a similar size organisation. You will possess a high level of attention to detail, superior knowledge of and adherence to corporate accounting best practice, a passion for efficiency, an appetite for learning, and a commitment to teamwork. The Corporate Accountant will possess the following experience and attributes:
BSc/BA in Accounting, Finance or related field; professional certification (e.g. CPA) is a necessity, MBA (preferred).

Proven experience as a Corporate Accountant, with a minimum of at least 1-year experience as an accountant or bookkeeper in a corporate setting. Personal tax experience a plus.

Excellent knowledge of accounting regulations and practices, including in-depth experience in risk analysis, budgeting, and forecasting. Demonstrated ability to analyse financial information and provide advice that complies with regulations.

Digitally literate with proficiency in MS Office, CRM, accounting, as well as other financial, database and business management applications.

Excellent analytical, quantitative, and organisational skills.

Ability to thrive in a deadline-driven environment.

Accurate and precise attention to detail, problem-solving skills, and the ability to think mathematically.

Natural customer service aptitude, including excellent interpersonal skills and superior written and verbal communication.

Up-to-date with the latest financial and accounting regulations and best practices; able to articulate these clearly and confidently to other team members, especially junior accounting staff.
Get Started Today With a No Obligation Free Trial
If you work for a mid-sized organisation in Australia or New Zealand, you can use this template as your starting point to attract the right candidates to your business. Use Subscribe-HR's suite of 13 codeless, cloud HR software solutions to seamlessly manage every touchpoint of the employee journey, from the first hello, to the final goodbye.
Want to try it out? Get started right away using our 7-day FREE trial, which gives you no-obligation access to the full functionality of the Subscribe-HR platform.
Get instant access to our out-of-the-box, templated functionality to get up and running quickly, then use our powerful and flexible configuration tools to adapt your unique, HR process into Subscribe-HR.
Use our simple, step-by-step wizards to set up your organisation, your job description, and then submit your job requisition. This is the crucial first step in creating a flexible #HRspine that improves the flexibility, efficiency, and effective management of employee information
You'll be amazed by how fast and easy it is to set yourself up.