This job description template can be used for the Customer Support Specialist role in a mid-sized Australian or New Zealand organisation. If your business needs to find efficiencies that will save you time and money, HR digitisation and automation will help you streamline the entire employee lifecycle. Ready to transform your recruitment process? Everything you need to get started is available to you on this page.
Organisational Profile 'Your Organisation'
Mid-sized organisation.

Budget between $10 million and $40 million.

Relatively straightforward financing
This sample job description is for a Customer Support Specialist at a mid-sized Australian or New Zealand organisation in which the CSS takes responsibility for assisting 'Your Organisation's' customers by resolving queries, issues and complaints as well as providing advice and support related to the use of our products and services.
Sample Position Description
'Your Organisation'
Customer Support Specialist
Your Organisation: Vision / Mission
The mission of 'Your Organisation' is:
'Your Organisation' serves more than X people nationally each year and has a budget of $Y million.
Please visit www.yourorganisation.com.au to learn more.
Position Description - Your Organisation: Customer Support Specialist
Reporting to the Head of Customer Support, the Customer Support Specialist will be responsible for resolving customer queries, recommending solutions and guiding product users through features and functionalities to ensure they get the most out of using 'Your Organisation's' product and services. This will include answering calls, providing product information, and helping transform customers into evangelists by being informative, empathetic, and committed to solving a customer's problem. You must be willing to listen, learn, and resolve any customer inquiry that crosses your desk. Ultimately, you will be a public facing representative that works to establish our reputation as an organisation that provides superior customer support during all sales and after-sales interactions.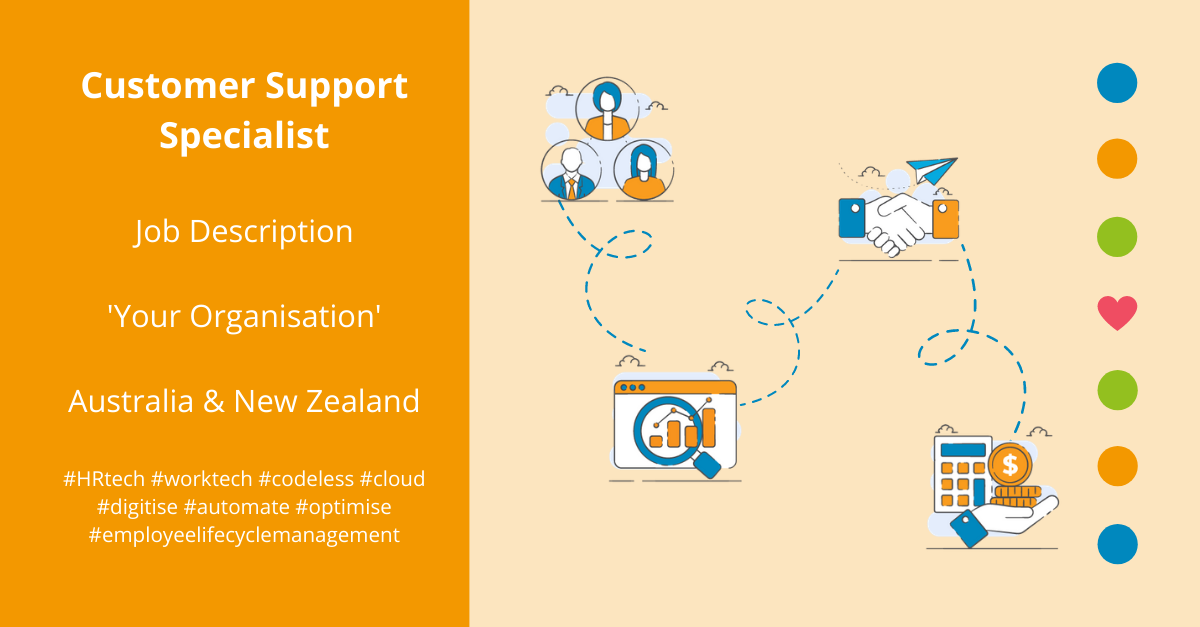 Specific responsibilities for the Customer Support Specialist include:
Responding to all customer queries accurately according to our SLA (Service Level Agreement) via phone, email or chat.

Identifying customer needs and helping customers learn how to use specific features that meet their needs.

Proposing potential products or services to senior management that analyse customer needs and provide the best service possible.

Informing customers about new releases including features and functionalities, providing detailed information about the products and services.

Analysing and reporting product malfunctions (for example, by testing different scenarios or impersonating users).

Updating internal databases with information about technical issues and useful discussions with customers.

Monitoring and managing feedback and surveys regarding the support team's management of customer service problems.

Monitoring customer complaints on social media and reach out to provide assistance.

Sharing feature requests and effective workarounds with team members.

Gathering customer feedback and sharing it with the Product, Sales and Marketing teams.

Following up with customers to ensure their technical issues are resolved.

Assisting in training junior Customer Support Representatives and ensuring good communication throughout the Customer Support Team.
Work Hours & Benefits
Discuss the working hours and benefits specific to 'Your Organisation.' Share company policy/ies about work from home and support staff options. Focus on the benefits that set you apart, such as stock and ownership options, paid parental leave, or corporate travel accounts.
Customer Support Specialist - Your Organisation: Qualifications
The Customer Support Specialist will have a minimum of 3 years' previous experience working in the same (or a similar) role with organisations across a broad range of industries. You will be a team player with a passion for efficiency, an appetite for learning, and a commitment to teamwork. The Customer Support Specialist will possess the following experience and attributes:
Bachelor's degree in Business Administration or a relevant field would be an advantage. High school certificate candidates with the required experience will also be considered.

An proven track record working with customers via telephone, email, and chats.

Excellent verbal and written communication, with superior problem solving and conflict resolution skills.

Exceptional organisational skills, including attention to detail, the capacity to focus in a distracting environment and the ability remain calm, work well under pressure and prioritise tasks.

A good team player and effective leader, able to motivate the support team.

Proficiency in using remote support tools, help desk software and CRM software like Zoho, Hubspot, and Salesforce.

Advanced working knowledge of the MS Office suite of solutions.

Strong technical skills and a solid understanding of IT.

Training will be provided, so the right attitude will go a long way if you don't have all the skills and experience required.
Get Started Today With a No Obligation Free Trial
If you work for a mid-sized organisation in Australia or New Zealand, you can use this template as your starting point to attract the right candidates to your business. Use Subscribe-HR's suite of 13 codeless, cloud HR software solutions to seamlessly manage every touchpoint of the employee journey, from the first hello, to the final goodbye.
Want to try it out? Get started right away using our 7-day FREE trial, which gives you no obligation access to the full functionality of the Subscribe-HR platform.
Get instant access to our out-of-the-box, templated functionality to get up and running quickly, then use our powerful and flexible configuration tools to adapt your unique, HR process into Subscribe-HR.
Use our simple, step-by-step wizards to set up your organisation, your job description and then submit your job requisition. This is the crucial first step in creating a flexible #HRspine that improves the flexibility, efficiency and effective management of employee information
You'll be amazed by how fast and easy it is to set yourself up.