This job description template can be used for the Data Scientist role in a mid-sized Australian or New Zealand organisation. If your business needs to find efficiencies that will save you time and money, HR digitisation and automation will help you streamline the entire employee lifecycle. Ready to transform your recruitment process? Everything you need to get started is available to you on this page.
Organisational Profile 'Your Organisation'
Mid-sized organisation.

Budget between $10 million and $40 million.

Relatively straightforward financing.
This sample job description is for the Data Scientist role for a mid-sized Australian or New Zealand organisation in which the Data Scientist takes responsibility for providing actionable intelligence based on 'Your Organisation's' data.
Sample Position Description
'Your Organisation'
Data Scientist.
Your Organisation: Vision / Mission
The mission of 'Your Organisation' is:
'Your Organisation' serves more than X people nationally each year and has a budget of $Y million.
Please visit www.yourorganisation.com.au to learn more.
Position Description - Your Organisation: Data Scientist
Reporting to the CTO, the Data Scientist will run, develop, and use data analysis tools to ensure the integration and organisation of 'Your Organisation's' data for the purpose of enabling better decision making, operational improvements and increased revenue. You will be responsible for conducting analytical experiments and evaluating theoretical alternative models. You will also analyse processes and systems to extract insights from both structured and unstructured data.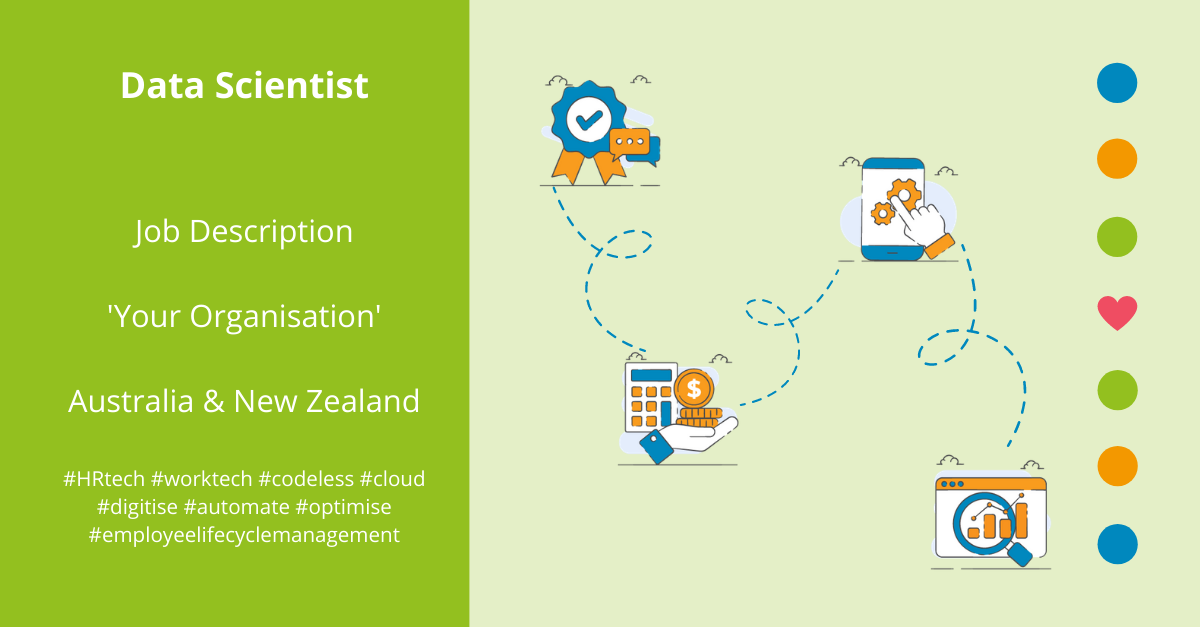 Specific responsibilities for the Data Scientist include:
Contributing to 'Your Organisation's' technical vision and guiding future technological development, including implementation of processes that improve and lead to greater data quality.

Defining and ensuring adherence to 'Your Organisation's' standards and best practices for process documentation and research, building new algorithms and model training.

Executing projects involving analytics, conducting statistical analyses to develop strategies and manage analytics database/s.

Identifying, creating, managing, and maintaining analytically rigorous data and automating collection processes.

Conducting the pre-processing of structured and unstructured data.

Analysing data to identify data patterns, trends and develop predictive models and machine-learning algorithms.

Performing graphical model analysis and presenting information using data visualisation techniques.

Collaborating with engineering and product development teams to propose solutions and strategies to business challenges.
Work Hours & Benefits
Discuss the working hours and benefits specific to 'Your Organisation.' Share company policy/ies about work from home and support staff options. Focus on the benefits that set you apart, such as stock and ownership options, paid parental leave, or corporate travel accounts.
Data Scientist - Your Organisation: Qualifications
The Data Scientist will have a minimum of 3 years' previous experience as a Data Scientist or Data Analyst in a similar organisation. You will be a team player with a passion for efficiency, an appetite for learning, and a commitment to teamwork. The Data Scientist will possess the following experience and attributes:
BSc/BA in Computer Science, Engineering or relevant field; graduate degree in Data Science or other quantitative field is preferred.

Knowledge of R, SAS, SQL and Python; familiarity with Scala, Java or C++ is an asset.

Experience in data mining, plus an understanding of machine-learning and operations research.

Experience using business intelligence tools (e.g. Tableau) and data frameworks (e.g. Hadoop).

Experience in algorithms, logistic and linear regression, PCA, decision tree analysis and statistical methods.

Expert in relational database design and concepts.

Able to analyse problems and strategise to formulate better solutions.

Forensic eye for detail, with the capacity to prioritise and manage time effectively.

Creative problem solver who thrives when presented with a challenge.

Good interpersonal skills, with excellent written and verbal communication.

Able to work in a fast-paced environment.

Up-to-date on the latest industry trends; able to articulate trends and potential clearly and confidently.
Get Started Today With a No Obligation Free Trial
If you work for a mid-sized organisation in Australia or New Zealand, you can use this template as your starting point to attract the right candidates to your business. Use Subscribe-HR's suite of 13 codeless, cloud HR software solutions to seamlessly manage every touchpoint of the employee journey, from the first hello, to the final goodbye.
Want to try it out? Get started right away using our 7-day FREE trial, which gives you no obligation access to the full functionality of the Subscribe-HR platform.
Get instant access to our out-of-the-box, templated functionality to get up and running quickly, then use our powerful and flexible configuration tools to adapt your unique, HR process into Subscribe-HR.
Use our simple, step-by-step wizards to set up your organisation, your job description and then submit your job requisition. This is the crucial first step in creating a flexible #HRspine that improves the flexibility, efficiency and effective management of employee information
You'll be amazed by how fast and easy it is to set yourself up.