Significant advances over the past few decades have meant that Australian women are now taking on more leadership roles than ever before. Across multiple sectors of the workforce women are forging successful careers for themselves, busting through the glass ceiling and proudly placing their name next to titles such as CEO, COO and Managing Director.
Similarly, many women now sit on the boards of ASX 200 listed companies, with figures reflecting an increase from 8.3 per cent in 2010 to 18.6 per cent in August 2014.
However, despite this, gender equality still is not present in Australia and there are many barriers that we still need to overcome.
For example, research shows that Australian women are over-represented as part-time workers in low-paid industries and in insecure work. They also continue to be underrepresented in leadership roles in the private and public sectors.
In other 2014 research, one in two mothers reported experiencing discrimination in the workplace at some point during pregnancy, parental leave or on return to work. Similarly, one in five mothers indicated that they were made redundant, restructured, dismissed, or that their contract was not renewed because of their pregnancy, when they requested or took parental leave, or when they returned to work.
And the barriers don't end there.
In 2009-2010, average superannuation payouts for women were just over half (57%) those of men, whilst average retirement payouts were $198,000 for men and only $112,600 for women.
Additionally, figures reflect that a quarter of women were sexually harassed in the workplace between 2007 and 2012. In over half of the cases, the harasser was most likely to be a co-worker. The most common forms of sexual harassment included sexually suggestive comments or jokes, intrusive questions about private life or appearance and inappropriate staring or leering.
So we know we need to put a stop to this.
Why Is Gender Equality So Important?
Gender equality in education and work results in a nation that's able to come together to be as productive and resourceful as possible. It means that women and men alike have equal opportunities and everyone is educated about the importance of economic independence.
Whilst we do have a way to go, Australia has taken big strides towards equality throughout its more recent history.
In 1984, the Sex Discrimination Act came into force, making it illegal to discriminate against someone on the basis of gender, sexuality, marital status, family responsibilities or because they are pregnant. The Act has certainly played an important role in changing community attitudes and helping advance gender equality in this country.
However, it's been far from the final answer because many girls and women are still experiencing inequality and discrimination, which impacts on their choices and the opportunities available to them.
Further to this, in 2008, "Gender equality: What matters to Australian women and men" was published. In response, in June 2010, the Australian parliament passed the Paid Parental Leave Act 2010 - Australia's first statutory Paid Parental Leave scheme. The scheme provides 18 weeks of leave paid to the primary carer at the federal minimum wage.
Shortly after this, sex discrimination commissioner, Elizabeth Broderick, launched her Gender Equality Blueprint 2010. This outlined that gender equality was not to be considered 'finished business' just because of the new paid parental leave. The blueprint covered key reforms that were a priority for Australia at that time.
In order to make flexible work a normal part of workplace culture, it was suggested that the National Employment Standards should be amended to provide comprehensive protection from discrimination on the grounds of all forms of family and carer responsibilities to both women and men in all areas of employment.
In 2012, the Australian Government introduced the Workplace Gender Equality Act to promote and improve gender equality, including equal pay in employment. Despite this, the 2014 World Economic Forum's Global Gender Gap report indicated that the high participation rate of women in training and education in Australia was not translating into the workplace.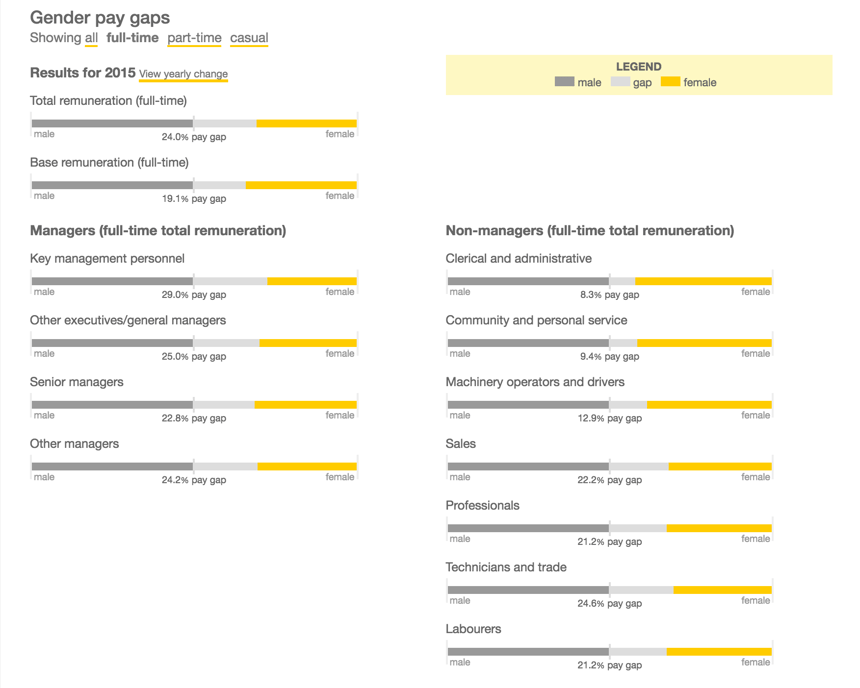 So What Exactly Is Gender Equality In The Workplace?
According to the Workplace Gender Equality Agency, gender equality translates as men and women having equal access to the same rewards, resources and opportunities within any organisation. It encapsulates equal pay for work of equal or comparative value, and allows access to all occupations, industries and leadership roles for men and women alike.
It also equates to the removal of barriers to the full and equal participation of women in the workforce, and eliminates discrimination on the basis of gender, particularly in relation to family and caring responsibilities.
So where are we at now and how does our future fare for equality?
The good news is that Australia is progressing in both its attitudes and actions. Recent figures show that the percentage of women academics is 40-45% overall, which is higher than almost any other country surveyed.
Similarly, there's been an almost 600% uplift in the number of women appointed to ASX boards, meaning Australia now has over 11% of board directorships on ASX200 companies.
But for things to continue to change we need to ensure that equality is at the forefront of everyone's mind. And it's employers and educators who are key in driving this forward.
So how does this all actually pan out in the real life working world? Susan King, People & Culture Manager at Open Colleges, says "At Open Colleges, we have a very young and dynamic workforce which has grown from 40 to 400+ employees in four years. With such sudden growth, it was essential for the recruitment polices to mirror the best practices in the Australian market. Therefore, we are committed to encouraging and promoting gender equality within the workforce. We believe to remain competitive we have to acknowledge that a progressive organisation cannot ignore the value of women as employees."
"We provide flexible working arrangements for all, and hire on potential of the candidates rather than demographics. We have three women on our executive team, who all offer great experience and knowledge within their fields. Our focus is on developing our workforce to achieve our business goals, and therefore we believe in fresh new perspectives rather than outdated practices and policies."
About this week's Guest Blogger: Jo Hartley is a freelance writer. Her work has also been featured in Huffington Post, SMH Life & Style, SMH Daily Life, Sunday Life, Body + Soul, MiNDFOOD and many more.
Image Source: WGEA Data explorer - Gender pay gaps 2015.