This job description template can be used for the Payroll Manager role in a mid-sized Australian or New Zealand organisation. If your business needs to find efficiencies that will save you time and money, HR digitisation and automation will help you streamline the entire employee lifecycle. Ready to transform your recruitment process? Everything you need to get started is available to you on this page.
Organisational Profile 'Your Organisation'
Mid-sized organisation.

Budget between $10 million and $40 million.

Relatively straightforward financing
This is a sample job description for a Payroll Manager, for a mid-sized Australian or New Zealand organisation in which the Payroll Manager takes responsibility for managing the entire Payroll function within HR.
Sample Position Description
'Your Organisation'
Payroll Manager
Your Organisation: Vision / Mission
The mission of 'Your Organisation' is:
'Your Organisation' serves more than X people nationally each year and has a budget of $Y million.
Please visit www.yourorganisation.com.au to learn more.
Position Description - Your Organisation: Payroll Manager
Reporting to and partnering with the Head of HR, the Payroll Manager is responsible for processing 'Your Organisation's' Payroll and superannuation, remitting payroll taxes and government reporting as well as preparing monthly, quarterly and year-end Payroll statements. You will ensure compliance with government regulations, establishing and implementing policies on matters such as Payroll advancements to employees and the hiring, training and supervision of Payroll staff.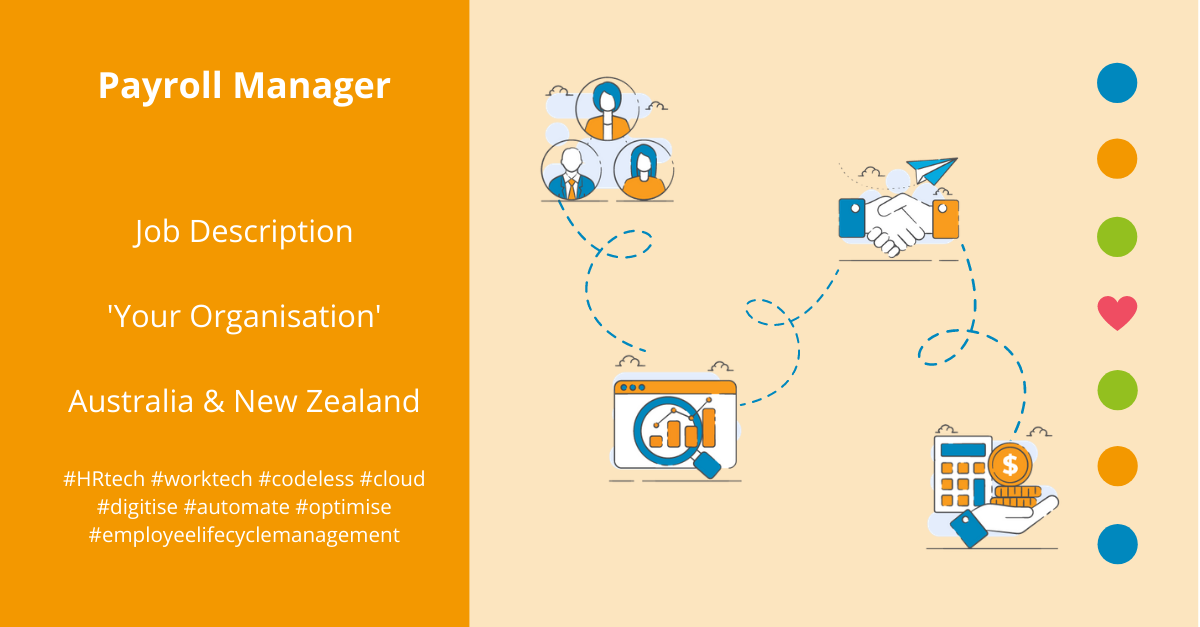 Specific responsibilities include:
Payroll Manager - Your Organisation: Strategy
Develop the well-being of 'Your organisation's' Payroll services by determining Payroll liabilities through the accurate calculation of employee salaries, taxes, superannuation, leave entitlements and workers compensation payments.

Comply with all local, state, and federal laws regarding finances, payroll, tax filings, and reporting.

Generate monthly, quarterly, semi-annual and annual reporting on earnings, taxes, deductions, leave, insurances, and non-taxable wages.

Prepare and organise financial statements for filing and review, as well as keeping detailed records for tax and audit purposes.

Review and improve payroll policies and procedures on an ongoing basis.

Interpret new legislation impacting Payroll and advise the senior leadership team on appropriate action.
Payroll Manager - Your Organisation: Financial and Operational Management
Manage the set-up new employee information and accounts and oversee the maintenance of employee data systems, including maintenance of Payroll records and files.

Manage Payroll, T&A and other systems, to ensure that all information and records are up to date and maintained in accordance with statutory requirements.

Ensure Payroll is processed in an accurate, compliant and timely manner and manage / resolve issues relating to Payroll production.

Manage time cards, time entry, and timekeeping software and systems.

Update and organise systems to manage new Payroll information as required by legislative changes.

Prepare and review Payroll account reconciliations and maintain accurate account balances.

Develop ad hoc financial and operational reporting as needed.

Manage Payroll workload to meet operational requirements.
Payroll Manager - Your Organisation: Team Management
Develop and manage direct staff, and provide guidance on attracting and developing key team members for 'Your Organisation.'

Monitor the accurate processing of staff appointments, transfers, promotions and terminations.

Supervise and co-ordinate activities of Payroll employees to meet operational requirements, including performance management if necessary.
Work Hours & Benefits
Discuss the working hours and benefits specific to 'Your Organisation.' Share company policy/ies about work from home and support staff options. Focus on the benefits that set you apart, such as stock and ownership options, paid parental leave, or corporate travel accounts.
Payroll Manager - Your Organisation: Qualifications
The Payroll Manager will have demonstrated experience managing Payroll functions, ensuring pay is processed on time, accurately, and in compliance with government regulations. You will ideally have previous experience managing Payroll for a similar mid-sized organisation.
The Payroll Manager will have the following experience and attributes:
Bachelor's degree in accounting, finance, business administration, human resources or a related field.

5+ years of experience in Payroll, accounting, or a similar role.

Experience using Payroll software, T&A software and Microsoft Office Suite; additional system knowledge a plus.

In-depth understanding of Payroll procedures, laws, taxes, insurances, and best practice.

Precise attention to detail.

A collaborative and flexible style, with a strong service mentality. Needs to be seen as a team player who is committed to lifelong learning.

A hands-on manager with integrity and a desire to work in a dynamic, mission-driven environment.

An effective communicator, with strong oral and written skills.

Strong commitment to developing team members.

Proficiency with accounting software, word processing, and spreadsheets.

Demonstrated commitment to the industry with a passion for 'Your Organisation's' mission is essential.
Get Started Today With a No Obligation Free Trial
If you work for a mid-sized organisation in Australia or New Zealand, you can use this template as your starting point to attract the right candidates to your business. Use Subscribe-HR's suite of 13 codeless, cloud HR software solutions to seamlessly manage every touchpoint of the employee journey from the first hello, to the final goodbye.
Want to try it out? Get started right away using our 7-day FREE trial, which gives you no obligation access to the full functionality of the Subscribe-HR platform.
Get instant access to our out-of-the-box, templated functionality to get up and running quickly, then use our powerful and flexible configuration tools to adapt your unique, HR process into Subscribe-HR.
Use our simple, step-by-step wizards to set up your organisation, your job description and then submit your job requisition. This is the crucial first step in creating a flexible #HRspine that improves the flexibility, efficiency and effective management of employee information
You'll be amazed by how fast and easy it is to set yourself up.