This job description template can be used for the Project Manager role in a mid-sized Australian or New Zealand organisation. If your business needs to find efficiencies that will save you time and money, HR digitisation and automation will help you streamline the entire employee lifecycle. Ready to transform your recruitment process? Everything you need to get started is available to you on this page.
Organisational Profile 'Your Organisation'
Mid-sized organisation.

Budget between $10 million and $40 million.

Relatively straightforward financing
This sample job description is for a Project Manager at a mid-sized Australian or New Zealand organisation in which the Project Manager takes responsibility for ensuring that all projects across 'Your Organisation' are completed on time, on budget and in alignment with organisational values and goals.
Sample Position Description
'Your Organisation'
Project Manager
Your Organisation: Vision / Mission
The mission of 'Your Organisation' is:
'Your Organisation' serves more than X people nationally each year and has a budget of $Y million.
Please visit www.yourorganisation.com.au to learn more.
Position Description - Your Organisation: Project Manager
Reporting to the COO, the Project Manager will be responsible for the management, organisation and successful completion of key projects across 'Your Organisation.' The Project Manager will assume the lead role in planning, overseeing and leading all projects from ideation through to completion. This includes project planning, assignment of project resources, preparation of budgets, monitoring progress, and managing stakeholder relationships. This is a senior role which requires nuanced stakeholder management with a range of internal and external parties, often requiring management of several moving project parts simultaneously. You will be the go-to person for everything project related across 'Your Organisation' so as to ensure that all projects are delivered on time and produce the desired results.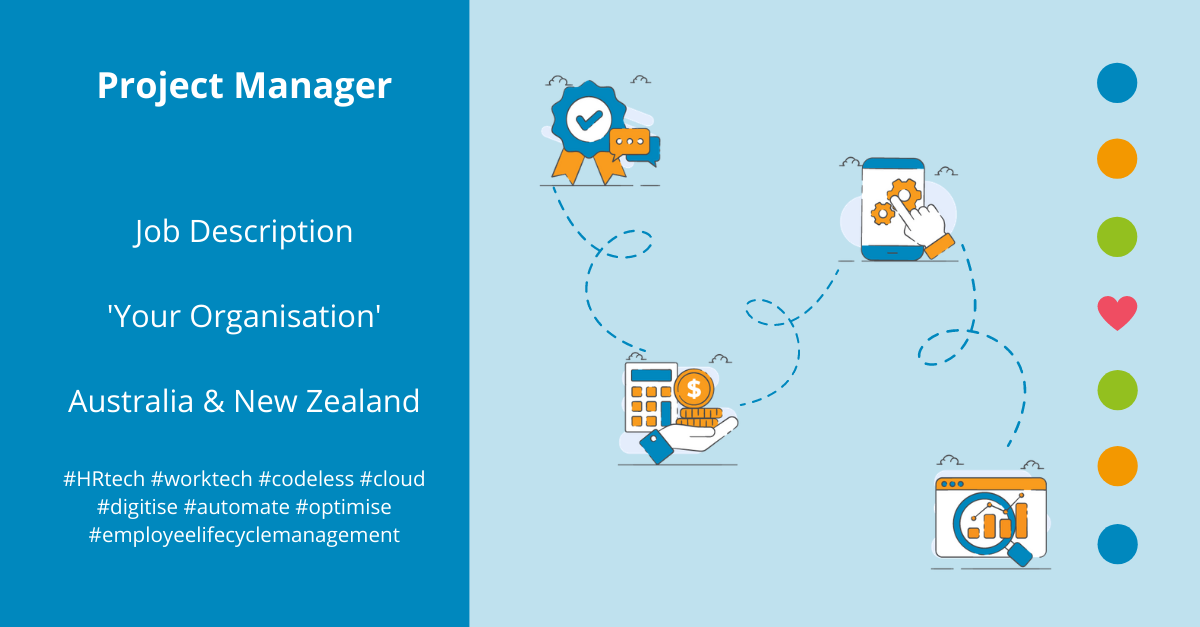 Specific responsibilities for the Project Manager include:
Develop detailed project scopes and objectives including:

Key project milestones.

Workstreams and activities.

Resource availability and allocation.

Roles and responsibilities.

Stakeholder engagement.

Technical feasibility.

Develop and maintain a detailed project plan and comprehensive records of all project documentation.

Track project and provide regular reports on project status to project team and key stakeholders.

Manage and adjust for any changes in project scope, schedule and / or budget.

Use appropriate verification techniques to manage changes in project scope, schedule and costs.

Measure project performance using appropriate systems, tools, and methodologies.

Perform risk management assessments and manage accordingly to mitigate risks.

Manage the relationship and communication with the relevant department and all stakeholders, to ensure the project is delivered to their satisfaction.
Work Hours & Benefits
Discuss the working hours and benefits specific to 'Your Organisation.' Share company policy/ies about work from home and support staff options. Focus on the benefits that set you apart, such as stock and ownership options, paid parental leave, or corporate travel accounts.
Project Manager - Your Organisation: Qualifications
The Project Manager will have a minimum of 5 years' previous experience working on projects across a range of disciplines including IT, finance, operations or manufacturing. You will be a team player with a passion for efficiency, an appetite for learning, and a commitment to teamwork. The Project Manager will possess the following experience and attributes:
Bachelor's degree in engineering, IT, computer science, business, business administration, management, or equivalent experience.

Business, commercial, analytical, mathematical and budgeting acumen with proven experience of delivering projects on time and on budget.

Exceptional organisational skills, including attention to detail and the capacity to focus in a distracting environment.

A good communicator with effective stakeholder management and conflict resolution skills.

Superior written and verbal communication skills.

A good team player and effective leader is able to motivate a project team.

Strong technical skills and a solid understanding of IT.

Advanced knowledge of the entire Microsoft Office suite, including Projects.
Get Started Today With a No Obligation Free Trial
If you work for a mid-sized organisation in Australia or New Zealand, you can use this template as your starting point to attract the right candidates to your business. Use Subscribe-HR's suite of 13 codeless, cloud HR software solutions to seamlessly manage every touchpoint of the employee journey, from the first hello, to the final goodbye.
Want to try it out? Get started right away using our 7-day FREE trial, which gives you no obligation access to the full functionality of the Subscribe-HR platform.
Get instant access to our out-of-the-box, templated functionality to get up and running quickly, then use our powerful and flexible configuration tools to adapt your unique, HR process into Subscribe-HR.
Use our simple, step-by-step wizards to set up your organisation, your job description and then submit your job requisition. This is the crucial first step in creating a flexible #HRspine that improves the flexibility, efficiency and effective management of employee information
You'll be amazed by how fast and easy it is to set yourself up.