This job description template can be used for the Social Media Manager role in a mid-sized Australian or New Zealand organisation. If your business needs to find efficiencies that will save you time and money, HR digitisation and automation will help you streamline the entire employee lifecycle. Ready to transform your recruitment process? Everything you need to get started is available to you on this page.
Organisational Profile 'Your Organisation'
Mid-sized organisation.

Budget between $10 million and $40 million.

Relatively straightforward financing
This sample job description is for a Social Media Manager for a mid-sized Australian or New Zealand organisation in which the SMM takes responsibility providing clerical and administrative support to their entire team.
Sample Position Description
'Your Organisation'
Social Media Manager
Your Organisation: Vision / Mission
The mission of 'Your Organisation' is:
'Your Organisation' serves more than X people nationally each year and has a budget of $Y million.
Please visit www.yourorganisation.com.au to learn more.
Position Description - Your Organisation: Social Media Manager
Reporting to the CMO, the Social Media Manager (SMM) will be responsible for creating original written, image-based and video content, managing posts, responding to followers and growing our audience. You will manage 'Your Organisation's' image in a cohesive way to achieve our marketing goals, build brand recognition and increase followers. You will be up-to-date with the latest digital technologies and social media trends. You should have excellent communication skills and be able to express 'Your Organisation's' views creatively.
You will manage 'Your Organisation's' social media presence to generate high levels of web traffic and customer engagement. A successful Social Media Manager will collaborate with marketing, PR, support and legal teams to align brand messaging, promotions, and goals.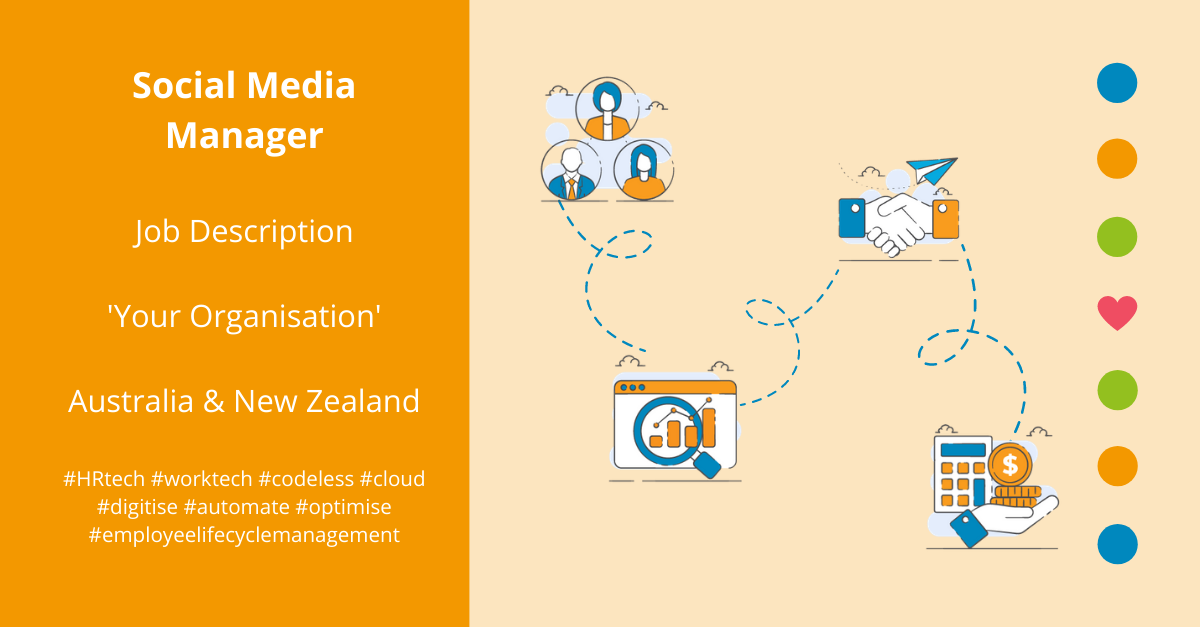 Specific responsibilities for the Social Media Manager include:
Develop and implement social media brand strategies, campaigns, and plans to build brand / 'Your Organisation's' awareness and align with business goals.

Create, maintain, and grow new and existing social networks, including Twitter, LinkedIn, YouTube, Instagram, Facebook, and others as required.

Set specific objectives, report on ROI, review the success of campaigns and develop ways to improve.

Monitor social media progress using web analytic tools and incorporate optimisation strategies, data analysis and research the best ways to increase traffic.

Plan paid social media advertising strategies and budgets.

Collaborate with other teams, including marketing, sales and support, to ensure brand consistency.

Liaise with support to resolve customer issues through social media.

Communicate with followers, respond to queries in a timely manner and monitor customer reviews.

Secure new media partnerships and drive engagement with social media influencers.

Write effective, concise copy for multiple platforms, websites, and social networks.

Perform research on current benchmarks and audience preferences; provide feedback regarding new media platforms, trends, and industry opportunities.

Suggest and implement new features to develop brand awareness, like promotions and competitions.
Work Hours & Benefits
Discuss the working hours and benefits specific to 'Your Organisation.' Share company policy/ies about work from home and support staff options. Focus on the benefits that set you apart, such as stock and ownership options, paid parental leave, or corporate travel accounts.
Social Media Manager - Your Organisation: Qualifications
The Social Media Manager will have 3-5 years of social media management experience. You will be a team player with a passion for efficiency, an appetite for learning, and a commitment to teamwork. The SMM will possess the following experience and attributes:
Bachelor's degree in marketing, communications, PR, or related field.

Experience identifying and creating campaigns for target audience.

Experience with Hootsuite, Sprout Social, Schedugram, HubSpot or other social media publishing platforms.

Knowledge of Photoshop, Illustrator, Canva, and Google Analytics.

Proficient computer skills, Microsoft Office Suite (Word, PowerPoint, Outlook, and Excel).

Knowledge of Search Engine Optimisation (SEO) best practices.

Experience with technologies and best practices for web design, web production, and creative design across multiple platforms.

Excellent analytical and time-management skills.

Strong project management skills with the ability to supervise multiple projects.

Strong organisational skills, excellent time management skills and the ability to prioritise work.

Attention to detail and problem solving skills.

Superior written and spoken communication skills, including excellent copywriting skills.

Excellent interpersonal and relationship building skills.

Self-starter with a professional attitude who works well independently.
Get Started Today With a No Obligation Free Trial
If you work for a mid-sized organisation in Australia or New Zealand, you can use this template as your starting point to attract the right candidates to your business. Use Subscribe-HR's suite of 13 codeless, cloud HR software solutions to seamlessly manage every touchpoint of the employee journey, from the first hello, to the final goodbye.
Want to try it out? Get started right away using our 7-day FREE trial, which gives you no obligation access to the full functionality of the Subscribe-HR platform.
Get instant access to our out-of-the-box, templated functionality to get up and running quickly, then use our powerful and flexible configuration tools to adapt your unique, HR process into Subscribe-HR.
Use our simple, step-by-step wizards to set up your organisation, your job description and then submit your job requisition. This is the crucial first step in creating a flexible #HRspine that improves the flexibility, efficiency and effective management of employee information
You'll be amazed by how fast and easy it is to set yourself up.