This job description template can be used for the Web Designer role in a mid-sized Australian or New Zealand organisation. If your business needs to find efficiencies that will save you time and money, HR digitisation and automation will help you streamline the entire employee lifecycle. Ready to transform your recruitment process? Everything you need to get started is available to you on this page.
Organisational Profile 'Your Organisation'
Mid-sized organisation.

Budget between $10 million and $40 million.

Relatively straightforward financing.
This sample job description is for the Web Designer role for a mid-sized Australian or New Zealand organisation in which the Web Designer takes responsibility for taking our clients' ideas and develops them into beautiful, intuitive, and functional web designs. 'Your Organisation' is seeking a team player who takes pride in their work and wants to make sure our customers are satisfied with their finished product.
Sample Position Description
'Your Organisation'
Web Designer.
Your Organisation: Vision / Mission
The mission of 'Your Organisation' is:
'Your Organisation' serves more than X people nationally each year and has a budget of $Y million.
Please visit www.yourorganisation.com.au to learn more.
Position Description - Your Organisation: Web Designer
Reporting to the head of the design team, the Web Designer is responsible for designing wireframes, prototypes, and user interfaces according to client specifications. The Web Designer will also help manage the implementation of the website design projects to ensure that each project finishes on time and on budget. The ideal candidate will have an eye for clean, aesthetic web design and superior user interface design skills.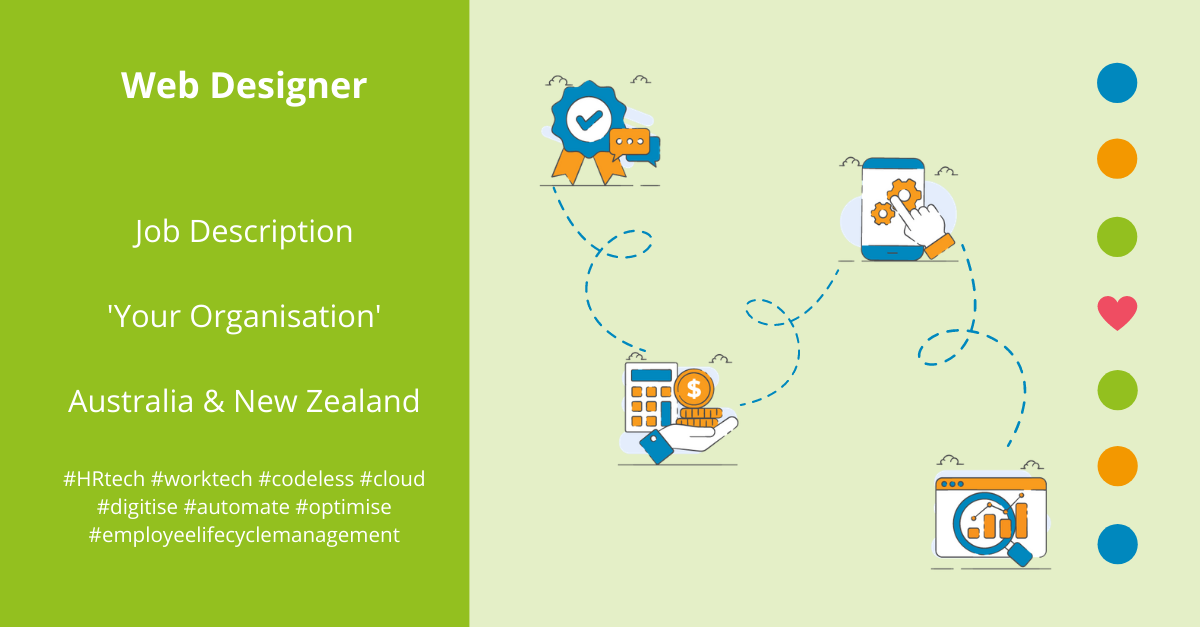 Specific responsibilities for the Web Designer include:
Liaise with clients to assess their needs and expectations for the project, then strategise and plan a compelling and effective design concept.

Conceptualise original design ideas to create websites that prioritise simplicity and user-friendliness as the solutions to complex design challenges and roadblocks.

Create wireframes, storyboards, user flows, process flows and site maps to communicate interaction and design ideas.

Design attractive web pages that are intuitive, functional, and visually appealing.

Present and defend designs and key deliverables to peers and executive-level stakeholders.

Manage and execute all visual website design stages from initial concept to final hand-off to engineering.

Collaborate with a web developer to create structure and HTML content for the site.

Work with the web design, development and design teams to ensure that projects are completed on time and within budget.

Track and evaluate site performance and make adjustments as necessary.

Establish and promote design guidelines, best practices and standards.
Work Hours & Benefits
Discuss the working hours and benefits specific to 'Your Organisation.' Share company policy/ies about work from home and support staff options. Focus on the benefits that set you apart, such as stock and ownership options, paid parental leave, or corporate travel accounts.
Web Designer - Your Organisation: Qualifications
The Web Designer will have a minimum of 3 years' previous experience in a similar organisation. You will be a team player with a flair for design, a passion for efficiency, an appetite for learning, and a commitment to teamwork. The Web Designer will possess the following experience and attributes:
Associate or bachelor's degree in web design, computer science, or a related field.

Knowledge of HTML, Javascript, WordPress, CSS, and PHP for rapid prototyping.

Solid experience in creating wireframes, storyboards, user flows, process flows and site maps.

Proficiency in Photoshop, Illustrator or other visual design and wire-framing tools.

Excellent visual design skills with sensitivity to user-system interaction (demonstrable through your portfolio).

Creative and detail-oriented.

Good interpersonal skills, with excellent written and verbal communication.

Ability to solve problems creatively and effectively.

Up-to-date with the latest Web trends, techniques and technologies; able to articulate trends and potential clearly and confidently.
Get Started Today With a No Obligation Free Trial
If you work for a mid-sized organisation in Australia or New Zealand, you can use this template as your starting point to attract the right candidates to your business. Use Subscribe-HR's suite of 13 codeless, cloud HR software solutions to seamlessly manage every touchpoint of the employee journey, from the first hello, to the final goodbye.
Want to try it out? Get started right away using our 7-day FREE trial, which gives you no-obligation access to the full functionality of the Subscribe-HR platform.
Get instant access to our out-of-the-box, templated functionality to get up and running quickly, then use our powerful and flexible configuration tools to adapt your unique, HR process into Subscribe-HR.
Use our simple, step-by-step wizards to set up your organisation, your job description and then submit your job requisition. This is the crucial first step in creating a flexible #HRspine that improves the flexibility, efficiency and effective management of employee information
You'll be amazed by how fast and easy it is to set yourself up.