At this time of year, there are a lot of articles floating around which profess to know the top trends for HR during the coming year. Sometimes these articles are valid (and backed up by a significant amount of data), and sometimes there is a lot of crystal ball gazing going on. Ultimately, it is becoming more and more difficult to accurately predict future HR trends, however, there are a few annual reports that warrant investigation. One of those reports is Deloitte's annual Human Capital Trends report. The 2016 offering outlines the opinions and perspectives of 7,000 HR and business leaders. That's a significant amount of data gathered from a global cohort, so it is worthwhile taking a look at the picture those 7,000 respondents painted about the likely short and long-term future of business from the HR perspective.
Top 10 Trends From The 2016 Report
It is fair to say that the accelerated rate of change precipitated by the digital revolution will continue to disrupt the way we live and work in ways that we often don't (or can't) anticipate. In an effort to try and keep pace with such changes in the workplace, let's take a look at the top 10 trends that emerged out of the 7,000 responses to Deloitte's 2016 study.

A Global Perspective
Perhaps even more telling, are the images in the Human Capital trends report, that illustrate insightful points of consensus from respondents across the globe. According to Deloitte, CEOs, leadership teams and HR leaders are more definitively focused on understanding and creating a shared culture, designing a work environment that engages people, and constructing a new model of leadership and career development. The table below indicates how respondents across the globe rated the level of importance of the challenges listed, with the numbers illustrating the percentage of those who said that a particular issue was of importance to their organisation.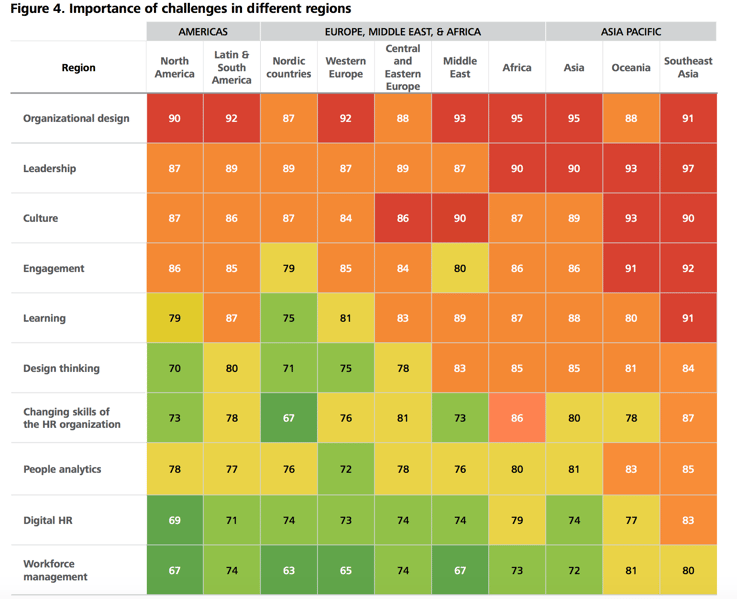 Does Your Organisation Have What It Takes?
Culture, leadership and organisational design are the foundations upon which great businesses are built. Yet the question remains; do organisations really understand how to integrate each of those elements to actually build a great business? How do you design a robust business where its not only great to work, but in which the design reflects the culture? How many organisations have leaders that drive and embody culture in a way that truly amplifies engagement? Is it possible to harness technology to manage the workforce, analyse people trends AND provide the real-time tools to enable employees to learn what they need to excel in their roles, not just from a skills perspective, but as a means to building collaborative teams?
It is abundantly clear that there are massive gaps between where businesses are (versus where they need to be), particularly in the areas of organisational design and learning. A significant number of respondents also indicated that whilst they know that digital HR is important, very few of them are actually ready for it.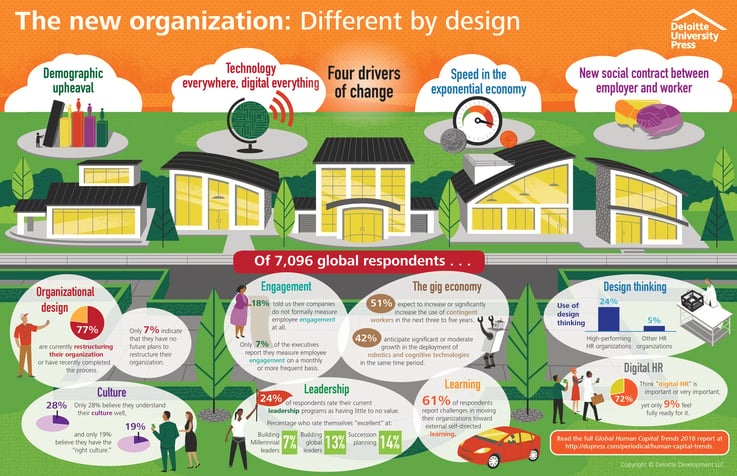 Where Should You Focus Your Energy In 2017?
The 2016 Human Capital Trends report lists the top 10 trends from their respondents, but even choosing one and making it your mission to excel at just one would make a positive difference to many businesses. In a world where we're bombarded with a smorgasboard of options, it is easy to spread time and resources too thin in an attempt to get everything right, all at once. Perhaps it would be more beneficial, more realistic and more achievable to choose one of the 10 trends that Deloitte lists and use that as your theme for the year 2017. Of course, every business is different, and there is no one-size-fits-all methodology for transforming your organisation into the best possible version of itself.
And yet, change has to start somewhere, with one small step, and then another, and another, and on it goes. It is a never ending journey. For as long as you are in business, the need to change and evolve will be there. This is more true than it has ever been at any point in the history of work.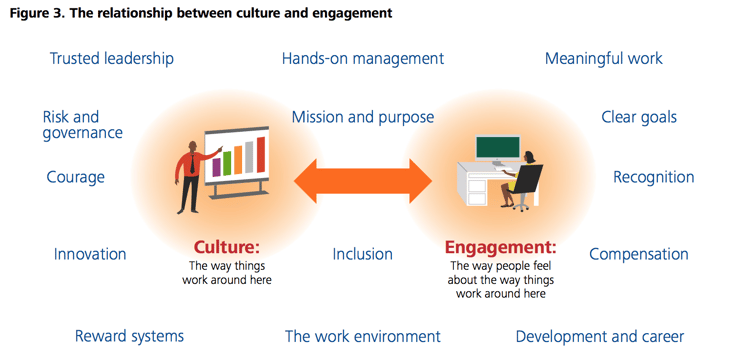 As we launch into a new year, we all have to ask ourselves the question: what should we focus on this year? Which one (or two) challenges will shift the needle the most if our business chooses to spend our time and energy on getting it right (or as right as it can be for right now)? Of course, only you can answer those questions, but if you take the time to read through the Human Capital Trends 2016 report, you will be sure to have some intelligent and highly relevant food for thought to inspire you during 2017.
Want to dive a little deeper into how you can leverage these trends to benefit your organisation? We've created this White Paper that outlines which three trends have the potential to make the most different to your success.