If there's one topic that's hotter and more relevant than ever after 2020, it is employee wellbeing and workplace health and wellness. Especially given that many people are now working from home and the boundary between work and non-work is even more blurred than it was before. What should HR Professionals be focusing on to cultivate workplace wellness? We're sponsoring this year's Workplace Wellness Festival because we know it matters, and we're confident that the virtual event covers everything you need to know about orienting the employee experience towards wellness, no matter where they work from. Read on to find out more.
Why The Workplace Wellness Festival?
The Workplace Wellness Festival has established itself as Australia's biggest online festival of all things workplace health and wellness. Now into its third year, no other event matches this festival's profile, breadth of content, and sheer audience size.
This year's Workplace Wellness Festival brings together over 100 expert speakers from Australia (and overseas), as well as the industry's top vendors, and thousands of business professionals – all delivered virtually via their state-of-the-art platform!
Held online over two days (June 22 and 23), the event features 8+ conference tracks that allow attendees to take a big-picture or deep-dive into key topics of interest across the multiple conference tracks.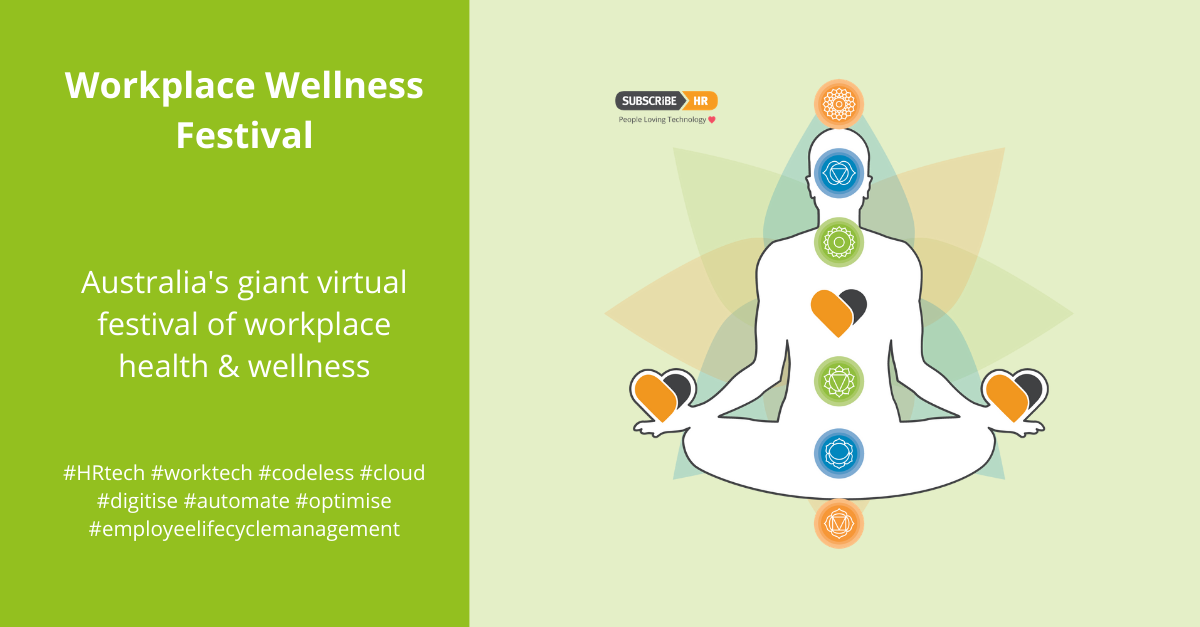 Virtual Workplace Wellness 2021: What to Expect
After the year that was 2020, workplace health and wellness is centre stage as organisations struggle to come to terms with the new ways in which work is being done - which is in offices, lounge rooms, kitchens, garages, and other locations across the globe. The employee experience and the employer-employee relationship have changed dramatically in the last twelve months and navigating this new dynamic may well take years to find an equilibrium. The Workplace Wellness Festival aims to equip HR Professionals and business leaders with the knowledge, tools, and support needed to transform the workplace in a way that enables employees to thrive, no matter what the circumstances. This is particularly important for organisations managing a distributed, remote workforce.
This year's virtual festival of workplace health & wellness offers the following tracks across two days next Tuesday 22nd and Wednesday 23rd June:
Health, Safety & Medical.

Culture, meaning & purpose.

Financial wellness.

Solutions.

Mental wellbeing.

Employee engagement.

Leadership.
Topics covered in these tracks will include important and emerging issues such as:
How to drive large-scale culture change around mental health in the workplace.

Video conferencing: its effect on wellbeing.

How to pilot health and wellness initiatives.

Gender inequality at work.

What to do about burnout, exhaustion, and disengagement?

How the employee relationship has changed forever.

Nutrition: The missing piece of the corporate puzzle.

Healthy buildings and the workplace.

Beyond compliance: Is values-based leadership the key to addressing workplace bullying and sexual harassment.
Set The Right Foundation For Wellness in your Workplace
How does your organisation approach workplace wellness? An integrated, holistic approach to workplace health and wellbeing is built on a solid foundation of digitised, automated, and optimised systems of work. That's why employers need to consider every touchpoint that employees engage with, including #workplacetech.
Subscribe-HR is committed to working with organisations to put the 'human' back into human resources and cultivate well workplaces. Discover how you can digitise, automate, optimise and harmonise all the energy centres in your entire employee lifecycle (from hire to retire) using codeless cloud HR software.
Subscribe-HR's codeless cloud HR software Platform provides 13 solutions under one roof. You'll find everything you need to seamlessly manage every touchpoint of the employee journey from the first hello, to the final goodbye.
Want to try it out? Get started right away using our 7-day FREE trial, which gives you no-obligation access to the full functionality of the Subscribe-HR platform.
Get instant access to our out-of-the-box, templated functionality to get up and running quickly, then use our powerful and flexible configuration tools to adapt your unique, HR process into Subscribe-HR.
Use our simple, step-by-step wizards to set up your organisation. This is the crucial first step in creating a flexible #HRspine that improves the flexibility, efficiency and effective management of employee information
You'll be amazed by how fast and easy it is to set yourself up and get started.