In an environment where it is virtually impossible to get consensus on anything, I think it is fair to say that people on all sides of the equation can unite on this: no one likes to fill in or process forms. Not only that, another truism that you could add to the certainty of death and taxes is the fact that there is no getting around the high number of forms new employees have to complete when they commence employment. From employment requisition and authorisation to hire, through to requirements like tax and super declarations, Onboarding new employees requires A LOT of forms. If you're still using paper to record and process this type of information, then you're still victim to manual double (or more) handling. This is an extremely inefficient way to operate in today's business environment, not to mention an expensive one. If you're ready for change, but you're not quite sure where to begin your digital transformation, digitising your forms is an easy place to start. It also gives you big wins, quickly, with minimal impact on your budget.
Digital Forms: A Win For The Employer AND For The Employee
Let's face it, no one likes to fill in forms (yes, we already said that, but it is worth repeating because if you're an HR Professional and your employees are still using paper forms, please consider that switching to digital forms can quite literally have a positive impact on their wellbeing). Nor does anyone like to be stuck with the job of transferring information from a paper form into what ever system/s your business uses to store employee information. Especially if any of the information in one form is repeated on others. The good news is that HR software makes it possible to say goodbye to paper forms altogether. Imagine a seamless process whereby your new (or current) employees can complete ALL their forms via their digital device. That's right, any form you might possibly have within your organisation can be digitised and completed via desktop, laptop, tablet, or phone.
What does that mean if you're an employer? Well, the fundamentals are pretty straightforward:
Less manual handling = greater efficiency in processing administrative tasks.

Faster processing time = budget spend freed up for more important initiatives.

Less time pushing paper at a desk = more time for HR Professionals to spend with employees on things that matter.

More time with employees on things that matter = better engagement.

Better employee engagement = better culture.

Better engagement and culture = happier employees and better returns on investment.
However, the benefits for employers are only half of the equation. Don't forget that your employees are your customers too, and their experience of working at your organisation is a critical factor in your ability to retain top talent.
So let's consider what it means to your employees if they can complete any (and every) form that you have to throw at them as part of their employee lifecycle, digitally. This is especially significant for digital natives, which means Millennials and after, who make up an increasingly high proportion of the workforce. What are the benefits and outcomes if every form in your organisation can be completed without EVER having to print a piece of paper or fill in a spreadsheet:
Less manual handling = less time taken doing administrative tasks.

Less administrative tasks = more time doing work that matters.

Less time pushing paper at a desk = better productivity.

Direct to digital input = less manual handling mistakes.

Removal of manual handling = empowers employees to control their own data.

Empowered and productive employees = happy employees (it really is the little things that matter).

Happy, productive employees = better retention of talent and better culture.
Digitising your forms also saves paper, which is good for your budget and good for the environment. Starting the process of digital transformation by turning all your paper forms into digital forms is ALL upside.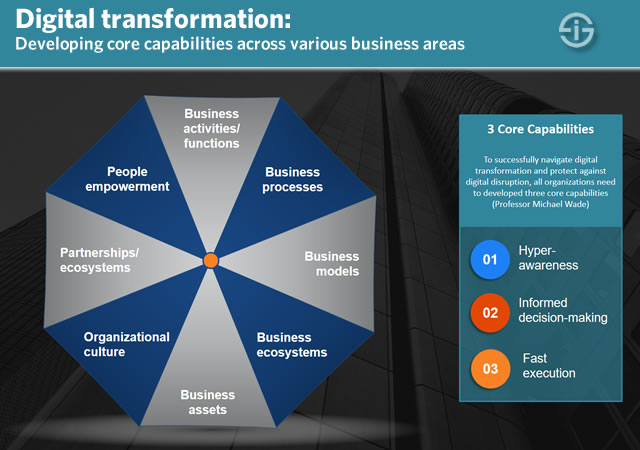 From Digitisation to Digitalisation
Digital transformation comes in different shades and colours and will be an ongoing, ever evolving process as different technologies become available. Digitisation is the first stage of the digital transformation process, but it certainly isn't the last. If you haven't made the transition to digitising your business systems and processes, chances are you will never be at the point where you can turn your attention to digitalisation, which is another level of digital transformation altogether. Gartner, the arbiters of all things digital that matter and make a difference, offers the following perspectives on their blog:
Digitisation: The widespread definition is 'the conversion of analog to digital.' You could use the example of the transition from LPs to CDs. In HR, examples are job boards replacing newspaper job postings, performance management systems replacing paper forms or self-service case management systems replacing employee calls to the HR department. Pretty much all the new and improved technology that replaces manual processes (and all your digital forms) falls under the category of digitisation.

Digitalisation: The Gartner definition is 'the use of digital technologies to change a business model and provide new revenue and value-producing opportunities.' It is the transition to become a digital business. In this instance you could use the example of the transition from CDs to Spotify. In this example, success isn't possible unless organisational practices and processes and culture revolve around the new digital business model.
Digitisation is the critical inflection point between analog and digitalisation. Digitisation benefits are functional and process-specific. Often times, these benefits are detached from or invisible to the business, making them easy to miss (or dismiss) because they've been part of the HR equation for a while now. However, improving functionality and processes through automation can result in productivity gains and lead to innovation when done well. Such results should never be underestimated because they are critical to ongoing operational success.
If HR wants to fully embrace digital transformation, then digitisation can kick-start the transition towards digitalisation. Competition with successful digital businesses in the 21st century marketplace requires a cohesive organisational strategy. Talent, organisational structures, diversity and inclusion, and data-driven workforce decisions are just a few of the topics requiring profound change in the way HR thinks about, plans, selects, implements and operates technology to benefit the entire organisation.
Are You Ready To Start Your Digital Transformation?
If your organisation is still using manual forms, then you're definitely in a good position to take your first tentative steps in your digital transformation journey. To make things easy for you, we will even digitise some of your forms for FREE. In fact, we're so committed to improving the user experience of both HR Professionals AND the employees they serve, we offer FREE access to our Employee Onboarding Software solution, PLUS, we will set up five Letters of Offer and five Employment Contracts using our magical SHaRe Employee Survey tool for FREE.
Sounds too good to be true? Well it isn't. If you would like to discover more about how to automate your Employee Onboarding process and digitise the forms you need to use as part of that process, simply click on the button below.
Image reference: i-Scoop digital transformation – developing core capabilities across various business areas.