In their 2013 study on HR analytics effectiveness, HR InSights surveyed over 250 HR professionals on the use of analytics within the HR function to determine its impact on the rest of the organisation. The results of this survey were far from satisfactory, from a HR Manager's perspective.
85% of the leaders surveyed were unable to quantify HR's contribution to the business. Perhaps this was because HR never benchmarked or measured their own' function's performance in any way. This lack of measurement was also present in other aspects of the organisation, since it is found that one third of the respondents did not measure business outcomes from people-performance initiatives.
An Economic Intelligence Study of 418 global executives commissioned by KPMG echoed the above results, showing 85% of those surveyed finding that their HR team doesn't excel at providing insightful and predictive analytics. They continue to highlight that HR Managers understand the value of good analytics in reporting, and yet, despite this, they continue to produce reports that provide nothing more that basic operational or transactional measurements – or useless facts, falling short of providing valuable or actionable insights that could genuinely make a contribution to the business' success.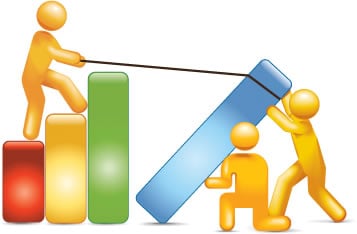 So how can HR contribute to your organisation's success?
By measuring the right things, of course.
For HR Managers to break out of this mould, there needs to be a focus on delivering real insight that will make a strategic impact on the business. KPMG believes that "by creating a clear 'line of sight' between HR activity and your bottom-line profitability, HR analytics can provide a tangible link between your people strategy and your organisation's performance".
Drawn from the works of Chartered Institute of Personnel and Development (CIPD) UK and HR thought leader Dr. John Sullivan, we've compiled a list of key metrics you need to measure to draw real insight that can help the business move forward in its strategic direction:
Recruitment
Measure the difference in productivity levels of external hires, and compare this to productivity levels of internal hires
Determine manager satisfaction and average performance appraisal score of new hires
Measure turnover rates with new hires
Identify the differences in performance between internal and external hires (in percentage and dollar value)
Most importantly, measure the dollar impact of a bad hire in key positions
Overall workforce productivity
Measure yearly the percentage improvement on workforce productivity and the monetary value of this increase in productivity
Determine the ratio of the amount spent on people costs versus revenue / profit generated
Measure attendance and absence levels, determine their causes and work out their impact on productivity and costs

Measure the time taken by employees to reach the expected level of competence to determine both efficiency and effectiveness of your development programs
Employee engagement
Determine the percentage of employees who look forward to coming to work
Work out the percentage of employees who are satisfied with management behaviour by surveying them on several topics:
Extent to which they feel their work is challenging and exciting
Engagement and learning provided or encouraged by manager
Recognition and rewards awarded by manager
Extent of control or autonomy they have over their work
Knowing that their work makes a difference
Workforce Development
Identify the proportion of staff operating at an acceptable competence level
Determine the cost of training spend and weigh it against the increase in productivity in dollar value
Record the number of employees who are satisfied with learning and growth opportunities provided by the organisation
Determine the percentage of new hires who point out training and learning opportunities as the key reason for accepting the job
Compensation and Benefits
Measure the correlation of intrinsic and extrinsic rewards on performance outcomes and determine the differences in performance outcomes associated with specific extrinsic rewards
Identify the effects of total compensation on performance, and obtain the ratio of monetary value provided
Determine employee satisfaction from compensation and work out the percentage of employees who are satisfied with their compensation
Determine the correlation between satisfaction from compensation and job productivity
Identify the percentage of top-performing employees who resigned for compensation-related reasons
HR Costs and Goals
Determine the amount spent on HR expenses for revenue generated – measure this yearly
Determine the percentage of the top priority goals that were met or exceeded during the year
If you add these key metrics that you need in your HR reports, those can give you a deeper insight into productivity levels within the organisation and the factors that contribute to such productivity. By identifying the factors that contribute to high productivity levels, you can adjust your recruitment or employee engagement strategies to incorporate them even further, to maximise productivity. Only then can HR prove itself to be an integral component of an organisation's success.
If you would like to understand the evolution of HR Metrics, past, present and future, download the free White Paper below. If you're ready to explore how HR Reporting software can transform your business, request a discovery session, where you'll get a customised demonstration from the comfort of your own desk.