Business as usual right now is all about cutting costs and driving efficiency. If you were one of the many organisations that got caught out this year because you hadn't started your digital transformation, then how do you ensure that you have the right tech in place to run your entire business remotely (and indefinitely) if needed? How do you embark on a digital transformation as well as cutting costs and driving efficiency? HR Professionals and business leaders across the globe are turning to 'low to no code' cloud solutions that ensure access to valuable data from anywhere at any time. This is essential when your workforce is working virtually and customer expectations are high. In this week's HR Blog, we explore the benefits of low to no code #HRtech and how such solutions can help you do more with less (and do it better) in a shorter amount of time.
Throughout 2020 necessity has well and truly become the mother of all invention. Business leaders everywhere are being called on to pivot 'business as usual' to minimise disruptions, ensure continuity, get the best out employees and make sure they have what they need to succeed. The actions needed to ensure business resilience and agility are much more complex under current circumstances than simply adding a digital transformation project to BAU activities. Not that a digital transformation is necessarily simple, especially if you're doing most of your BAU activities manually. Transformation initiatives need to be completed faster, using fewer resources and less in-house skills all under the restraint of shrinking budgets. At the same time these initiatives have to be launched with customer experience, employee productivity and individual well-being front of mind. So what to do?
How Digitalisation Can Drive Efficiency and Reduce Costs
According to PwC's recent report on digitalisation in Australia, the events of 2020 have fast-tracked the digital-first approach both locally and globally. From their perspective, this is all about using technology to enhance human interactions, not replace them. We all knew that a digital-first approach was both necessary and inevitable, but legacy tech environments and cultural indifference slowed many organisations down.
Let's not forget that reports like KPMG's annual The Future of HR indicate that in 2019, only 40 per cent of HR leaders said they had a digital work plan in place at the enterprise or HR level. Only 40%! That means, when the world of work got turned upside down at the start of 2020, it's possible that 60% of organisations were left scrambling to be able to conduct business as usual. That's A LOT of businesses and employees under massive amounts of pressure just tp keep their heads above water. And that's before you factor in all the other new issues that many people had to juggle. Ouch! Almost overnight, circumstances created a critical need for organisations to prioritise their digital transformation. The question is - has yours?
From PwC's perspective, they believe that driving digital engagement will enrich connectivity by using tech to get the customer experience right. To zero in on those things that truly add value for the customer (whether that is your internal customers - your employees, or your external customers), organisations need to adopt a 'digital-first' mindset in order to even be able to keep the ball rolling, let alone drive efficiency and reduce costs.
Based on their research and experience, a digital-first mindset involves:
Focusing on customer value and delivering it with innovative methods in a rapid way.

Fostering a 'test and learn' culture, where innovation is encouraged and perfection doesn't get in the way of progress.

Actively seeking inclusivity and diversity in the organisation, especially among leadership and the board.

Developing a leadership style based on employee empowerment.

Ensuring that cybersecurity vigilance pervades every part of the organisation.

Using the very best digital and tech platforms, tools and practices.

Getting as much functionality much as you possibly can within one system.

Ensuring that whatever systems you choose to use will integrate seamlessly with all your other business systems.
This type of digital-first approach can generate and increase revenue generation. According to PwC's Global Consumer Insights Survey, companies that deliver superior customer experiences through a digital-first approach, are able to charge a premium over and above their competitors of as much as 16%.
At the same time, they believe that a digital-first approach can boost productivity, eliminate waste and reduce unnecessary costs. Cost reduction is not the primary aim (it's all about customer experience) but it's an extremely important by-product. Their Connected and Autonomous Supply Chain Ecosystems Report also revealed that organisations that developed digital capabilities to transform their linear supply chains into ecosystems, achieved savings of 6.8% annually in supply chain costs.
Choose Low To No Code HR Software
Many software providers tout (and shout across their advertising channels) that their software is good for 'everyone,' but the reality is, one size does not fit all. Add to that the fact that many HR software systems don't provide (or only allow minimal) configurability and you've got a recipe for unmet expectations and dissatisfied end-users. What we've seen many times is that if your business doesn't fit into the software system 'as it is,' then it is highly likely you'll be snookered, because without configurability, your HR software won't have the flexibility to be tailored to do what you need it to do.
What makes #HRtech truly valuable is when low to no code functionality makes it possible for end-users (that is - the customer) to:
Streamline and digitalise processes.

Enable frictionless experiences that delight users.

Advance digital HR transformation.

Do all of the above in a manner that best suits each of those users.
Assessing the benefits purely form the software development side of the equation, low to no code HR software provides in-built tools like configuration and development functionality that doesn't require a Developer. That means customers are able to add to or change the system to suit their needs without the expense (or time) that it would take for a Developer to do the work. Making your #HRtech do what you want it to do (as opposed to the other way around) means your business can, according to Developers like Outsystems benefit from the following:
Speed: Of all the benefits that low to no code HR Software offers, the ability to accelerate the configuration and implementation of new software and applications is the most important.

Agility: Business agility enables enterprises to adapt and respond to market changes and new opportunities using innovative, digital solutions that solve business problems. Being an agile business has never been more important in a time where costs are being cut and efficiencies need to be found.

Multiexperience: Low to no code enables customers to interact with configurable HR Software their way (assuming the software IS configurable). Independent research analyst firm Gartner defines this as 'multiexperience,' and it is a really fantastic benefit. Mulitexperience is not about the channels but instead about the user. It is the delivery of frictionless experiences across multiple touch-points, and low-code makes this easy by removing the complexity of providing an optimal experience to every customer or user every time.
Development for all: HR software that provides low to no code versatility, configuration tools and developer access, makes it possible for everybody in your business to collaborate to deliver the best solutions, unleashing the creative potential of teams of business and IT users.

Automated governance: Built-in automated governance, meaning that System Administrators are able to monitor and control all changes with visibility of the system, Apps, users, and security.
However, the list of end-user benefits doesn't end there. If you look at the types of functionality that configurable, low to no code HR software has to offer, the list goes on, and on (and on). If your business needs to find efficiencies and cut costs, that's win-win-win. Here at Subscribe-HR we've developed a suite of HR software solutions that provide everything you need 'out-of-the-box' so that you can make your digital transformation happen fast. Then, if you need to tailor the out of the box options, our software functionality is highly configurable. Meaning you can bend it to your will at every touchpoint where you need to tailor it to meet the unique needs of your organisation. That way, you can focus on providing the best employee experience across the employee lifecycle.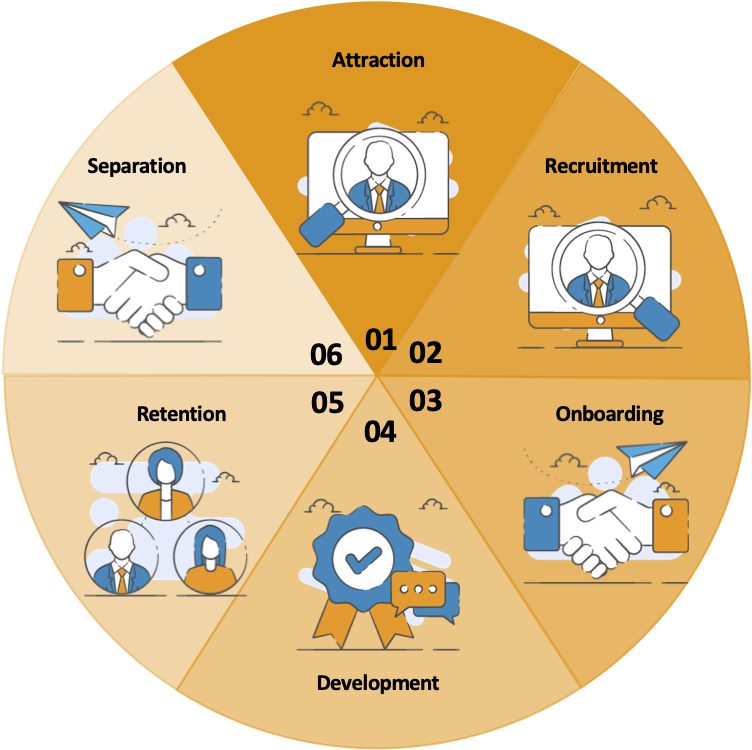 Get As Much As #HRtech As Possible In One System
Have you ever sat down and done the maths on how much your organisation spends on SaaS software subscriptions on a monthly basis? If this is an expense item that you don't usually see because your finance team takes care of it, you might be shocked by how much all the different systems your business uses adds up to. If you're being asked to cut costs and drive efficiency, you want to make sure you can get as much HR software as possible under one roof, without having to pay for multiple different best of breed solutions.
Essentially, you want to ensure that you can manage your entire employee lifecycle using one HR software provider if possible. It is worth spending the time to find a system that offers the functionality to digitise, automate and manage as many good quality employee lifecycle touchpoints in one system as possible. That is the most desirable and most efficient way to use #HRtech. Only use isolated best of breed solutions of there is a significant benefit in doing so, where there are niche industry-based requirements that warrant this for your business.
Remove Complexity From Your Systems and Processes
Life, as well as work, have become more complicated than ever this year due to circumstances beyond our control. That's why it would be wise, whilst engaged in your digital transformation, to focus on reducing complexity. In considering how to cut costs and drive efficiency, ask yourself what ways of working, systems and processes need a redesign in your organisation? Each business is unique, but organisations like NFPs, NGOs, charities and social enterprises in particular can have unique structural complexities that are difficult to manage using most HR software. To find the right digital technology that can adapt to the automation of such complexity has historically been difficult and expensive. That's why many businesses often feel like they have no choice but to continue struggling with shuffling paper or spreadsheets via email when they first go looking for solutions to use as part of a digital transformation. What many organisations find when they first start investigating HR software is that the solution just doesn't meet their needs.
The good news is, if you're an HR leader and you haven't already started the process of digital transformation in your organisation, there is a massive opportunity for you to lead the way.
Cloud HR software allows HR Professionals to leverage technology that has been pre-built to allow for turn-key configuration. That means you can access HR software with the tools you need to easily re-configure settings around key automation, workflows and data capture requirements to suit your specific requirements.
Now more so than ever, businesses like yours can access the support they require, at a price that meets your budget. All thanks to the marriage between sophisticated, simple to use tech that gives you what you need under one roof, plus highly configurable, low to no code functionality. That means you can say goodbye to spreadsheets and time-consuming, paper-based processes. You can digitise and automate multiple touchpoints across your employee lifecycle, including:
You can join other organisations like Anglicare NT, Autism WA, Li-Ve Tasmania, and Fitzroy Basin using #HRtech to fulfil their purpose and drive efficiencies through digital transformation.
This makes manual, paper-based HR admin bottlenecks a thing of the past. The result? You can improve your customer service (both internal and external) and spend more time focused on your chosen cause. And who doesn't want that? Ready to find out more about how #HRtech can facilitate your digital transformation of HR? We've created a self-service discovery centre that answers any questions you might have and helps you better understand (and communicate to your business) how HR software can help your organisation thrive in the new world of work.