Great Place to Work's annual research about the best organisation's to work for, both in Australia and overseas, is based on data from more than 10 million employees in 50 countries representing about 6,000 organisations of varying sizes, industries, maturity and structures. Their 2017 '50 Best Places To Work' report about Australian businesses illustrates that 'being a great workplace is no longer seen as 'nice to have'; today it is imperative to business vitality and success.' What their research proves, is that your business can be a great workplace, one that your employess love coming to and participating in — and become more successful as a result. Here we look at Great Place to Work's metrics to understand the standard that defines a great workplace.
What makes a great workplace?
It would be easy to rattle off aanother list of bullet points that outline essetntial requirements. However, Great Place to Work's 2017 report states it clearly and simply:
'Having a culture of trust benefits the organisation at every level; employees are more innovative, creative, loyal, demonstrate respect, and genuinely care about each other and the company.'
But how, exactly do you go about creating an organisation that cultivates trust in a manner that results in employees being willing to nominate your business as a 'great place to work?'
The employee view
According to the research, great workplaces are built through the day-to-day relationships that employees experience — not a checklist of programmes and benefits. It isn't what the companies are doing, it is how their leaders are doing it. Ultimately, the key factor in common in workplace relationships and interactions is trust.
The most trusted source for rigorous research on trust in business, is Edelman. Edelman have been conducting their annual research on trust and publishing their trust barometer report for almost 2 decades. Their annual trust survey evaluates the trust of participants in institutions, credible sources/channels and on specific issues and perceptions impacting trust in business and government.
Based on their 2017 results, Edleman reveals 'that trust is in crisis around the world. The general population's trust in all four key institutions — business, government, NGOs, and media — has declined broadly, a phenomenon not reported since Edelman began tracking trust among this segment in 2012.'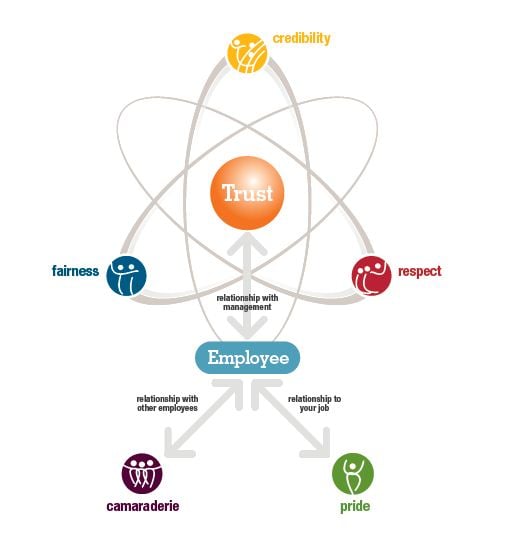 Offering a bullet pointed list, Great Place to Work's research indicates that from the Employee's perspective, a great workplace is one where they:
Trust the people they work for;

Have pride in what they do; and

Enjoy the people they work with.
Make no mistakes, trust is the defining principle of great workplace. Trust is created through management's credibility, the respect with which employees feel they are treated, and the extent to which employees expect to be treated fairly. The degree of pride and levels of authentic connection and camaraderie employees feel with one are additional essential components.
The management view
From the Manager's perspective, a great workplace is one where they:
Achieve organisational objectives;

Work with employees who give their personal best; and

Work together as a team / family in an environment of trust.
There are nine ways – or practice areas – where leaders and managers create an environment of trust. This fundamental model, confirmed by Great Place to Work through over 25 years worth of analysis of employees' own opinions, is universal and consistent year-over-year, country-to-country. It applies not only to all organisations but to companies with diverse employee demographics.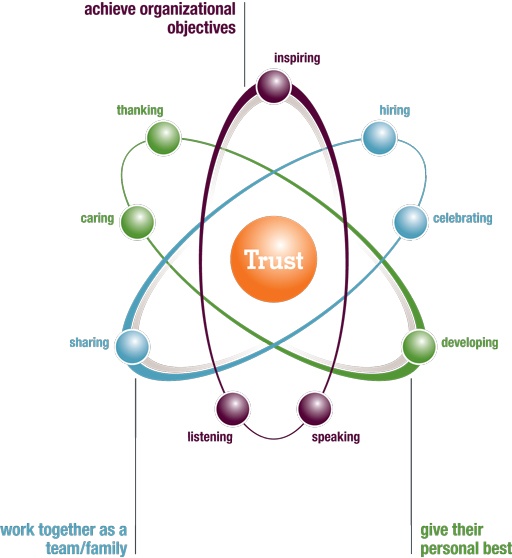 How can business rebuild trust?
Richard Edelman, CEO of Edelman's, recently outlined five measures that organisations large and small need to take to transform the global breakdown in trust.
Business must step into the void left by government on pressing issues for society such as automation and environment, and the information deficit left by a diminished and less credible mainstream media.
Business needs to act differently, that is, to change its fundamental model to get beyond the ingrained Milton Friedman short term thinking. Without doing so, business will not be able to use its agility, innovation and supply chain to make money and serve society.
Business should fund collaborative journalism. This will enable organisations to be subject specialists in areas of comparative advantage and to offer a platform for consumers and employees to freely critique products and workplace conditions. This must be in plain language and present both sides of arguments. Corporate spin / speak is no longer acceptable.
The PR industry should be a vital partner in the evolution of business. We should have a positive agenda to fight for the future and not defend the past. We must also push for a high standard for ethics in business. We should help make a company's employees the first stakeholder to get information as they are the most trusted source in the peer-to-peer world. To be a credible partner the PR industry must take care in choosing its clients. Not every client deserves representation in the court of public opinion.
He proposes a PR Compact that is based on fact-based communication, with both sides presented and facts checked; transparency on client and interest of client; an open exchange on public platforms to inform the populace; and finally, a commitment to ethics training on a free basis.
Of course, not all of these points are relevant to all businesses. SME's can't necessarily afford to engage PR. However, all businesses, no matter how large or small, can operate in a manner that is transparent and ethical - both internally and externally.
Interested in learning more about how to build trust in your business? We've got a free guide for you, just click on the button below.