As we've illustrated in the previous blogs in the this series on whether to automate or not to automate, automation of the right tasks and processes in the employee lifecycle is critical to business success. is now a key pillar of the future of work and implementing a human-automation collaboration is essential to any digital transformation program. But what process and functions should you automate first? And how do you make sure that it is roles as opposed to people, that are made redundant? EY has done considerable research in this regard and this blog explores how their best practice advice on how to automate intelligently.
The Benefits of Intelligent Automation
EY's research is emphatic - automation offers tremendous potential for leaders looking to drive transformation in their organisation:
From cost savings and increased delivery speed.

To new operating models, and

Higher value activities for employees.
However, EY also makes it abundantly clear that business leaders need to understand that successful implementation of automation is complex and likely to have far-reaching effects, not just on their organisations, but on society as a whole. With 'business as usual' no longer possible post-automation, leaders must navigate risks unrelated to algorithms, such as maintaining employee morale, building support for change and helping teams adapt to new ways of working throughout the reshaped organisation. Getting automation right requires a strong focus on people strategies, transforming the business while maintaining an engaged, motivated and appropriately skilled workforce.
Automation's Five Areas of Impact
Typically, automation has five areas of impact (see below), and leaders need to prioritise which will best achieve business and human objectives. For example, if lowering the cost of goods sold is an imperative, fewer labourers or greater quality may be the goal of automation initiatives. Alternatively, if increasing the speed of R&D insights is central to business strategy, greater speed or new capabilities may be prioritised. The main five areas of impact are anticipated to be:
Fewer workers: Automating tasks that lead to employee-based savings.

Scaled capabilities: Automating tasks to expand access of a capability.

Greater speed: Automating tasks that enables work to be done faster.

Higher quality: Automating tasks that lead to increases in quality.

New capabilities: Developing algorithms that perform tasks no person is doing today or could ever do.
---
Does your business have the tools it needs to succeed with fewer workers, at greater speed and with higher quality? Your HR toolkit needs a solution that enables you to build high performing teams. Take a look at our Performance Management software solution to discover how it can help you strike the right balance in the human-automation collaboration to inspire great performance.
---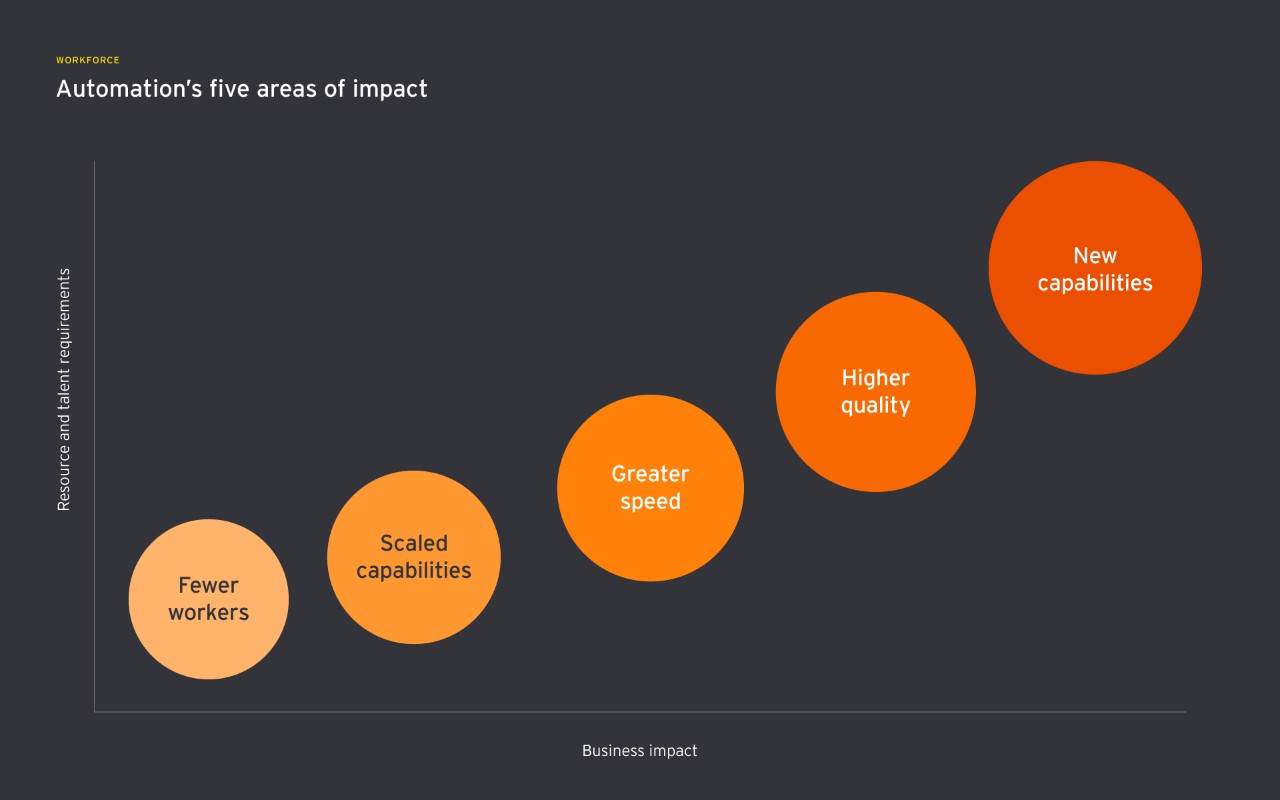 Don't Underestimate the Importance of Culture in Your Transformation Process
There is nothing more important than a resilient culture when implementing digital transformation of a large magnitude and at a rapid pace of change, because it is the workforce that will be responsible for executing the strategy. Without a culture ready to embrace new technologies that change their everyday roles and work, success will be limited. EY indicates that the most powerful way to build a resilient culture is by integrating a broad, human-centered, societally-engaged purpose — what they call a capital 'P' Purpose. In original EY research, organisations with Purposeful cultures produced significantly greater value than purposeless organisations. The reason 'Purpose' is powerful is because it shifts an individual's focus from the tasks they perform to how all of the work done by a unit contributes toward a larger goal. Working cultures such as this are ready and able to have work redefined by automation without significant morale loss, organisational anxiety or talent flight.
Finding and Retaining Skilled Talent Will Be A Challenge
Access to talent that can develop and implement automation programs remains a concern for leaders. EY research based on feedback from 200 senior leaders found that 56% see talent shortages as the single biggest barrier to implementing AI into business operations in 2018.
For most organisations, scarcity of automation talent will be the reality. Recruiting and retaining tech talent is challenging due to the competitive hiring environment and rapidly increasing salaries for professionals with automation expertise (e.g., machine learning, natural language generation, chatbots). Many forward-looking talent leaders have sidestepped the mature talent market and recruited raw talent to develop or hire from nontraditional backgrounds. Even so, automation talent is being hoarded and most organisations should expect to work with a scarcity of it — an eventuality that can be overcome with effective talent management and cultural programs.
---
Did you know that one of the critical success factors in retaining your employees is the quality of your onboarding process? Take a look at our free eGuide about Employee Lifecycle Automation that outlines everything you need to know about onboarding success. Better still, we offer our Employee Onboarding software FOR FREE! Request your personalised demonstration here.
---
The Solution Lies in Talent AND Technology
According to EY's Capital Confidence Barometer, acquiring both talent and technology is a commonly-pursued option as concerns over disruption and rapid technological change consistently surface in the boardroom. Acquisitions can provide proprietary technology and a step-change in talent capabilities, but this is not without risk. Organisations that see incoming talent as the long-term solution often find themselves in the same talent-thin position when the negotiated employment contracts are completed and purchased talent leaves. EY's recent Digital Deal Economy Study highlights that just 24% of companies are highly confident about their ability to retain talent and bring them into the fold of the new company culture following an acquisition. Managed effectively, the same risk-taking disposition of entrepreneurs and early employees that makes them more likely to leave can be harnessed to train a new batch of hires and instil a culture of innovation and change; the entrepreneurial fingerprints of talent can remain even if they leave.
Develop Your Automation Ecosystem Through Strategic Partnerships and Collaborative Networks
As we mentioned in our blog 'Management's Next Frontier - The Digital Ecosystem,' implementing an effective growth strategy requires an ability to invest sufficiently in the latest technology while developing a mutually beneficial network. Building your own capability is not without risk, especially as technology continues to evolve at a rapid pace. Given these challenges and risks, organisations are increasingly pursuing a strategic partnership approach. Managed services centralise technology and talent to deliver at a level and cost that individual organisations cannot.
The Human Factor Is More Important Than Ever
Technology-driven disruption of the workplace is nothing new. Innovations throughout history, from the plough to the steam engine to the desktop computer, have displaced both employees and organisations by creating new business models, revenue streams and talent needs. In the same way, automation has the potential to radically reshape organisations and the people within them. Leaders today have the opportunity to stay ahead of competitors by adopting a rigorous approach for identifying and prioritising automation projects that build distinctive market advantages and deliver value for their organisations, customers and society at large. One-off projects are achievable with sufficient energy and bravery.
However, to do so sustainably and at scale requires the integration of the organisation's automation AND people strategies. The result is that automation transformations are a team sport, requiring functional, innovation, IT and people leaders to align selected projects, underlying analyses and the decision to build, buy or partner. By taking a cross-functional and analysis-led implementation approach, leaders can best position their organisations for a future workplace fuelled by automation.
In the next and final blog in the automation series, we look at which administrative tasks that fall within the purview of HR can deliver the greatest efficiency gains, with the least disruption and minimal (if any) change to employees.
Is your business ready to leverage automation in your organisation so that you can free your employees from repetitive, manual tasks forever? We've created an eGuide that visualises the entire employee lifecycle and how you can design an intelligent workplace with a healthy human-automation collaboration.
Image credit: EY - How to automate intelligently