Subscribe-HR was founded in 2010, with one beta customer. Over the past 7 Years, the user-base has grown exponentially. In the last 7 Days, our servers have recorded over 1,500,000 individual uses of our e-Recruitment Software and HR Software. Amazing results. The power of Cloud HR Software can be seen in the ability of a product like Sumologic to record usage stats and display them in real-time. Subscribe-HR is truely a global provider of Cloud HR Software with users from Europe, USA, Asia, Australia and New Zealand. So let's take a closer look under the bonnet to see how this success has been brought about...

The Start
Subscribe-HR was a Global Leader in taking HR to the cloud back in 2009. When we say cloud we mean, not a hosted Solution that sits on a server, that was formerly a product that was installed locally on an on-premise server. I mean a fully service orientated architechture that allows for instant deployment of the service (HR Software in this case), over the internet. So all you need to access the software is an internet connection and a web browser. That's Cloud right, but all too often, with many so called cloud services, there are many more aspect to the deploment a service.

The Stats
With Pure-play cloud software, the ability of the provider to be able analyse statistics within the service is demonstrated below. This image shows user access into the Subscribe-HR, HR Software service. This graphical analysis can be done not only based on user access, but also popular page visits within the Application itself. The below image shows Global User access into Subscribe-HR, encompassing countries such as Australia, New Zealand, America, United Kingdom, France, Germany, India, China and Singapore.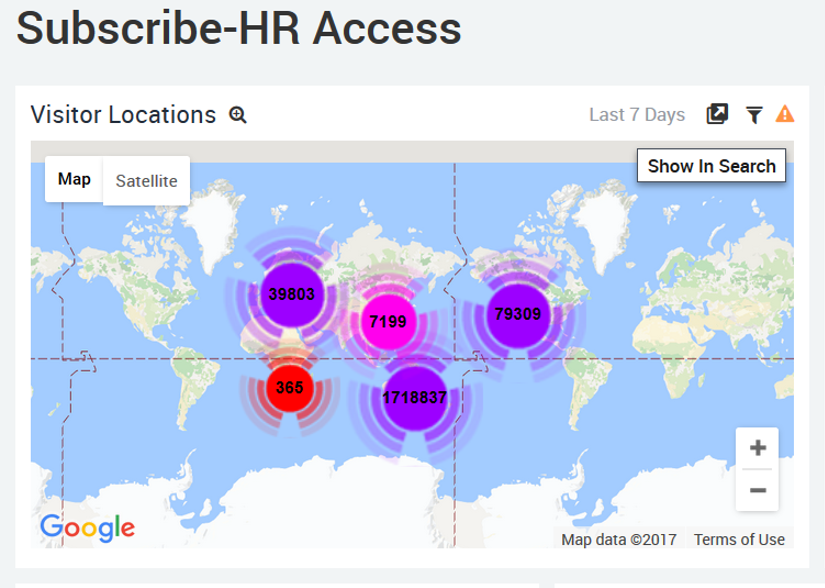 The Evolution
As mentioned in previous news articles that have been written on our site, the evolution of HR Software and software generally has been significant. From Foxpro data bases, to MicrOsoft SQL in early 2000, to Client Server Technology and WAP in mid 2000. The shift into the cloud since 2009 has been massive. This has presented amazing cost savings to businesses and in particular HR. HR has long been under resourced and part of that issue has been magnified by HR Software providers in that, to maximise their revenue, they have pitched software to HR Managers and Line Managers, based on strategy. They have over shot the mark. The Strategic HR pitch sells well, but it is not really aligned to the core needs of the market. If you haven't got yout back office in order, you have not got any chance in getting strategy right. So its been back to basics for many enterprises. You would be suprised how many large businesses who use excel spreadsheets to run Head Count Reportes and to keep track of Employee information. They can pay people well enough, but that is basically where the efficiency stops. A good system will allow for basic HR Automation and the ability to transition to strategy, easily. By marrying Smart HR Technology design, with HR best practice.
HR Technology Rebellion
To save HR Managers from a failed software implementation situation, which means that there is no possible efficiency gains available and CEO's that are not willing to back their HR Leaders, HR Technology has had to simplify a complex process so that the basic HR needs of HR Leaders can be met, at an affordable price (without forgoing enterprise configuration ability). To allow HR Managers to tell a good story about the HR Software they selected is paramount. The lowest hanging fruit, so to speak, needs to be enable in such a way that it takes mimimal effort and a shorter period of time to get HR Automation effiency. This is counter intuititve in an industry that usually makes money (profit) on implementations but also means a high cost structure of the Software provider... which is a conversation for another Blog. Now, it must be made clear that when a business is trying to automate processes, if there is significant inefficiency within the business already, these problems will be highlighted and they will impact on the roll-out. So it's important for a business to have processes in place that may just be taking to long, rather than no processes underpinned by chaos.
Too Much Show and Not Enough Substance
Employee Centric HR Applications are great. If a system is not easy to use it wont get used properly. If it's not easy to use it will take too much effort to teach people how to use it. Makes sense. Care needs to be taken in selecting products that are totally focused on employee centric design and lack the backend architecture to support scale and multi-location deployment. Many systems, that have been rapidly developed to get to marked and look nice, cost businesses a lot of money through lack of strength and inability to adapt to data capture and workflow processing needs. If a system cannot evolve with the businesses needs easily, then an employee centric design alone, will not save you from headache, frustration and cost.
Implementation Success Rate
Important metrics when is comes to HR Software selection are things like: Life Value of Customer, Average Price Per Seat and churn. From these numbers it is easy to tell how successful a Cloud Software provider has is. If the provider has not got this right, the model won't work. The ability of the platform to manage large volumes of traffic and processing is key. With IaaS platforms like AWS, the integration of powerful Software as a Service Platforms with scalable infrastructure is a compelling proposition. When these two areas are working in harmoney, a Global Cloud Service is created. Some areas that you may like to check when you are sourcing HR Cloud SOftware are: Is there an instant Free Trial available (Real Cloud Apps have this). Can you customise the majority of the system yourself including forms, fields, look-ups, integration and workflow. Can anyone access the system from anywhere in the world with an internet connection and web-browser. Can other APPS be plugged into the service including systems like: Payroll, Single Sign-On, Jobs Boards, Social Media Sharing and Background checking. These plugins offer a blockchain processing which makes complete sense in the HR space.
Change Management Automation
Allowing the end user to set a system up even before that start paying for it is a power vale proposition. Enabling Enterprise strength tools through easy to use configuration wizards is key to helping HR Professionals. The HR centric experience of making the responsibility of setting up an HR Software system successfully is where the success of Cloud HR exists. For example, how is data uploaded, how are multiple locations set-up, how and user groups define and linked to these locations, how are BMPN workflows defined and triggered, how are they tracked and audited, how are digital signatures used early in the roll-out. All key elements to the success of change management automation.
Case Study for you to Read - HR Software Success Story
If you would like to read a Cloud HR Software Success Story, you can download one by clicking the below button.