It's safe to say that the future of Cloud computing lies in building innovative, multi-tenant, SaaS ecosystems, but what, exactly, is an SaaS ecosystem, you might ask?
The HR and IT teams at Lonely Planet have recently broken new ground in this territory, and we're proud to share with you our part in the SaaS ecosystem they have adapted to service their software needs across multiple business functions.
If you consider what constitutes a natural ecosystem, it is defined as a mutually beneficial, yet complex set of harmoniously interconnected relationships among the living resources, habitats and residents of any given area. It includes plants, animals, fish, birds, micro-organisms, water, soil, and people.
Everything that lives in an ecosystem is dependent on the other species and elements that are also a part of that ecological community. The symbiotic nature of an ecosystem enables the whole to thrive as a result of the benefits provided by each constituent part.
When an ecosystem is healthy, it is inherently sustainable. This means that all the elements live in balance and harmony and are capable of reproducing themselves in a way that ensures biodiversity.
Just like a natural ecosystem, an SaaS ecosystem consists of a mutually beneficial, yet sometimes complex set of harmoniously interconnected relationships amongst users, developers, Organisations, investors, applications, networks, platforms and the entire functionality of the Internet.
SaaS ecosystems provide innovative, cost effective, democratic and sustainable software based relationships in the cloud. These relationships foster significant benefits for the communities that they serve.
The beauty of SaaS ecosystems is that they enable sharing of the following elements:
Servers
Server infrastructure
Platforms
Services (backups, upgrades, support, security)
Development
People and ideas
These ecosystem benefits enable businesses to use minimal Capex and resources (in the form of time, money and human capital - which are becoming increasingly scarce commodities in today's business environment), to fund software requirements. Precious time, money and human capital can instead be freed-up to focus on revenue generating products and services that are more strategically aligned and customer oriented.
Lonely Planet chose to harness the benefits of Cloud based SaaS relationships for their full spectrum ecosystem, which provides an integrated suite of solutions including Subscribe-HR's SaaS e-Recruitment and Core-HR modules.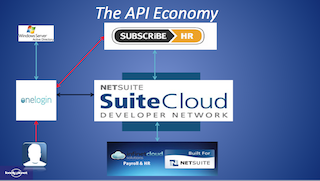 Darragh Kennedy presented Lonely Planet's innovative SaaS ecosystem at the 2014 CeBIT conference held in Sydney on May 5 to 7. He will also be presenting at the upcoming Cloud World Forum in London in June.
Darragh has been kind enough to agree to be a guest blogger for us and share his hot tips and insider knowledge about all things Cloud from the CeBIT conference. To ensure you receive Darragh's CeBIT Blog post straight to your inbox when it's hot off the press, you can subscribe to email updates on the right.
If you'd like to learn more about why Lonely Planet selected Subscribe-HR as one of its ecosystem partners, click below :)