At the end of last year, we looked at the hottest predicted HR tech trends for 2015. Something that didn't make that list, but is definitely a big part of the future of HR from a tech-oriented perspective, is Payroll software experience.
Software Advice, an online Payroll software comparison site, recently published an insightful report on Tech Experience for Payroll Positions, covering Payroll recruitment activity and trends in the USA, UK and Australia.
For those of you who don't know about Software Advice and what they have to offer – they are a US based company that also works internationally in 30 different markets. They provide a service which helps buyers to both choose the right software, and stay informed about the latest trends relating to all things software / technology, across a very impressive range of industries, including HR. As a trusted resource, their team and their website offers detailed reviews, comparisons and research to assist organisations in finding products that best fit their current and future software and technology needs.
Last year we spoke to Erin Osterhaus, about Social Recruitment trends and created a blog and White Paper in tandem with Software Advice. This time, Derek Genovese was kind enough to give us access to the overall survey results, as well as exclusive, Australia specific Payroll recruitment data, which is covered below.
The bottom line is that all HR Professionals need to be able to accurately determine what level of software experience potential Payroll candidates should have. The key findings of the report can be summarised as follows:
Across all three countries, 83% of payroll specialist and payroll officer job listings require applicants to have some type of prior software knowledge.
More Australian and US job listings (80 and 74%, respectively) prefer or require experience with a specific payroll system than UK job listings (47%).
Job listings across all three countries prefer or require experience with Payroll software in a Core Human Resources (HR) suite over a best-of-breed Payroll solution.
It is clear from the results of the study that there are some distinct differences between requirements for Payroll personnel in the Australian market compared to those in the USA or UK.
The Evolution of Payroll
If you read our blog about the quiet revolution the Cloud has created in the Payroll space, you will understand that Payroll solutions are evolving as rapidly as HR solutions. As software capabilities continue to change at an increasingly rapid pace, it has become necessary for both generalists and specialists to have the agility to keep up with the changing face of many software applications – Payroll included.
Gartner's Hype Cycle for Human Capital Management Software, 2014 report results indicated 'a significant shift in deployment patterns as SaaS vendors grow at the expense of on-premises offerings, even in administrative HCM.'
For their current study about Payroll recruitment trends, Software Advice analysed 300 job postings for Payroll specialists and Payroll officers in the USA, UK and Australia to see how they compare in their technology experience requirements.
According to the Software Advice results, the key takeaway across these three countries is that Payroll software experience is essential, especially in the US and Australia. Overall, 83% of payroll job listings prefer or require that candidates have prior knowledge of one or more software programs, of any type.
The study returned the following Australia specific results regarding job listings:
Most often, Payroll position job listings in the Australia came from the cities of Sydney (51%) and Melbourne (26%). This isn't surprising, considering these cities are the major business and population centers of the country.
In terms of industry, most often these job listings came from companies in healthcare (9%) and third-party administrators (8%).
Australia was the only country in their sample to not have third-party administrators as the biggest industry for Payroll position job postings, to put in perspective how big the healthcare industry is growing in Australia to need Payroll workers.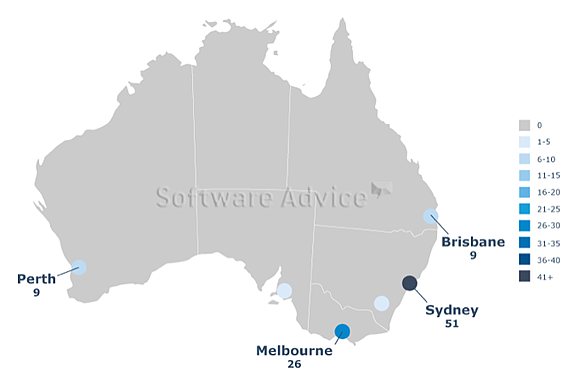 Software Experience Requirements in Payroll Related Job Listings
There is no margin for error in Payroll processing. It is a necessity to get Payroll right, from a legal and regulatory perspective; as well as in the context of making sure employees are paid correctly and on time.
Because technology is constantly changing, it is necessary for candidates to be comfortable with multiple platforms, as well as having the adaptability to change with the times. The ability to flex and adapt easily to new products, or new functions and capabilities, is starting to carry increasing value when Recruiters are searching for the right Payroll candidates.
When there's a change in the technology, a lot that can go wrong with a lot of people, and no organisation can afford to get this part of their business wrong. It is advisable for Recruiters to really dig deep and assess potential candidates regarding the kind of technology changes they have gone through in their payroll career, and how they managed those changes.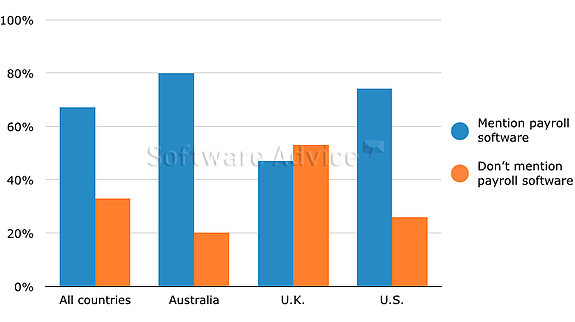 Payroll Software Experience Primarily Desired in USA and Australia
According to Software Advice, experience with a Payroll system can be a significant factor for a successful hire. Their findings reflect this, at least in the US and Australia. 67% of job listings surveyed said applicants are either required or preferred to have prior experience with specific Payroll software systems.
Breaking the data down by country, Australia and the US frequently seek candidates with Payroll software experience (80% and 74%, respectively); while only 47% of UK job listings mention this.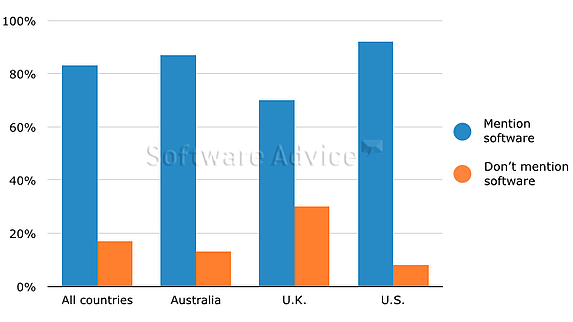 Prevalence of Payroll Software Experience in Job Listings
Software Advice's Australian results indicate that the prevalence of Payroll software experience in job listings is likely due to a difference in Payroll culture. For example, while the US and Europe are increasingly outsourcing payroll, only 25% of Australian companies do the same (according to the Australian Payroll Association).
The Australian Payroll Association report suggests that this is due to Australian Payroll being more complex, and the fact that outsourcing payroll to a third-party administrator doesn't free the client company from regulatory responsibilities.
Because the majority of Payroll is done in-house, experience with Payroll software is very important to Australian companies. David Zeman, director of Australian Payroll recruitment agency Payroll Talent, estimates that about 80% of Australian clients put technology experience as their 'first criteria.'
In Australia, 'almost all companies have software that handles the actual processing of Payroll,' Zeman says. Additionally:
Most job listings didn't care about any specific number of years of experience (66%), but of those that did, most often they wanted three years of prior Payroll experience (14%).
Experience was wanted much more than education—only 3% of job listings had specific education requirements, (compared to 76% in the US and 5% in the UK).
To have success in a Payroll position in Australia, applicants must have some sort of software or technology experience. 87 percent of Australian Payroll job listings mentioned some type of software, second only to the US (92%).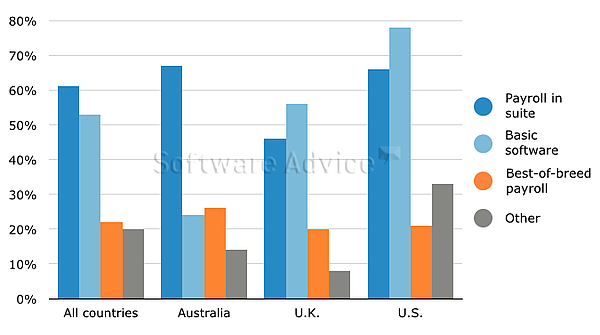 Payroll and HR Software Integration
According to another recent Software Advice report on Payroll software buyers, small businesses prefer to purchase HR and Payroll solutions as part of an integrated suite, in which several related applications are bundled together. Either that, or they specifically want Payroll software that can be easily integrated into an HR software suite and other organisational systems, to create an IT ecosystem.
The ability to create an integrated ecosystem that includes Core-HR, Payroll as well as a suite of other HR software solutions, is becoming more and more popular. This is a distinct trend as companies seek to replace outdated legacy HR systems they traditionally used, with one unified, web-based suite of solutions.
The cost of building Payroll software platforms is so much more affordable now, at approximately one-third the cost it was 5 to 10 years ago. So now there are solutions that put the price point within reach for organisations with only 25-50 employees. This means that more and more employers are asking candidates if they know how to run these technology platforms.
As a result, Payroll software is becoming more likely to be housed in, or integrated with a Core-HR suite. For Payroll software providers, this means ensuring that their software solutions have an open API and they are easily integrated with a broad range of HR software solutions.
Overall, of the companies that mention specific software in their job listings, 61% prefer or require that applicants have experience with a Payroll application that is part of an integrated HR suite. Conversely, 22% seek candidates experienced with a specific best-of-breed solution.
Type of Software Experience in Job Listings
Interestingly, the Software Advice study shows that Australian companies tend to use HR suites a lot of the time. However historically, they've only utilised the Payroll module, even when they have all of the other modules available to them. Most Australian companies have not yet, or are only now investing, in time and attendance, employee self-service and other HR software functionality. The SaaS, Cloud HR revolution has taken a little longer to catch fire in the Austrlaian market, but as Navigo's 2014 HR tech research indicates, adoption of these types of technologies really is the way of the future.
In the local Australian market, experience in specific Payroll software is vital and here's why:
Australian job listings mentioned Payroll software in their Payroll position job listings more than any other country (80%).
This is most likely due to Australian Payroll being more complicated, and because companies prefer to keep Payroll in-house (as opposed to the US and UK, who like to outsource Payroll).
Reflecting growing trends in the market, Australian job listings more often mentioned wanting candidates to have experience working with Payroll in a Core HR suite (67%) as opposed to a best-of-breed payroll solution (26%).
More companies are looking to do their Payroll as part of a bigger HR suite or IT ecosystem to save on costs and have one database for things like Payroll, benefits administration and tracking time and attendance
Australian Payroll job listings mentioned basic software like Microsoft Office the least (24%), highlighting that companies aren't as concerned with candidates having experience in this software relative to specific Payroll software.
A surprising adjunct to the Software Advice report is that many organisations are still searching for candidates with intermediate Excel knowledge because they're still using Excel as their main tool for managing their HR requirements.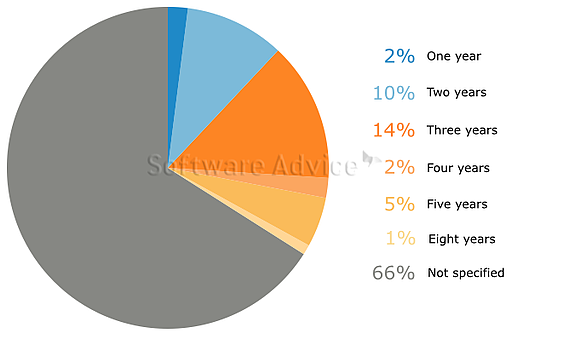 Whilst no two organisations, or Payroll related roles will ever be the same, requirements in the market, and across the globe are essentially in harmony - Payroll software experience is an absolute neccessity and becoming more so.
Whatever the case, Recruiters need to be adept at outlining what they want from a Payroll candidate in their job listings. Software Advice's report makes it clear that:
'If a Payroll position is going to have a hand in HR, the applicant hired should be proactive in seeking problems and opportunities, be able to be discreet and ethical in their decision-making and communicate effectively. A Payroll candidate hired for a strictly financial role should have tremendous analytical skills and be very math-oriented. If a Payroll position is at a third-party administrator, that person should have customer service skills, as well.'
Given the vital nature of Payroll, Recruiters and Hiring Managers need to take their time to find the right candidate, with the level of software knowledge that is appropriate for their company, as well as aligning the values of the organisation with the individual. The marriage of all these factors will ensure you hire a Payroll employee who is technically competent, as well as being the right fit for your business.
Credit: All images in this Blog are courtesy of Software Advice.