Have you noticed that there seems to be a bit of more serious, considered reflection about the role of technology in our lives taking place lately? As AI and algorithms become more ubiquitous, and our lives become inextricably linked to our devices and our digital footprint, there has been a call from some quarters to pause to consider how we can ensure a future where technology serves us and not the other way around. One of the most significant technological changes driving digital transformation in the workplace, is the focus on solutions designed to work the way employees do, rather than forcing users to change. The 'force fit' methodology that was prevalent in early tech was surprisingly common in the past, and the users had little choice but to convert their processes (and habits) to match the technology. Those types of systems won't have a long shelf life and it is more clear than ever that organisations which do not provide a user-centric experience won't be able to keep up as the future of work unfolds.
How Do We Make Technology Work For Us?
Historically, there's been a temptation in the tech industry to solve its own problems (as opposed to yours). However, the job of an innovator isn't just to come up with new solutions that will generate profit and do lots of cool stuff. Innovators also need to convince us that their product isn't just worth the price, but that it actually meets our needs as well as measuring up to social expectations. When we insist that technology doesn't harm our values (which we're seeing a lot more of recently), that doesn't mean we're rejecting innovation. It just means we need to be sure the social and cultural price (as opposed to the price tag) is not too high. Right now, there's a bit of a pause happening in the context of the 'social cost' of technology, and the process of digital transformation, and and the question is being asked about how to ensure that going forward, the technology we use serves our people and doesn't enslave us. Both literally and metaphorically speaking.
According to FOSWAY, this isn't simply about innovating HR technology for its own sake, but looking critically at how tech can truly enable better business delivery as well as enhancing user experience. For example, video-based virtual recruiting might be cool (38 percent of organisations are already using it), but will it help you achieve your talent-acquisition goals? Chatbots (45 percent are looking to adopt these in the next year) and AI are very much 'flavour of the month' (although only 12 percent are currently using AI), but how can they support your specific functional HR shared services in a way that meets your unique needs? Digital transformation therefore, is about much more than just having better tech!
The Importance of User-Experience in Digital Workspaces
TechTarget advises that a critical but often overlooked aspect of digital transformation is the demand for an excellent user experience and access to the services users deem appropriate, not what a given technology product can provide. Empowering users should be the optimal design goal for any digital business system. A quality experience will result in multiple benefits, including a reduction in costs that enable organisations to retain the best talent and support for a wide range of solutions without onerous IT complexity. The need for user-centric computing is among the most important capabilities of next-generation digital workspaces. Without it, the entire organisation might just find themselves in a diminished competitive position instead of advancing said position.
HR departments also need to reflect on whom the data collected in the workplace actually serves... Currently, it is probably the case that the data doesn't serve the employee, and unless HR starts reframing who the data is used to serve – its employees - then digital workspaces won't provide the full compliment of benefits they have the capacity to deliver. After all, it is people that HR should empower to be agile in the workplace of the future – not just the organisations themselves (and there is a difference). HR administration should be striving to provide digital workspaces that empower agile organisations with agile people processes, supported by deep people intelligence.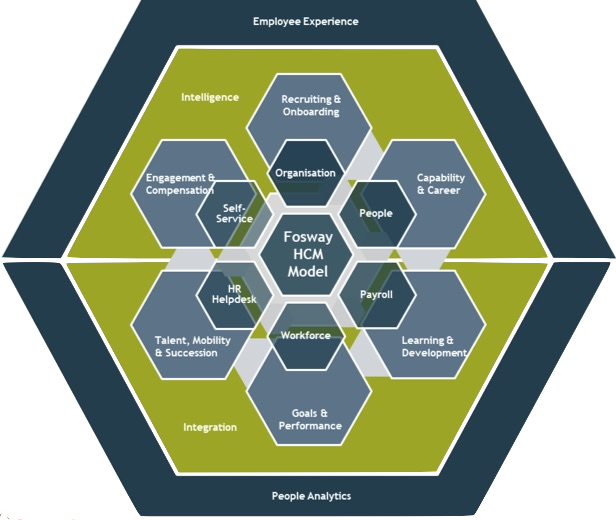 Human-Centric Technology
Human-centric technology, defined by TechTarget as digital workspaces that are designed around the end user's workflow, are mission critical in today's workplace environments. Organisations that don't adopt this approach will have issues keeping up, including an inability to attract talented employees, the potential for lost productivity and potentially far higher costs. As your business deploys new digital business platforms, it's essential to provide the flexibility and interoperability that supports business stakeholders and delivers an improved user experience without compromising security. It is also important to note that maintaining security is not an excuse for disrupting the user, either. The focus should be on digital workspace platforms that let organisations manage and aggregate different apps, databases and other resources that enable employee productivity―all while managing the security issues and system complexity behind the scenes and improving the experience for the end user.
Ignoring this strategic imperative to improve the user experience could result in several problems, the most apparent being the possibility of driving costs up instead of bringing them down. TechTarget's research indicates that the annual cost of complexity, in terms of lost productivity, can be as much as $800 per person. This cost is substantial across mid to large sized enterprise, but complexity also increases other costs associated with turnover and employee attrition because frustration with systems or onerous security demands causes employees to leave for other jobs. This is common when employees believe that internal systems make it difficult for them to succeed in their work. Making matters worse, this frustration can lead to individual business units bringing in new cloud-based services that they believe are a better fit than an internal system that has a poor user experience. Such services may compete with internal systems, resulting in more wasted money because the organisation pays twice for the same functionality.
Make Sure Your Digital Transformation Puts Your People in Control
Research conducted by the European Commission advises that your journey of digital transformation needs to place your employees, not technology, back in control. How does that apply to an HR Professional in a mid-sized organisation like yours? Well, to start with, don't go buying shiny new things and call it innovation, or digital transformation, it if isn't going to add anything for your people and how they work (or how you work in HR).
Organisations need to be honest with themselves about where they are now and where they want to be tomorrow (and potentially re-imagine what they do and what tools they will need to do it). Vendors can then support business with solutions that tackle genuine business issues and enable innovation and digital transformation at a realistic pace that meets the needs of your people. Then it becomes possible for us to all work together to redefine HR best practice by building digital workspaces of the future that empower employees with technology that serves the people, not the other way around.
Want to discover how you can assess HR software and HR Software providers for best fit with your specific needs? Simply click on the button below to download your free White Paper about the must have features and benefits of Cloud HR software.
Image Credit: FOSWAY Group: The realities of HR Technology and Transformation