The results of Mercer's 2020 Global Talent Trends Study reveal that in a future full of opportunity, the realities of work, life and the unresolved debates currently raging across the globe are weighing us down as we enter this new decade. Facing into an age of uncertainty, conversations about our collective future, and its impact on our health, wealth and well-being, are front and centre. The report results make it abundantly clear: the next decade will take us in a radically new direction whether we're ready for it or not... In this week's HR Blog we look at Mercer's take on future talent trends.
Everyone is Now an Agent of Change
You don't need a report to tell you that the changes we're experiencing are not only disrupting our present, they will generate a new benchmark for how we live, work and do business. The 7,300 humans who responded to Mercer's 2020 survey make it abundantly clear that creating a bright future, one that serves all of us, now and for future generations, requires each of us to become an agent of change.
Similar to the results in Edelman's Trust Barometer, Mercer's report results illustrate the need for an organisation's purpose to extend beyond shareholder return, and for it to place both individual and societal well-being at its core.
The study also highlights the need to manage digital and workplace transformations with care. Evidence suggests that digital transformation is one of the critical success factors dividing companies in their ability to weather the current storm. However, any type of change management needs to be balanced with the capacity of your employees to do what's needed to create that change, in addition to BAU activities. Two in three employees already felt at risk of burnout before the pandemic began, and only two in five companies say they are truly digital today. Those figures illustrate massive gaps - in operational and individual capacity - to be productive. Businesses won't survive if they can't be productive, and now, perhaps more than ever in recent history, we need business everywhere to remain productive and keep their employees in the workforce so that we can ride the wave of change sweeping the globe.
The Key Callout
Not surprisingly, 98% of executives plan to take time this year to to redesign their organisations to make them fit for tomorrow. How that will look in practice is anyone's guess given how changeable economic conditions are at the moment. However, as we shared in a previous blog, workforce reshaping is set to be the focus of 2020 and beyond, with organisational restructures, a reduction in FTE, salary cuts (and more) set be become par for the course over the next couple of years. In addition to this, most companies (85%) expect technological transformation to continue as a primary business disruptor, while rising customer expectations (87%) and industry consolidation (80%) feature heavily.
Mercer advises that as we live through the resulting turmoil and we are tested in terms of business continuity, we will need to focus on both the near-and long-term. They key questions we must all ask ourselves are:
Is today's approach to work and workforce transformation sustainable?

Will our work models attract new generations?

How will we reinvigorate our businesses?

How can we ensure our employee value proposition meets rising health, wealth and career concerns?

And are existing practices agile enough to withstand this and future unpredictable events' impact on profit?
Necessity is Still The Mother of (Re)Invention
On the positive side, necessity always breeds innovation and current circumstances mean that we are potentially on the cusp of innovative new ways of working, living and caring that will hopefully (if we make conscious, well informed decisions) be better for everyone. We're being challenged to rethink our collective and individual responsibilities to one another, to the institutions we work for, and to the societies and environments we live in. This renewed mission for life is the salve humanity desires.
Boards, leaders and managers are being forced by circumstance to reconsider the future of work and the strategies needed to compete and stay relevant. At the same time everyone in business must develop the agility to face a very likely economic downturn in order to survive (and thrive). Report results indicate that if macroeconomic conditions continue to be unfavourable, companies plan to:
Double down on strategic partnerships (40%).

Use more variable talent pools (39%) and invest in automation (34%).
These strategies will speed up the changes we're seeing and in how we trade goods and services, operate our businesses and connect with one another. On a macroeconomic level, executives continue to feel the pressure of an interconnected world. However, two socioeconomic forces stand out:
Concern over talent migration has risen tenfold.

Concern over immigration has risen threefold since 2017 (with an extra level of complexity today as we acknowledge the need for physical distancing and border control).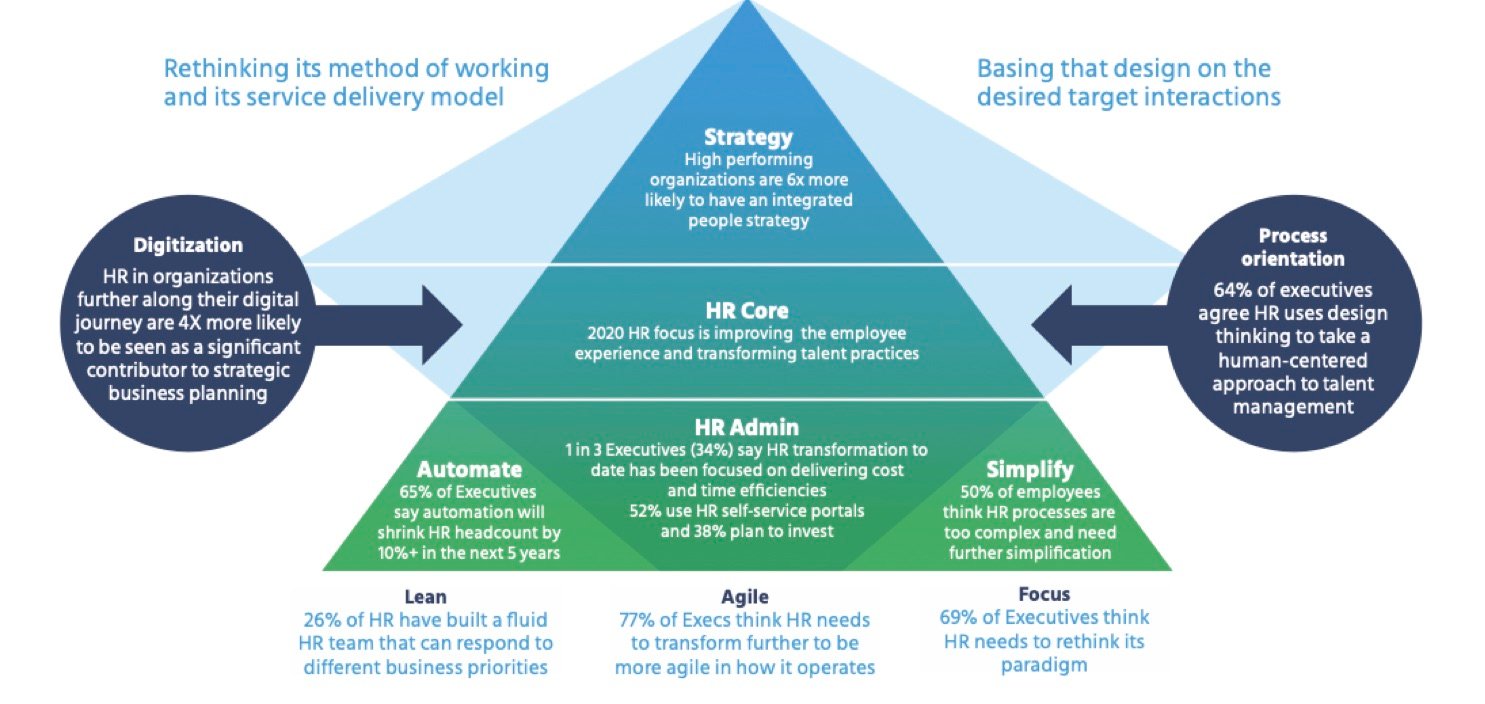 Empathy Is The New Superpower
With so many unknowns, how can business, individuals and society as a whole win? According to Mercer, the solution lies in combining left-brain understanding of commercial realities and their knock-on effects, with right-brain skills such as intuition and creativity to find innovative solutions. That will provide the right foundation for transforming insight and intelligence into inclusive prosperity. The data makes it clear that thriving employees are twice as likely to work for an organisation that effectively balances EQ and IQ in decision-making. Again, according to the results, this is something less than half of all organisations get right today. Moving the needle on this agenda means putting human and economic metrics side by side, caring enough to place responsibility for long-term futures above short-term gains, and creating space for people to be their whole selves. This is empathy, and it is needed for winning in an evolving world.
2020 Global Talent Trends Highlights
#1 Focus on futures: Work together to ensure people thrive now and in the future.
Focusing on futures calls on us to re-evaluate our responsibilities - to our people, our shareholders, our communities and our planet. It means prioritising tomorrow by delivering on environmental and social commitments and examining how we can better support how people work at different life stages. It also requires caring about employee well-being from the day they start to the day they retire. Delivering on these expectations ensures brighter futures for all, including:
Building sustainable futures.

Remaking opportunities.

Reimagining retirement.
#2 Race to re-skill: Transform the workforce by re-skilling for a new world economy.
With constant change an everyday reality, re-skilling is both the biggest opportunity and concurrently one of the major challenges of this current decade. Without accelerating our progress on the skills agenda, Mercer counsels that we won't have the talent to take advantage of the new jobs we're creating. This is both a business and an HR challenge, and it therefore demands organisation-wide interventions to deliver results. Companies that unlock re-skilling at speed and scale will be able to transform at a pace that leaves their competitors behind. To do this business should:
Make re-skilling a priority.

Foresee future needs.

Democratise access to learning.

Incentivise transformation.
#3 Sense with science: See ahead by augmenting AI with human intuition.
With data and digitisation transforming businesses, there are plenty of insights at our fingertips to change the game. The challenge is how to harness this power to answer the right questions, at the right time, in the right way. The status quo simply will not work. AI and automation have already moved beyond the tasks of simple heavy lifting. AI is already making decisions on its own in many areas. It's essential, therefore, to hone your own market and people sensing capabilities to uphold ethical practices and ensure you make decisions with empathy. But the real opportunity comes with a lift in people's skill and intuition around data. Your ability to see beyond workforce problems and apply a scientific method to uncover actionable intelligence from the data that is now becoming available. To facilitate this business needs to:
Embrace workforce science.

Ensure ethical analytics.

Cultivate a lab mindset.
#4 Energise the experience: Inspire and invigorate people by redesigning the work experience.
We live in the experience economy. In both product and service businesses, the customer experience has become the dominant driver of competition. Now it's the people delivering the experience who are driving the advantage — and the differentiator for them, too, is also the experience. Mercer's research shows that organisations which lead with empathy are more energising to work for. Empathetic organisations are tuned into the experiences of their workforce and continuously improve them, simplifying and digitising repetitive tasks while increasing the meaningful moments that employees desire. They are bravely and radically redesigning their people processes, work operations and HR design to deliver what employees and colleagues truly want out of work. The foundations for making this work in your organisation are:
Knowing your people.

Creating a culture of caring.

Don't give up - keep iterating until you get it right.
Are you in need of some inspiration to support a flexible workforce and deliver efficiencies in times of change? Every year a selection of well-researched people management reports are published by the likes of KPMG, Edelman, PWC (and more). They cover the changing nature of work and the latest HR statistics, metrics and trends. We've curated the most relevant HR statistics, metrics and trends from the reports published during the last 12 months.
Image Source: Mercer's 2020 Global Talent Trends Study