On demand, just-in-time e-Learning delivered securely and simply via your Cloud HR Software solution is an important part of the new world of work. With Employees scattered far and wide, working across a range of locations and needing support they can count on - providing on-demand training and development delivered seamlessly via the web is a critical success factor. If your organisation needs best-in-class training and e-Learning and best-of-breed Cloud HR software to deliver the perfect training in the flow of work, take a look at this week's HR Blog to find out more.
The Learning Curve is the Earning Curve
The current shift to skills based hiring is mirrored in the organisational needs for skills based learning. According to Gartner, "building critical skills and competencies," was the top priority in their "Top 5 HR Trends and Priorities for 2022." In the context of online training, the skills gap is currently the most significant problem Employers face. Without Employees who are trained with the right skills, compliance risk becomes a significant issue that can can result in both performance and financial challenges.
According to Select Hub, recruiting and talent management are two areas that suffer significantly from this skills gap problem. They cite the Challenger Hiring Survey, which found that 80% of Employers were having trouble finding candidates, while another 70% experienced a skills shortage. The complete transformation of the way we work over the last couple of years has had a significant impact on the skills shortage globally. Around one-third of Gartner's survey respondents said that more than 40% of their workforce was in need of new skills.
That means, for both Employees and Employers, the learning curve is the earning curve. If your organisation wants to cultivate a workforce of highly skilled employees, then you need the right systems in place to make it possible. Meaning that you need to provide your people with access to best-in-class training they can go to in the flow of work, no matter what the topic, or the time of day.
Go1's Content Aggregation Platform
Face-to-face training and content libraries are impossible to scale, and can't support the breadth of learning your people need to keep pace with change, drive growth and stay engaged. However, with Go1's e-Learning platform you can elevate your teams with world-class training.
The Go1 Content Hub is the largest curated e-Learning library from the world's top training providers, available for a single subscription. Go1's platform allows you to develop your workforce today, to overcome the challenges of tomorrow, by:
Providing access to 100,000+ engaging digital learning resources for your Employees, as you need it.

Delivering a big L&D impact with a small L&D team.

Providing learning across geographies, durations, styles, and levels.

Saving your organisation time and money by aggregating from one provider.
All-in-one Cloud HR Software with an e-Learning Integration That Provides Training for The Entire Employee Lifecycle
Go1 works with over 200 providers to host their content in one place, making the Go1 Content Hub the world's largest digital learning library. So, what does that mean for you? Subscribe-HR's partnership with Go1 brings all of the world's top training providers under one roof. Now your Employees have access to just in time learning in the flow of work - all from within Subscribe-HR. Your Organisation can provide the training Employees want and need, at a time that suits them, including:
The capacity to find and search the right content and learn immediately.

Pre-curated content playlists assigned to Employee Jobs.

Support from Go1 to identify and curate courses to meet your learning outcomes (as part of your Go1 subscription).

Advice and support to help you to deliver your L&D strategy.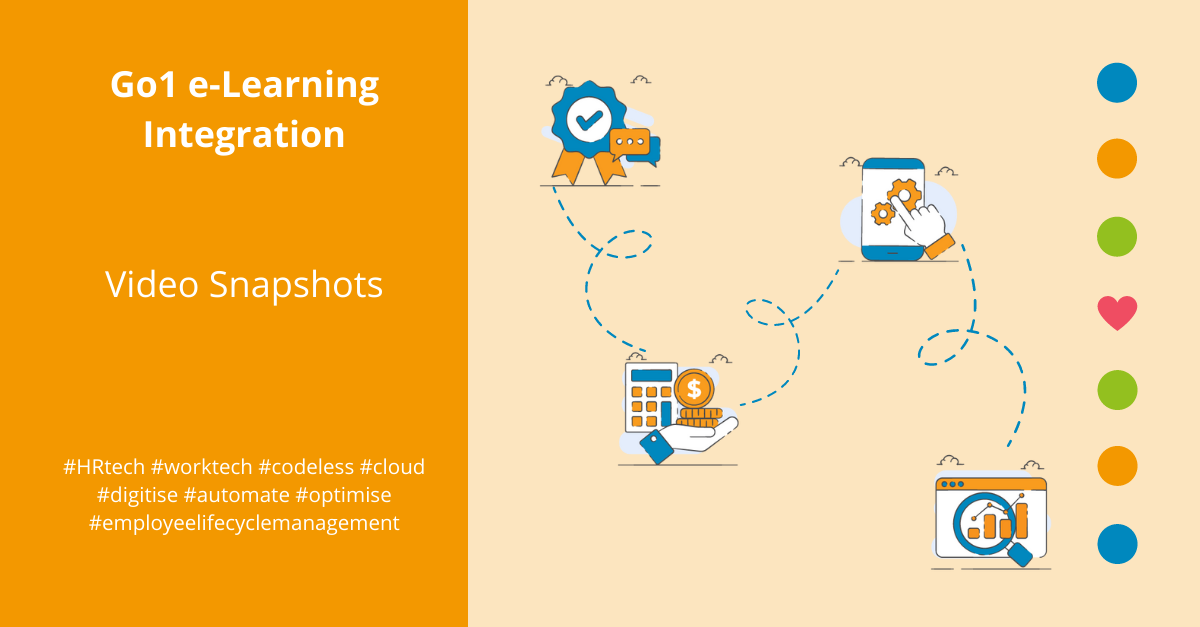 If your organisation wants access to Go1, one of the largest workplace e-Learning libraries in the marketplace, all delivered seamlessly via your HR Software, then watch the video below to find out more, it could transform the way you work!
Get Started Today With a No Obligation Free Trial
If you work for a mid-sized organisation in Australia or New Zealand, you can use Subscribe-HR's suite of 13 codeless, cloud HR software solutions to seamlessly manage every touchpoint of the employee journey, from the first hello, to the final goodbye.
Want to try it out? Get started right away using our 7-day FREE trial, which gives you no obligation access to the full functionality of the Subscribe-HR platform.
Get instant access to our out-of-the-box, templated functionality to get up and running quickly, then use our powerful and flexible configuration tools to adapt your unique, HR process into Subscribe-HR.
Use our simple, step-by-step wizards to set up your organisation, your job description and then submit your job requisition. This is the crucial first step in creating a flexible #HRspine that improves the flexibility, efficiency and effective management of employee information
You'll be amazed by how fast and easy it is to set yourself up.