According to IBM's latest research about the evolution of HR, 2020 ushered in a new era of risk that requires organisations to change how they plan, create strategies, make investments, and operate their day-to-day business. This is changing how businesses engage with their customers, and in many cases, who their customers are. With diminished human contact created by events of the last 12 months, IBM proposed that in order to survive, business must now become inherently humanised. In the new world of work, organisations need to build engagement with remote employees, foster trust in uncertain times, and cultivate a resilient workforce capable of facing whatever the future may hold. How that might look in action is what HR 3.0 is all about.
In IBM's latest report on the evolution of HR, they outline a roadmap for HR to follow to navigate upheaval, reorient to continuous change, and transform themselves (and the organisation) from the inside out. At the heart of the changes needed to create news ways of working (and the new world of work), are the people making those changes, the people charged with implementing such changes, and the people directly (or indirectly) affected by them. Ultimately, what business needs right now is a sustainable way of working, and a sustainable workforce. In the same way that energy sustainability requires a shift from resources that are extracted, used and exhausted to renewable ones, organisations everywhere must cultivate a sustainable workforce by shifting its view of employees from a resource to be tapped as needed, to one that is cared for, protected and nourished.
HR 3.0: A Paradigm Shift and an Imperative For Businesses Everywhere
IBM's research illustrates that the radical reinvention of Human Resources is more critical for organisations than ever before. When surveyed, more than two thirds of executives said that the global HR function is ready for significant disruption. Research results found that the best companies in the world, those outpacing all others in profitability, revenue growth, and innovation, are extremely confident in their need to reinvent HR. Apparently eight times as many HR execs from these organisations are already driving this type of reinvention internally compared to less profitable businesses.
IBM's report also illustrates widespread agreement on five principles that underpin HR 3.0:
Deeply personalised experience-centric design.

Skills placed at the core of the enterprise.

Data-driven decision making powered by AI.

Agile practices for speed and responsiveness.

Consistent transparency to preserve trust and reduce reputational risk.
Top 10 Priorities For HR 3.0
Not surprisingly, employee experience is a critical factor as HR helps drive overall enterprise transformation. Additionally, IBM sees the HR function becoming more automated and AI-driven, more data-centric and consultative, and more agile than before. However, no one is under any illusions about how difficult and challenging this path will be. Only 30 percent of businesses said they are living some of principles that underpin HR 3.0. Only 1 in 10 organisations surveyed say they are leading in all five of the essential HR 3.0 principles.
However, many HR Professionals are still unsure how to best transform their operating model to HR 3.0. As part of their quest to provide a roadmap for exactly the type of transformation needed, IBM examined a multitude of people practices that HR units around the globe are deploying at various stages of maturity. They then tested those practices for their impact on facilitating enterprise transformation so as to understand which changes in HR will have the highest impact and the most value. IBM's analysis identified ten priority 'action areas' critical to the HR 3.0 model. These action areas span the breadth of the Human Resources function, in some cases completely reinventing traditional people practices.
The ten action areas critical to HR 3.0 are:
Measure employee performance continuously and transparently: Clear and continuous coaching and performance conversations are essential to proactively address workforce and performance issues.

Invest in the new role of leadership: The role of leaders requires new and different skills and behaviours. Predict strong leaders with analytics and invest in their development.

Build and apply capabilities in agile and design thinking: HR must be equipped to help design and manage agile teams through operations, rewards, performance management, and workplace productivity tools.

Pay for performance - and skills - in a fair and transparent way: The old model of pay for tenure prevents growth, innovation, and hiring of top people.

Continuously build skills in the flow of work: Employees and leaders must be learning all the time, with both formal and informal learning embedded in the culture, coupled with capability academies for deep skills.

Design intentional experiences for employees: Today's workforce expects meaningful employee experiences that are highly personalised, responsive to their needs and constantly improved.

Modernise your HR technology portfolio: The move to a Cloud-based, HR platform architecture enables speed, scalability and flexibility.

Apply data-driven insights: People analytics are now essential to understanding, managing, and continuously improving organisational performance.

Reorient and reskill your HR business partners: HR must act as strategic advisors, trusted coaches, and data-driven problem solvers.

Source talent strategically: Top talent can come from novel sources, so companies must look inside and outside to find the best hires to remain competitive.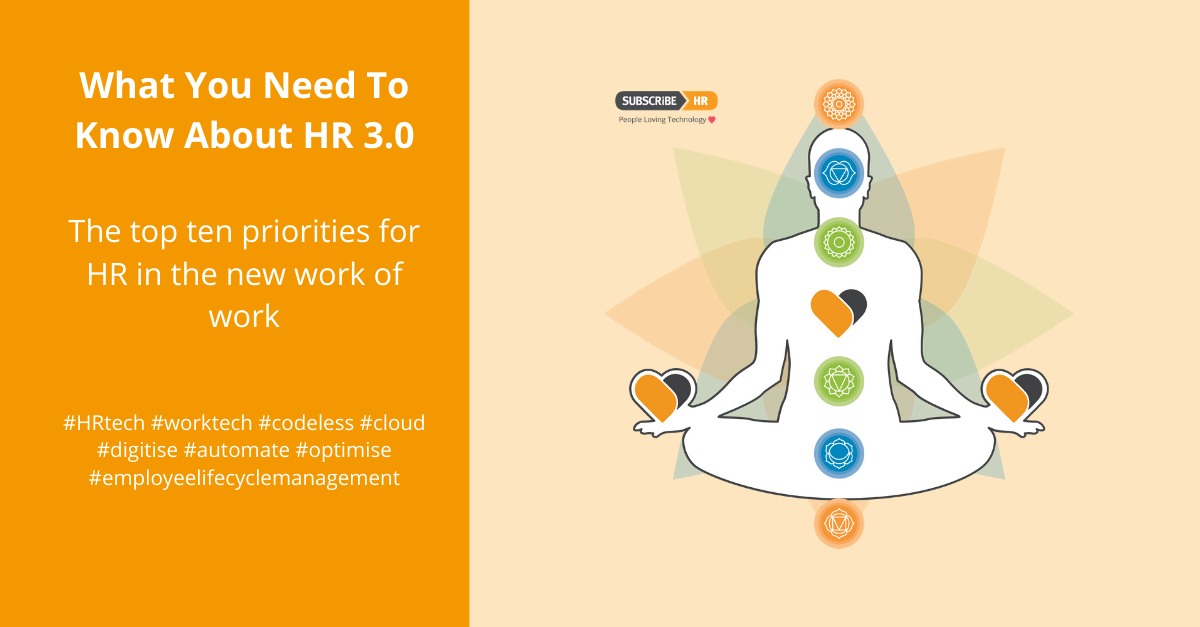 HR 3.0 Action Areas in Detail
How that looks in action under the auspices of HR 3.0 is a somewhat moveable feast. However, there are already many standards being set in the 3.0 framework. Those standards are outlined below in more detail.
Employee performance management:
Shorter-term goals.

Continuous feedback.

Multi-dimensional assessment or no assessment.

Managers accountable for ratings and conversations.

Results are used to coach employees to higher performance, continual skill building, internal opportunities.

Mobile app allowing for continuous feedback and updates.
Invest in the new role of leadership:
Leadership based on performance and behaviour.

Leader as coach.

Servant leader - include key attributes (leading a team, listening not telling).

Continuous immersive and experiential learning.

Behavioural, science-based assessments and predictive analytics to identify potential.

Employee engagement scores used to develop managers.

Team mentoring and coaching.
Build up (and apply) capabilities in agile practices and design thinking:
Outcome and experience focused.

HR team incorporates design thinking and agile in how work gets done and models the way for the organisation.

Agile, cross-company pop-up teams that work in sprints.

Small, iterative releases.

Active involvement of sponsored users.

Shift from programs to offerings, which are measured by NPS.
Pay for performance (and skills) in a fair and transparent way:
Skill, market value and performance-based compensation model.

Pay transparency.

AI is used to identify and remove pay bias.

Proactive pay equity programs with AI.
Continuously build skills in the flow of work:
Personalised by the individual, at scale.

Leverage AI and analytics to infer current skills levels and provide personalised career and learning paths.

Employee visibility to the roles and skills important to business success - more connection to the business; focus on careers in learning function.

Content curated from internal and external sources - learning ecosystem (including employee-generated).

Delivery of immersive learning in the flow of work.

Incorporation of new learning and development methods such as digital badges, internal mobility, peer to peer learning, VR.
Design intentional experiences for employees:
Employee experience platform provides simplified, one-stop shop for HR interactions.

Ongoing, two-way, any time dialogue with employees.

Safe spaces for employees to voice opinions and share ideas.

Focus on human-centred design, transparency, simplicity, personalisation, authenticity.

Experiences are measurable (NPS etc.).

Apply AI and analytics to understand the employee voice and increase social transparency.

AI-enabled knowledge sharing in the flow of work.
Modernise your HR technology portfolio:
Cloud-based, open architecture.

HR Platform instead of HR product.

User experience focused.

Employee-enabled tools that provide anyplace, anytime connectivity and support.

Business platforms that enable intelligent workflows across the enterprise.

Common role/skill taxonomy.

Analytics and AI embedded pervasively across HR solutions (for example, bots, virtual agents, intelligent automation).
Apply data-driven insights:
Significant investments in AI and analytics across HR.

Use a combination of structured and unstructured data.

Predictive analytics.

Leverage data from internal (for example, Finance) and external sources (for example, labour market stats, social media platforms).

Apply insights to improve organisational performance and HR programs.

Robust data governance with a focus on privacy and security of workforce data.
Reorient and reskill HR Business Partners as strategic advisors:
Strategic advisor with HR expertise and business acumen.

Services focused on senior business leader issues.

HRBP as trusted coach, data-driven problem solver, change agent.

Data-savvy HRBPs create new opportunities for business to leverage workforce data strategically.
Source new talent strategically:
Agile and optimised global hiring practice.

Personalised experience-centric candidate journey.

Hyper-targeted sourcing by skill.

Aggregation of social and digital tools.

Focus on employer brand.

Measured by candidate and hiring manager NPS.
Human First Everything
At the heart of the transformation of both HR and work is the 'human' factor. We've been talking about the rise of the 'Human Era' since way back in 2014, and now it is finally coming to the forefront of everything. Especially work. If your organisation is grappling with how to move forward, then consider these final three callouts from the 'Accelerating the journey to HR 3.0' report.
Put humanity at the heart of the business: As exponential technologies, new business models and global disruptions converge to transform business, it has become more important than ever to elevate the work and skills of employees and teams.

HR 3.0 is a business imperative: Business executives overwhelmingly agree that HR must be radically redefined. Guiding principles of personalisation, skills at the core, data-driven decision-making, transparency and agility are essence of the journey to HR 3.0.

The best companies are already taking bold steps: The ten 'action areas' in HR have emerged as priorities for transformation. Leading companies are outpacing their peers by innovating in all of these areas.
Set The Right Foundation For Putting the Human Back into Human Resources
If you work for a mid-sized organisation in Australia or New Zealand and you don't have the tools you need to digitise, automate, manage and optimise your entire employee lifecycle, then consider Subscribe-HR's suite of 13 codeless, cloud HR software solutions to seamlessly manage every touchpoint of the employee journey from the first hello, to the final goodbye.
Want to try it out? Get started right away using our 7-day FREE trial, which gives you no obligation access to the full functionality of the Subscribe-HR Platform.
Get instant access to our out-of-the-box, templated functionality to get up and running quickly, then use our powerful and flexible configuration tools to adapt your unique, HR process into Subscribe-HR.
Use our simple, step-by-step wizards to set up your organisation. This is the crucial first step in creating a flexible #HRspine that improves the flexibility, efficiency and effective management of employee information
You'll be amazed by how fast and easy it is to set yourself up.