Deloitte recently published a fantastic article about the increasing importance of applying your company's values in relation to people, processes and technology. The take-away: "In a time of perpetual technological disruption, earning (and keeping) the trust of all your stakeholders is a 360 degree challenge as well as being a massive opportunity." Ensuring that you apply and use technology in an ethical manner, especially if you're an NFP, NGO or charity, is a trend that is predicted to increase in relevance (and necessity). As we discussed in our last Blog about Edelman's 2020 Trust Barometer report, trust is hard to gain and easy to lose, so let's take a look at what this evolving trend around technology means for HR best practice in your business.
Deloitte's 2020 Global Marketing Trends report results illustrate that trust is more important than ever for businesses. Transparency is essential, with customers, regulators, and the media all expecting brands to be open, honest, and consistent. The expectation means that organisations need to maintain transparency across all aspects of their operations, from products and promotions to workforce culture and partner relationships. But what does this mean, and how does it look 'in action' in today's (and tomorrow's) business environment?
The Ethical Technology Perspective
These days, technology is used by the majority of individuals within an organisation. However, building trust though ethical technology application is a topic that isn't necessarily high on the priority list for many leaders, managers and boards.
The reality is that many organisations are yet to recognise how significantly disruptive technology can affect (positively or negatively) every facet of business performance and reputation. Leaders with a lack of awareness regarding this issue risk being usurped by competitors that make trust a business-critical mission. That means leaders, boards and managers should be spending a lot more time and energy mitigating the risks that technology pose throughout the organisation.
Deloitte advises that consistent, cohesive effort is required to master the trust equation, effort that starts from the very top of an organisation and is aimed at:
Aligning the use of technology (and technology providers) with organisational values.

Clearly articulating the policies and guidelines everyone should follow.

Embedding those policies into every aspect of an organisation.
Not sure what 'ethical technology' really means? Deloitte's article defines it this way:
"The term ethical technology refers to an overarching set of values that is not limited to or focused on any one technology, instead addressing the organisation's approach to its use of technologies as a whole and the ways in which they are deployed to drive business strategy and operations."
To satisfy the modern requirement for trust, leading organisations are adopting three basic principles as their guide: transparency, reciprocity, and accountability. Each of these behaviours provides assurance to customers, but that assurance is more than good marketing. These principles are the scaffolding that supports the modern enterprise, remade to generate and uphold trust.
To implement these three principles correctly requires:
Transparency: Your organisation needs to prove it.

Reciprocity: Your employees, will have to earn it.

Accountability: Your leadership and board will be called on to demonstrate it.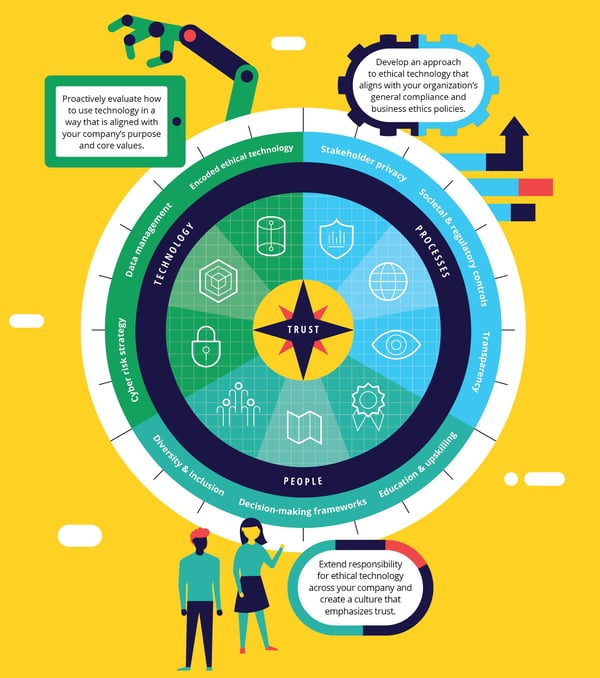 Your Critical Success Factor: Trust
We've been talking about culture and values as well as building trust on our HR Blog for almost a decade, but now more than ever it is critical for businesses to apply company values to technology, people, and processes in order to build and maintain trust. In our last HR Blog, we explored trust and transparency through the lens of the Edelman Trust Barometer.
Deloitte's research indicates that while disruptive technologies are often viewed as vehicles for exponential growth, simply implementing a digital transformation will not ensure that you can grow your business AND concurrently generate long-term trust. That's why leading businesses are taking holistic approach to embed the values and behaviours that facilitate the level of trust that stakeholders expect, including the use of technology.
"Every aspect of an organisation disrupted by technology represents an opportunity to gain or lose stakeholders' trust. Leaders are approaching trust not as a compliance or PR issue but as a business-critical goal."
How Can Your Business Build Trust Through Ethical Technology?
There is a roadmap for how your business can generate trust for the technologies your customers, partners, and employees are using:
Encode your company's values.

Build a strong data foundation.

Reinforce your defences.

Work with technology suppliers / vendors that align with your values and don't compromise your integrity through their own business practices.
A strong foundation for ethical technology and trust will be shaped by the principles of an organisation's leaders and realised through business processes to:
Respect stakeholder privacy.

Be transparent.

Respect differing cultural norms.
Since technology is generally used by most (if not all) individuals within an organisation, ethical technology and trust is a topic that touches everyone. That means you need to demonstrate to employees that they can trust the technology you use and your reasons for implementing it.
The Correlation Between Trust and Growth
Deloitte's survey results illustrate a positive correlation between organisations that consider and apply the ethics of technology and company growth rates. Amongst organisations experiencing low growth (only up to 5 percent), only about a quarter of the respondents indicated that they are strongly considering the ethical ramifications of the technologies they're using. By contrast, 55 percent of the respondents from companies growing at a rate of 10 percent or more are highly concerned about ethical considerations.
The image below, from Edelman's 2020 Trust Barometer Report, illustrates the level of concern (or decreasing lack of trust) about technology in Australia. That's significant risk for any organisation, but if you're an NFP, NGO or charity (the only business sectors that still have the trust of the general population), then maintaining your trust levels requires working with technology and technology providers whose software as well as their values and modus operandi you know you can trust.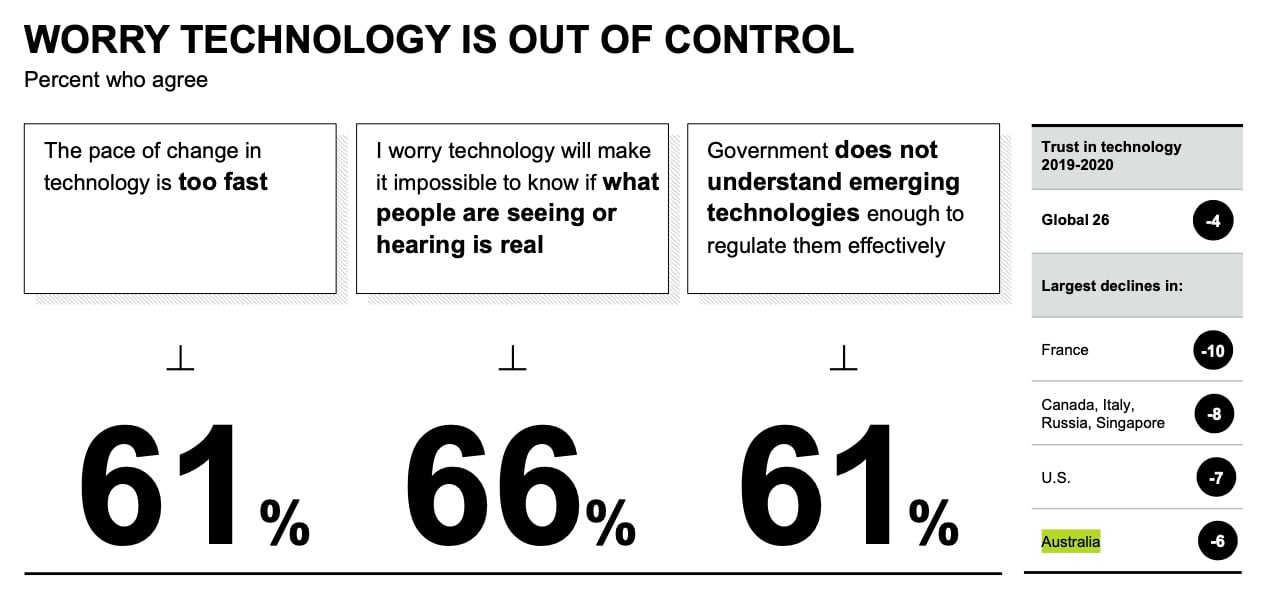 Of course, being concerned about an issue and doing something about it are two completely different things. And you need buy-in from leadership to do the work required to align your values and your behaviours across your technology, people, and processes. If your business hasn't yet factored in the ethical technology perspective as part of your digital transformation, perhaps it's time to pause for a moment and consider the implications.
Looking for inspiration to find other ways to support a flexible workforce and deliver efficiencies in times of change? Every year a selection of well-researched people management reports are published by the likes of KPMG, Edelman, PWC, Deloitte (and more). They cover the changing nature of work and the latest HR statistics, metrics and trends. We've curated the most relevant HR statistics, metrics and trends from the reports published during the last 12 months.
Image Source: Ethical technology and Trust by Deloitte.