Want to know how to work smarter, not harder and transform yourself into an HR Superstar? This Blog explores the simple, yet extraordinarily effective way to get straight 'A's in the following key areas:
Hire the right person for the right job every time

Guarantee employee satisfaction.

Increase productivity.

Improve employee retention.

Create a workforce that loves coming to work.

Get recognised for adding value.

Contribute to the bottom line.
If the rumours about an impending skills/talent shortage become a reality, then the ability to hire, and more importantly retain talent, will become an increasingly important point of differentiation and success for HR Professionals. Following on from the values equation highlighted in The Human Era discussion, this Blog examines the importance of aligning personal values with Organisational values as a means of adding value.
Put simply, the cultural fit of an individual with an Organisation is not just about skills, experience and personality profile, it is about the alignment of values between public and private spheres. An individual who lives their life, and conducts their work, based on an integrated set of values, is inspired (and inspiring), disciplined, reliable and focused.
If the values of the individual are married to both a job description and an Organisation's core principles, then incentives and motivational tactics really aren't required. It's a win-win result for all involved.
With a seismic shift underway from Institutional Era to Human Era characteristics and behaviours, attracting and retaining good talent, and empowering employees to become living examples of matching value sets, is the key to business success. The benefit of going the extra mile in aligning values translates internally, in the context of enviable organisational culture and highly motivated employees. It has also been proven to translate externally, in terms of better customer engagement and increased bottom line dollar value returns.
According to Dr John Demartini, an internationally renowned educator and speaker regarding human behaviour, the values of each individual are as unique as their fingerprints. The importance of understanding these individual 'fingerprints,' especially when in the hiring stage, is imperative in order for HR Professionals to ensure future business success. It is more important than ever that HR acknowledges and incorporates the values equation, not just into the recruitment process, but into overall HR strategy.
Taking the time to ascertain overlap between the values of each prospective, or actual employee and the business itself, goes a long way towards creating a harmonious, enjoyable and productive work environment. Rather than just querying a potential employee about their strengths, weaknesses, skills and experience, it is advisable in the current (and future) marketplace, to ensure harmonious values integrity when hiring.
HR Managers need to understand where people are spending their time, energy and money in their personal lives. This knowledge guarantees (as much as possible), a good cultural fit between potential / current staff and the foundational values of the Organisation.
Social Media has opened the door to investigating in depth, what people do on their own time outside the office. However this approach is ultimately insufficient and shouldn't be used out of context, snooping around in the electronic profiles of an individual does not provide all the answers. After all, nothing beats face to face communication and giving people the opportunity to share deeper aspects of themselves on their own terms.
It is also advisable to assess a potential employee's discipline, order, organisational skills and reliability. It helps to know what they visualise and dream about, how they communicate with themselves (self talk) and others, what their long-term goals are and what they're inspired by. These factors give a much more fully rounded picture of an individual and what their personal values are.
John Demartini suggests asking this question to prospective (and even current) employees: 'If I gave you $5 million dollars and you never had to work again, what would you do with the money, with your life, with your time?'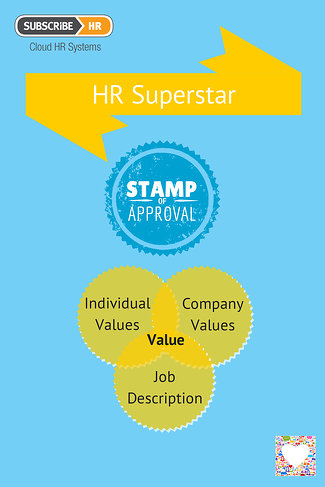 Demartini's advice is: if the response doesn't align with the job description, as well as the activities and or products and services of the Organisation, then don't hire them. If you do, it's likely to be a fruitless exercise for both parties. What is his reasoning behind this logic?
What ever is missing from the work equation in terms of the alignment of values, is the very thing that an individual will attempt to fulfill as part of their basic needs. It is these gaps and spaces of emptiness that drive us. The bigger the gap (especially at work), the more energy is required for an individual to close the gap. If their energy is being spent on the gaps between work and personal values, it's ultimately not being spent on their role requirements and KRAs. Thus individuals whose values are not in alignment with business values, won't be delivering the most value to the bottom line of your business.
Knowing yourself and how to navigate the tension of opposites between what's missing and what's present in terms of values is key to a successful life, both at home and at work. As an HR Professional, learning how to understand and assess these gaps, not just rating an individual on skills and experience, will lead to a more cohesive, more aligned, more holistic team. A team that is better, happier, more productive.
When values are aligned, people wake up in the morning and can't wait to do what they love to do. Colleagues benefit, customers benefit, and so does the bottom line of the business.
As outdated business models transform, the values equation is taking centre stage again, but with a different flavour to the past. If you're interested in some leading edge thinkers (all with a different perspective) in this area, here are a few recommendations:
Part two of this Blog will dive more deeply into the ways HR can facilitate the alignment of values and move closer to getting the recognition they deserve for adding value to the bottom line.
We encourage you to join the conversation about the future of HR - this really is a collaborative effort! You can do that by subscribing to our Blog on the right, and you can also participate in the following ways:
Join the conversation:

#puttingtheHUMANbackinHR

#HRintheHUMANera

#HRfoodforthought

#thinkoutsidethesquaHR
If you're interested in exploring how Subscribe-HR's people loving technology can liberate you from administrative overload, we encourage you to take an obligation free tour of our system! Discover how you can use technology to your advantage and become an HR Superstar! Automation of admin means more time for you to focus on Human Era pursuits like aligning personal and Organisational values, which will deliver bottom line dollar value to the business.