If you missed our recent HR Blog, you might not be aware of the critical role that workforce shaping is playing (and will continue to play) in a world of work in flux. For optimal workforce shaping, you need tools that enable multiple stakeholders to quickly and efficiently examine different scenarios under a range of different circumstances. HR Professionals need the capacity to produce a real-time snapshot of HR metrics and operational performance. This data is essential for collaboration with Finance and Leadership to chart a successful future course for the business. In this week's blog we explore HR best practice and the essential workforce shaping tools every HR Professional needs.
Building an Alliance Between HR and Finance
There are two departments critical to the success of any organisation which also sometimes find themselves at odds with each other. The goal of both HR and Finance is to create an environment in which a high level of cohesion, engagement, performance and profitability are achieved. In times of unprecedented change, it becomes even more important for HR and Finance to work together (and within the constraints imposed by outside forces) to ensure that the business doesn't just survive, but it finds a way to thrive.
What does that look like in practice and what tools are needed to make this level of collaboration possible?
Workforce Shaping as an Exercise in Stakeholder Collaboration
Workforce shaping is a collaboration between multiple business stakeholders, and the relationship between HR and Finance takes on particular importance when and if a reduction in workforce numbers and, or working hours are needed.
When HR and Finance are called upon to make informed decisions about how best to re-shape the workforce to respond to rapid change, all parties involved need engagement tools that facilitate actionable options and meaningful conversations based on accurate data.
To work collaboratively, HR and Finance need tools that can provide a real-time snapshot of your organisation's performance (both financially and operationally), including up to date metrics. The tools each department uses also need to integrate with each other to share data seamlessly across your digital ecosystem so that leadership can see the whole picture, not just siloed information that isn't connected.
HR Technology Use Cases - Informed Decision Making Between HR and Finance
It's true that every organisation is different and will therefore have different needs and different ideas about how to manage change. However, there are two aspects of running a successful business which are common across the world. Do we have enough money and do we have the right people to do the right things at the right time? It is on these two measures that HR and Finance need to form an alliance to deliver the best possible outcome, not just for the business, but also for employees. Let's take a look at some workforce shaping scenarios in three different sectors and explore which tools HR Professionals will need to make well informed decisions with Finance about the best way forward.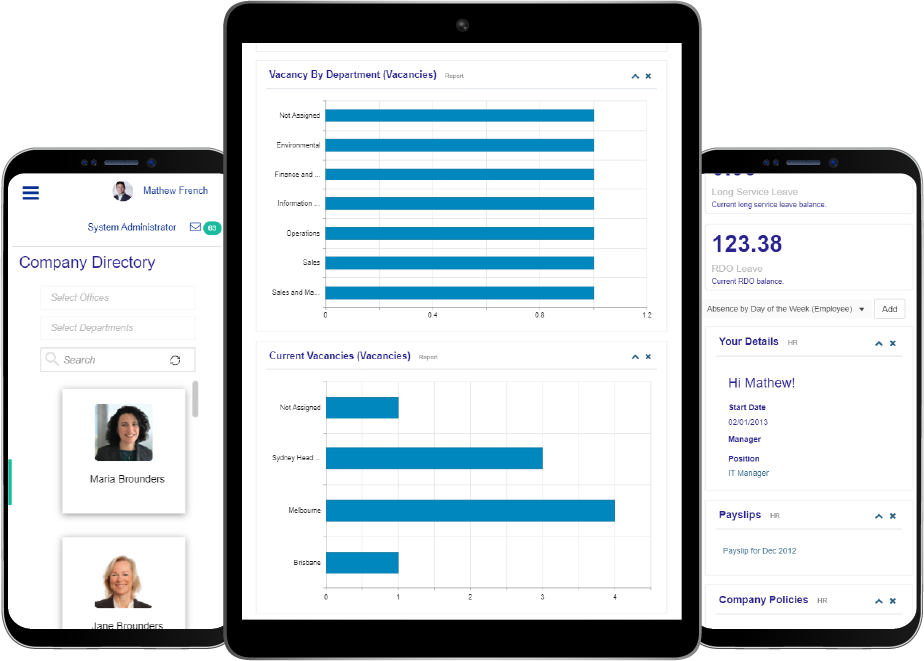 Workforce Shaping Scenario #1 - Not For Profits
Let's say you're a Not-For-Profit and your donation revenue drops because of economic downturn. That means, you've simply got to do more with less, or you've got to find a way to reshape your workforce that enables you to continue to deliver services to your customers whilst at the same time holding true to your values and holding onto your valued employees.
What type of information would HR need to share with Finance and leadership to figure out a way to keep everyone employed, even if it means cutting back on hours worked each week? Which HR tools and solutions could your HR team use to assess and present accurate company data? Here are a few for you to consider:
The benefits such tools provide for NFP organisations (as well as NGOs, charities and social enterprises) and their employees include:
More efficient use of technology by using tools that can be configured to meet the unique needs of your organisation.

Significant time savings due to the real-time snapshot provided by accurate data records and HR metrics.

Faster decision-making, which means less stress for management and leadership and transparency for other employees.

Management of compliance risk through digital paper trail and accurate, auditable record keeping.

Do right by your employees so they can continue to serve your customers.

Ongoing support for the cause/s that matter to your organisation.

Time savings translate to cost savings.
Workforce Shaping Scenario #2 - Local Government
Perhaps you're a Local Government located in a region managing a range of different environmental impacts. You may have received funding from the Federal Government and need to grow your workforce at speed in order to implement a policy change in the way grants are distributed. But you also need to do that while transitioning virtually overnight to a remote workforce when none of your employees have ever worked from home before.
Which aspects of your employee lifecycle will HR need to work with Finance and IT on, to figure out a way to employee new people, Onboard them quickly and effectively, run teams remotely and keep costs under control?
The benefits such tools provide to Local Government leaders and their employees include:
Integration between your HR solution/s and other applications in your digital ecosystem (like Microsoft Office, your accounting software, your T&A software, Jobs Boards etc).

Fast and efficient recruitment and onboarding, all able to be done remotely if needed.

Tailored workflows for managing repetitive operational and compliance requirements.

Digital audit trail plus risk compliant authorisation & sign-off.

All employees can respond to changes in their employment conditions digitally via self-service functionality.

All decision makers can access real-time data about current employee contracts and working conditions.
Workforce Shaping Scenario #3 - Aged Care
Maybe you're an Aged Care organisation and you need to schedule staff to work longer hours for a certain period of time. This means you'll have to apply salary and leave loadings, and you might want to add bonuses too. You need to know which employees have the capacity to work longer hours (or more frequent shifts) and when they're available. You also need to make sure that any new schedules are within regulatory and compliance guidelines.
Which tools can HR use to work with Finance and the Operations team on to figure out how to ensure that customers are cared for, employees aren't overworked, they're properly compensated, you've got compliance audit trails and at the same time you keep costs under control?
The benefits that such tools offer Aged Care providers and their employees include:
Workforce structuring and scheduling for employees and contractors.

Appropriate remuneration and rewards.

Tailored workflows for managing repetitive operational and compliance requirements.

Digital audit trail plus risk compliant authorisation & sign-off.

Transparent communication.
Does your business have the tools it needs to access the type of accurate, real-time data you would need to be able to meet the challenges outlined in the scenarios above? Are you set up to make informed decisions about how to shape your workforce and your business to succeed in times of change? Ready to explore which #HRtech can provide tools you can use to digitise, automate and optimise the management of the entire employee lifecycle?
Educate yourself about #HRtech and start your digital transformation today via our Discovery Centre. It contains everything you need to build a business case for Cloud HR Software in your business. No matter the economic climate, you will get the Cloud HR Tech you want if you demonstrate time and cost savings.

To find out more, simply download the e-Guide we've created about finding efficiencies in times of change through HR technology.