One of our most popular blog posts last year was about automating employee lifecycle management. In another recent blog, we also shared how things like a regularly updated HR systems and IT ecosystem integration strategy, in addition to a culture of change can improve business outcomes by an average of 15%. We've explored these issues separately in the past, but it's what's possible by bringing them all together that holds the key to unlocking roadblocks in the employee lifecycle. In this week's HR Blog we explore how #HRtech can help you remove roadblocks, improve the employee experience and generate better business outcomes.
Some of the biggest bottlenecks in the employee lifecycle (and the points where the employee experience, as well as the perception of your brand, can incur the most damage) are:
During the hiring process.

When new hires transition from the hiring to the onboarding process, and

Employee engagement and management thereafter.
In case you're not sure what the six stages of the employee lifecycle are, here's the journey every employee takes with your organisation:
Attraction.

Recruitment.

Onboarding.

Development.

Retention.

Separation.
Consider this. If you're using a different solution to manage each (or a couple) of these stages, and you haven't invested in developing a fault proof digital ecosystem, then right from the outset you're potentially looking at trouble. Not only that, the user experience of your potential (or new) employees isn't a seamless, one stop shop type scenario like it should be. Rather, they're being asked to move from one solution to the next (each of which might have a different user interface) to fulfil their digitised HR requirements with you.
The best way to ensure your employees don't have this kind of disjointed experience with your organisation is to aim for a seamless convergence of hiring, onboarding and employee management processes through a single system (where possible). The benefits of using one system to manage all the tasks and processes required to hire, onboard and retain an employee removes the headaches (and the roadblocks) from the three busiest intersections in the employee experience.
Configure, Digitise and Automate HR Roadblocks All Under One Roof
Many organisations that run lean, with small teams and tight budgets, often cite time and money as the reasons for not embarking on a digital transformation. As we've shared previously on this blog, it might surprise you that it isn't always just time and money which are the barriers to making the transition. According to KPMG's research, a whopping 41 per cent of respondents consider workplace culture to be a top barrier to digital transformation. Given that having a culture of change is one of the top four factors required to produce better talent, HR and business outcomes, this is bad news. Not just for the employee experience, but also for your business.
The truth is, it really doesn't have to be that way.
If we had to summarise our top three recommendations for removing the roadblocks from your employee lifecycle they would be:
Configure: Configurable software is flexible, scalable and can be adapted to meet both industry-specific and organisation-specific requirements. It enables you to quickly and easily configure certain aspects of the system yourself (without the help of experienced software developers) to personalise the solution to meet the needs of your business (remember, one size does not fit all).

Digitise: The widespread definition for this is 'the conversion of analog to digital.' You could use the example of the transition from LPs to CDs. In HR, examples include job boards replacing newspaper job postings, performance management systems replacing paper forms or self-service functionality replacing employee calls to the HR department. Pretty much all the new and improved technology that replaces manual processes (and digitises all your paper forms) falls under the category of digitisation.

Digitalisation: A partner in crime (so to speak) with digitisation, the Gartner definition is 'the use of digital technologies to change a business model and provide new revenue and value-producing opportunities.' Essentially, it is the transition to become a digital first business. In this instance you could use the example of the transition from CDs to Spotify. In this example, success isn't possible unless organisational practices and processes and culture revolve around the new digital business model.

Automate: Automation refers to the use of electric or mechanised processes to perform work without (or with reduced) intervention by humans. Examples include robots that flip hamburgers, computer algorithms that repetitive manual processes historically done by humans, and driverless automobiles and aerial drones.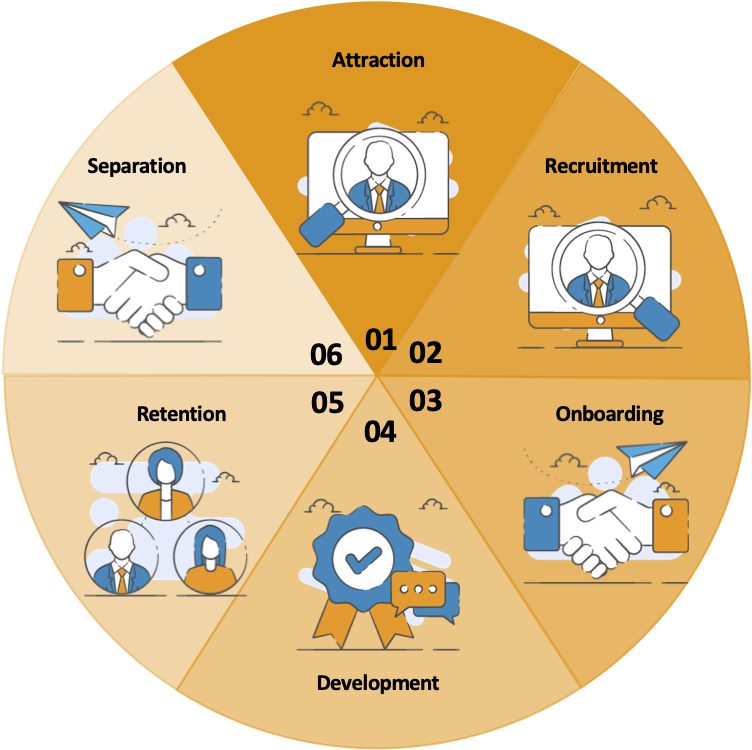 How to Remove Roadblocks from Recruitment, Onboarding and and Ongoing Employee Management
If you're an HR professional, there are so many ways for you to find efficiencies using #HRtech and edit the roadblocks out of the employee lifecycle altogether. Here are just a few examples of all the different touchpoints across the employee lifecycle where you can make the transition from manual, paper-based processes to configurable, digitised and automated ones.
Recruitment:

Requests to hire and authorisation processing.

Jobs board / vacancy advertising.

Candidate assessment.

Candidate auto-scoring.

Interview scheduling.

Employment checks.

Letters of offer.

Contracts.

Onboarding:

Tax declaration and Super choices forms.

Induction training.

Activate workflows to coordinate meetings, goals, processes and tasks for the first week, month and 90 days.

Build tailored programs that include introduction to and and illustration of compliance with company policies and relevant legislation.

Develop tailored training and development programs.

Employee management (development and retention):

Performance management.

Learning and development.

Employee and multiple role management.

Employee engagement surveys.

Time management.

Time-off authorisation.

Change requests.

Pay grades.

Remuneration modelling.

Payroll integration.

Cost centre management.
The benefits of such automation are endless, but having them all under one roof ensures:
Efficient workflows and processes.

Enhanced compliance and reporting.

Real-time insights for better decision-making.

Accurate and effective records management.

Better resource allocation and increased productivity.
The Benefits Of An Automated Employee Lifecycle
Let's look at the benefits automating your employee lifecycle can provide. In The State of HR Automation report, it is clear that HR automation can result in a number of advantages, including higher productivity and freeing up time to spend more time on strategic matters:
Highly automated HR departments are twice as likely to say HR enjoys above-average productivity when compared to HR departments with low automation.

HR professionals would spend more time on strategic HR and business initiatives if they could reduce the burden of performing manual administrative tasks. Nearly 70% of the participants said they would have more time for strategic planning, and 64% said they could serve as business partners if the time spent on manual administrative tasks could be reduced.
Highly automated HR departments tend to be more productive:
Overall, 34% of participants said their organisations perform above average in terms of HR productivity. Respondents from highly automated HR Departments were almost twice as likely as respondents from the least automated HR Departments to say that the HR productivity in their organisation was above average (44% to 23%).

This finding further supports the idea that greater HR automation exerts an influence in raising HR productivity. For instance, 78% of all survey respondents said further HR automation would boost HR's productivity. It's important to note that the data does not prove a causative link between automating HR processes and productivity, but it does suggest some connection or influence.
Highly automated HR functions tend to be more effective:
Overall, 31% of all participants said their mid-sized organisations perform above average in terms of HR effectiveness. Respondents from highly automated HR departments were considerably more likely than those from the least automated HR departments to say they enjoyed above average HR effectiveness (38% to 25%).
Workforce management: Manual spreadsheets or configurable, digitised HR automation?
We've already talked about the importance of 'workforce shaping' in 2020 and beyond. Like all business leaders, HR Professionals are currently being called on to transform day-to-day operations to enable maximum workforce flexibility, including the capacity to:
Scale back workforce numbers quickly and compassionately.

Allow employees to work remotely on reduced hours.

Remodel remuneration based on changed conditions.

Manage quickly changing compliance requirements.

Maintain connections to skilled employees with a history of knowledge and experience to scale back up when the time is right.
Using an integrated Cloud HR software system allows HR Professionals to leverage technology that has been pre-built to allow for turn-key configuration. That means you can access HR software with the tools you need to easily re-configure settings around key automation, workflows and data capture requirements to suit your organisation's unique and individual needs. And you can do all that under one roof.
The Four Critical Success Factors For Improving Talent, HR and Business Outcomes
Don't forget the important role that well-managed technology plays in improving your business outcomes. These four factors should be at the top of your list when thinking about how to remove as many roadblocks as possible from your employee lifecycle:
Regularly updated HR systems strategy (10%).

Regularly updated integration strategy (12%).

Perception of HR, viewed as adding strategic value to multiple levels of management (23%).

Culture of change management (28%).
Here at Subscribe-HR we've got a suite of highly configurable, low to no code HR software solutions that offer everything you need to remove roadblocks from your entire employee lifecycle. Ready to discover how this type of configurable HR software can change your life? Simply click on the button below to explore the configuration options in Subscribe-HR's Cloud HR software platform.