It's no secret that your #HRtech will do more for you if you've got a strategy in place to ensure your business can take full advantage of it. A good strategy, coupled with the right HR software, can result in an average 15% benefit to your bottom line. So why is it that so many organisations got caught out this year without one (or both) of these necessities in place? In this week's HR Blog we explore the importance of HR technology strategy and give you a framework for getting yours in place.
Now more than ever, business leaders expect digitalisation to improve performance, cost savings and overall competitiveness. Additionally, employees expect a digitised workplace that reflects the personalisation, speed and interconnectedness they experience outside of work. Innovations such as AI, machine learning, natural language processing (NLP) or virtual assistants all present opportunities for HR to meet these expectations.
Start With an HR Technology Strategy
According to Gartner's research and experience, they propose that in the new world of work, HR Professionals need to better understand how HR technology will influence the way they recruit, develop and manage talent. That means getting a better understanding of which technology tools and innovations are right to support engagement with both potential and actual employees across the entire employee lifecycle. Gartner also highlights that successful implementation of #HRtech requires you to consider variables that go beyond system selection and implementation. These variables include workforce preferences, business operating models, managing change and stakeholder expectations. Gartner also cautions that a digital transformation should not just be an IT initiative. It requires collaboration and input from various functions, including HR, IT and operations.
Once your business has developed a cohesive map of your organisational requirements, then the right digital ecosystem can be researched and implemented to enable HR's digitalisation journey. It doesn't stop there though, you also need to ensure that the integration of your #HRtech with the other business systems being used across the organisation is seamless. To develop the right HR strategy as part of this process, Gartner states that HR Professionals must:
Assess the HR technology landscape to ensure it meets both current and future requirements.

Determine the level of investment in incumbent versus emerging technology providers.

Foster an agile and analytics-driven function.

Partner with IT and update the HR technology strategy and roadmap yearly.
Before we dive a little deeper into the nuts and bolts of #HRtech strategy, let's first survey 'strategy' through a broader lens.
Definitions of strategy tend to emphasise the importance of making decisions aimed at creating long- term value for an organisation. For example, an article published in strategy + business illustrates that strategy can be defined as 'the result of choices executives make on where to play and how to win to maximise long-term value. According to Michael E. Porter, Harvard Business School professor and author strategy is 'the creation of a unique and valuable position involving a different set of activities.'
Developing an HR technology strategy begins with taking a deeper look at business priorities. The task is to validate how current systems (or the lack thereof) are (and are not) supporting the organisation's goals. This helps create a path toward synchronising the organisation's priorities with the HR technology strategy. A successful HR technology strategy should be aligned to the needs of the business, agile, focused on strategic enablement rather than just efficiency and effectiveness, and should be owned by HR (in partnership with IT).
The reality of the situation is that many different types of strategy exist at multiple different levels within an organisation. An HR technology strategy should be an extension of core business strategy and support the overall strategic objectives of both HR and the business as a whole. HR must take ownership of their #HRtech strategy and ensure that it aligns with the HR strategy (which should also be in alignment with the business strategy). And don't forget, both HR and #HRtech strategies should cover more than just efficiency and effectiveness as a driver for the adoption of technology. It is essential to select IT solutions, HR or otherwise, with agility (and easy ecosystem integration) in mind. Additionally, all tech choices should factor in and allow for future growth and flexibility while at the same time focusing on implementing solutions that meet the current needs of the business.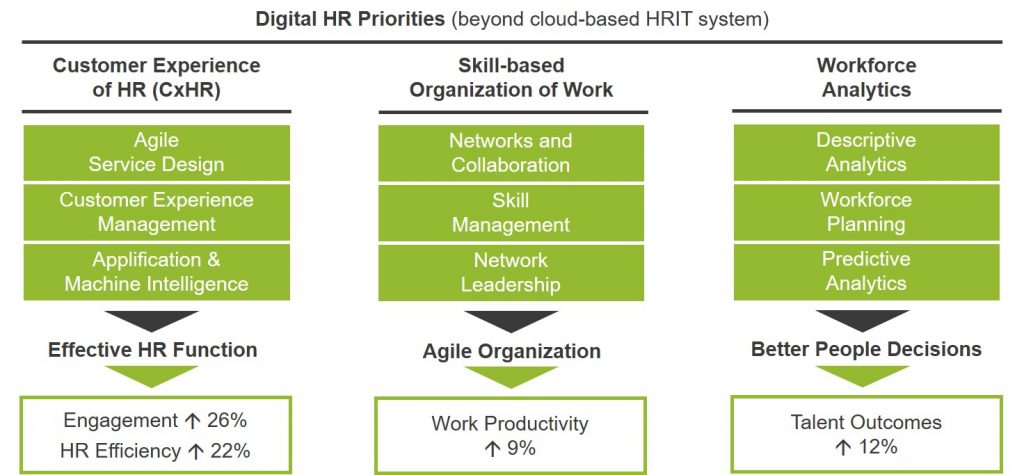 Take Ownership of Your HR Technology Strategy
In David Ulrich's book, HR Transformation: Building Human Resources From the Outside In, he explains that HR Professionals need to become 'technology proponents.' Ulrich emphasises the importance of HR's role in leveraging technology to improve efficiency and to connect employees. He also highlights the need for HR to leverage multiple channels (including social media) to engage with their employees.
Ulrich advocates that HR should be responsible for setting the HR technology strategy in partnership with IT, and both should work together to make sure that HR is approaching business problems with the right solutions. While IT can certainly help inform the selection process and partner with HR during the implementation phase, HR needs to take the lead on ensuring that business needs are met. That's because HR has the most intimate understanding of the employee perspective and therefore, the type of practices that will support and enhance an effective workforce.
Thankfully, today's increasingly sophisticated #HRtech does not require much heavy lifting. Software-as-a-service (SaaS) platforms can be deployed much faster and are highly configurable. With low to no code HR software options, HR now has the keys to the tech kingdom and if you choose the right solution/s there is practically no need to call upon IT to make changes to the software. That means HR can quickly improve the design of both HR systems and processes to meet the evolving needs of the business quickly and effectively.
To effectively own #HRtech strategy, Ulrich explains that HR must:
Understand technology and be able to liaise with IT on a regular basis.

Lead the creation, implementation, and maintenance of the HR technology strategy.

Understand how your employees interact with their work on a daily basis and how technology can be leveraged to support them.
Align Your Technology Strategy with the Key HR and Business Goals
If you haven't aligned your HR strategy with your overall business strategy, then trying to enable and apply your vision for HR will be like trying to build a house without first putting up a frame. If you don't develop a shared vision or understanding of how HR technology supports HR to support the business, it is highly likely that the implementation of any #HRtech will fail. The result? The full benefits of technology will never be realised within the business. And no one wants that. HR needs to be conscious of the fact that a lack of alignment could even have negative repercussions for your organisation.
If you want to create an HR technology strategy or plan, it is essential to to know your organisation's short and long-term goals inside out. To gain a better and more holistic understanding of the importance of these goals, HR should conduct interviews with multiple stakeholders, including:
HR leaders.

Members of the executive leadership team.

Business and line managers.
The insight and depth of knowledge that can be gleaned from these interviews will serve to bring greater awareness of the strategic direction of the organisation as well as the challenges that need to be addressed and overcome to ensure success.
However, aligning your HR Technology strategy should go beyond simply matching the overall organisational goals. It should also include alignment to critical business units. Creating a strategy that is aligned with multiple parts of your organisation allows you to adapt to changes in the market better and ensure that you are focusing on the right things.
To ensure alignment with the business strategy, it is recommended that you:
Understand the current business environment – internally and externally; know what forces are at play.

Document the organisation's short and long-term objectives.

Take stock of the unique needs of each function and critical business areas.

Clearly understand how technology can/can not facilitate achieving your strategic objectives.
However, merely having an HR technology strategy isn't enough. Neither is having the best technology. What matters more and provides real differentiation is effectively executing that strategy. Effective execution requires having the right resources (software and human), creating a roadmap that is agile and change ready, and one that is focused on both short and long-term strategic goals.
Build Agility into Your HR Technology Strategy
According to The Changing World of HR Technology: 2012 Report Card, 'agility is the new currency of the economy.' If that was the case back in 2012, it is even more so now. In the new world of work, technology plays a critical role in every organisation's ability to remain competitive (and survive). The right tech, that enables you to do the right things, with the right people, at the right time, ensures that your organisation and your employees are better able to deal with an ever-changing business environment. Whatever tech you choose to support the management and development of your human capital, you better make sure it is flexible enough to respond to both external and internal factors, no matter how many times they change.
Don't forget that your HR technology strategy should be multi-year, and it is best revisited annually to assess progress and course correct where needed. Continually monitoring internal and external business conditions and linking those back to the strategy is vital to remaining agile and ready to adapt when needed.
What does being agile in relation to workforce technology mean? Essentially it equals having it in the cloud (software-as-a-service - that is, SaaS) and being able to reconfigure the solution/s you're using quickly, efficiently and without the need for code (or expensive developers). Through standardisation of processes, SaaS solutions reduce complexity and can be upgraded more quickly. A SaaS system facilitates much greater simplification and enables your business to respond quickly to the changing business environment.
Consider the following when developing your #HRtech strategy:
Implement technology that facilitates (not inhibits) your organisation's ability to change.

Build in scenarios to factor in changes to both the internal and external business environment (i.e., downsizing, M&A, regulatory changes).

Create a 5-10 year rolling HR technology strategy that has yearly check-ins and evaluations as a part of the process.

Select technology that is scalable, flexible and which can be integrated with all your other business solutions to create a seamless ecosystem.
Think Beyond Efficiency and Effectiveness
For HR to be able to make a direct contribution to the long-term success of the organisation, the function must stop thinking about HR technology as solely a means to automate. Automation alone does not drive organisational success, it provides a foundation for it. #HRtech that helps to attract, retain and develop the right people, with the right skills and the right cultural fit are the things that can begin the strategic transformation of the HR function. To support strategic initiatives, you should be able to answer the following two questions:
How does technology enable the effectiveness and efficiency of our people, programs, and initiatives? Remember, technology is not just a solution but also an enabler (and you certainly don't want it to become a distractor). Focus on the role that technology plays in the management of your employees and keep an open mind as you begin to find the answers to all of these questions. Once a tool (or tools) has been selected, involve employees of all types to help identify which features make the most sense to implement and to assess how user-friendly the interface and workflows are for all employees who will be users of the system.

In what ways can technology improve the effectiveness of how your organisation manages its talent? According to research from the Institute for Corporate Productivity (i4cp) (see: The People-Profit Chain), high-performance organisations effectively manage talent by creating an environment that maximises employee productivity and performance. High-performance organisations understand that success does not rely on the inner workings of talent management processes, but rather by making better evidence-based workforce decisions via workforce planning and workforce analytics, and equipping managers (and leaders) to manage the workforce. Technology that supports rather than hinders the effectiveness of managing talent should be simple, easy to access and allow for faster, more accurate decision-making.
Consider the following during your strategy process:
Employ HR technology as a strategic tool to help drive performance in your organisation; not solely as a means to improve efficiency and effectiveness.

#HRtech should be implemented where (and in ways) that add value.
Ultimately, an HR technology strategy provides the opportunity for HR to shape the future of work for their business and to cultivate a clear view on how jobs will be lost and gained. A roadmap sets the course and speed for the HR function and for people priorities within your business. After all, a good strategy, coupled with the right HR software, can result in an average 15% benefit to your bottom line. Year on year. What other evidence do you need to started on putting an #HRtech strategy in place in your business?
Ready to find out more about how #HRtech can transform your organisation, but you're not sure where to start? We've created a self-service discovery centre that contains everything you need to know.
Image Source: TI people - The what and the how of a digital HR strategy.